It's been just 46 days since the National Hockey League embarked on the 2015-16 season and the Vancouver Canucks are already finding themselves in dire straits. With a record of 7-7-6, the Canucks currently sit in fourth place in the Pacific Division. More important is their record in the first twelve games of the season (6-2-4) which had them sitting comfortably atop the Pacific Division. But something collapsed for the Canucks when they were handed a 3-2 defeat by the Pittsburgh Penguins on November 4th, 2015.
In addition to some other key factors, one of Vancouver's biggest issues is their lack of offense which has been accelerated by the extreme slump of 2014-15 leading scorer Radim Vrbata.
The Statistics
At Vrbata's current output he is on pace to play 78 games for the Canucks in 2015-16 and would record 12 goals, 21 assists for 33 points. To contrast that number, Vrbata scored 31 goals for the Canucks last season and notched 63 points. The odd part of Vrbata's struggles is that the Sedin twins have continued their offense successes of last year – both are just under a point per game.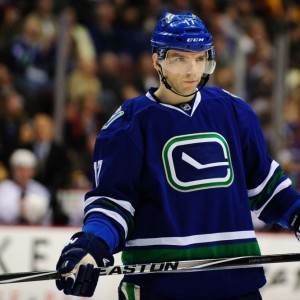 Not only has Vrbata's straightforward offensive stats struggled this year but there are some other alarming numbers that suggest luck is not at work here. Vrbata has taken 74 shots on net this season – that is good for 9th in the league. Meanwhile his shooting percentage is at 4.1% which has him sitting at 427th in the league. Comparatively, Vrbata had an 11.6% shooting percentage in 2014-15.
Last but not least, Vrbata is currently carrying a team worst minus-11. Even though some analysts believe that the plus/minus stat is an archaic measurement, it still raises eyebrows on what is going on with Vrbata's play.
Excuse or Viable Reason?
In a recent interview Canucks head coach Willie Desjardins expressed empathy for Vrbata claiming that his struggles could be stemming from his frequent movement throughout the lineup. Although that seems like a viable explanation, a player with a $5 million salary should be counted upon to produce wherever he is slotted into the lineup.
It's an interesting to see Jannik Hansen excelling on the first line, and the longtime chemistry of the Sedins and Alex Burrows on the powerplay while Vrbata stumbles all over the lineup.
All things considered, the structure of the Canucks' roster is different than 2014-15. Currently rostered are three rookies, a second year player and a remaining question mark in Sven Baertschi. So maybe Vrbata's lack of production is coming from a different team makeup that doesn't compliment him quite as much as last year.
What Next?
It's still early in the season so making any rash predictions or suggestions about what comes next for Vrbata would be silly. With that said, the Canucks should be quietly planning for different scenarios.
Should the Canucks catch their breath and return to competitive form, then Vrbata offers the team a priceless veteran presence with a knack for scoring. Some uninterrupted time on a line with Brandon Sutter (when he returns) and Baertschi could prove offensively lucrative. It's probably safe to say that Vrbata won't be smashing any of his personal bests but it's more than possible that Vrbata could still break the 20-goal plateau and possibly the 50-point mark.
On the other hand, if the Canucks continue to dive deeper into the depths of the NHL standings, the Canucks shouldn't hesitate to move Vrbata at the deadline (or before). He has one year left on a contract that pays him $5 million annually, a hefty number for a player struggling to score. But if Vrbata were brought in to a team that needed some secondary scoring he would be one of the best options in the league. Because of his age and obvious decline this season, he wouldn't be fetching any first round picks, but Jim Benning and Trevor Linden could continue to collect promising youth by recouping some prospects.
I cover all things Vancouver Canucks, the NHL's player conduct policies and anything else exciting about the league.