The sage is over, with a swift flick of a wrist, the Colorado Avalanche matched the offer sheet put to Ryan O'Reilly by the Calgary Flames, and O'Reilly will remain a member of the Colorado Avalanche.
O'Reilly arrived in Denver on Friday and passed his first test, a physical, before fully re-joining his teammates. He'll continue his journey back to the NHL Saturday morning when he practices with the Avalanche for the first time this season. I have to say, I'd be interested in being a fly on the wall when he and Matt Duchene come together for the first time.
Any potential hurt feelings aside, having O'Reilly back in the lineup will be good for the Avalanche, who have had to deal with several injury issues to this point. To get a player with the two-way benefits O'Reilly can have when at his best will definitely help the team moving forward.
O'Reilly's return should also shake up the lineup a little bit as well, and here are some of the ways in which it could affect the team.
Shake Up The Lines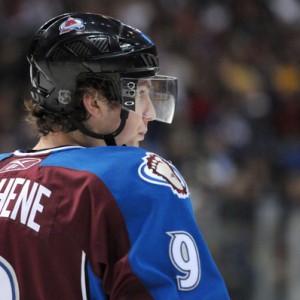 O'Reilly's re-introduction to the team will cause the lines to change up a decent amount. Not the top line, you don't touch that line with Matt Duchene in-between P.A. Parenteau and Jamie McGinn. This line has played consistently well ever since it was put together and has shown dominance at times. You don't mess with what's working.
I don't believe that O'Reilly gets immediately placed back with Landeskog. He hasn't played at an NHL level in 10 months or so, so I wouldn't count on O'Reilly being up on the second line, not even over the likes of David Jones.
The change that this could have an affect on revolves the most around John Mitchell. Mitchell has been the third-line center for the Avalanche and has played fantastically all year. With O'Reilly coming back, you have two choices; make him a winger on either the second or third line, or make him the center for the fourth line. Mitchell deserves more ice time than any fourth line center would get, so count on Mitchell going to wing.
Who Is the Odd Man Out?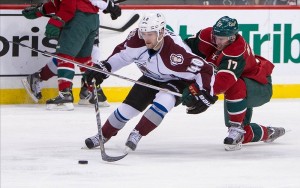 The Avalanche are going to have to make a tough decision on personnel here. Now that O'Reilly is back in the lineup, somebody has to get sent back down to Lake Erie in order to make room on the roster.
When you think about it, there are really three people that it comes down to; Mark Olver, Aaron Palushaj and Patrick Bordeleau. The obvious choice to send down is Bordeleau as he is the only one that wouldn't have to clear waivers in order to get down. If the Avalanche care about losing one the player they send down, it will most likely be Bordeleau.
On the other hand, the other obvious choice would be Aaron Palushaj. Palushaj has done nothing but play fantastically for the Avalanche since arriving, but it seems like coach Joe Sacco hasn't much cared that Palushaj has done nothing but produce as Palushaj has been a healthy scratch or seen his ice time significantly cut in the past week. It seems Sacco doesn't value what Palushaj brings, so perhaps the Avalanche place him on waivers and count it as a win if they he happens to clear.
What Do the Lines Look Like
Line 1: Jamie McGinn – Matt Duchene – P.A. Parenteau.
Line 2: Gabriel Landeskog – Paul Stastny – Milan Hejduk
Line 3: John Mitchell – Ryan O'Reilly – David Jones
Line 4: Cody McLeod – Mark Olver – Patrick Bordeleau/Aaron Palushaj.
O'Reilly's addition definitely helps return a certain amount of depth to the team, especially now that they seem to be getting healthier.
I'm a Denver native who has been a fan of the Avalanche since they came to town and a fan of the game before that. I started writing my own blog a couple years ago before moving to Bleacher Report and becoming a Featured Columnist there. You can also find me the Burgundy Brigade Podcast