It's been four years since the 2016 NHL Draft that brought the league spectacular talents like Auston Matthews, Patrick Laine and Matthew Tkachuk. While many teams have brought in pieces that have made a huge difference at the NHL level, the Carolina Hurricanes' 2016 draft class has been much more mixed, to put it lightly.
It's too early to call any player drafted in 2016 a "bust," but nearly five years removed from the draft, you'd expect to be seeing some NHL production from those selected. Of those drafted in the Canes' 2016 NHL draft, only three have featured in the NHL for a combined 31 games. On the surface looks bad for the Canes, but is it as bad as it appears? Or do the Canes still have a chance to get production from some of those drafted in 2016?
First Round Selections
The first pick of the 2016 NHL Draft for the Hurricanes was Canadian defenseman Bean. He was drafted out of the Western Hocke League's (WHL) Calgary Hitmen and has been successful at every level he's played at thus far. In four seasons in the WHL, he accumulated 196 points while also representing Canada at the World Junior Championship at both the U17 and U20 levels.
He made the jump to the AHL in the 2018-19 season and picked up where he left off, putting up 44 points in his first season with the Charlotte Checkers, and surpassing that total in just 58 games the following season, with 48 points.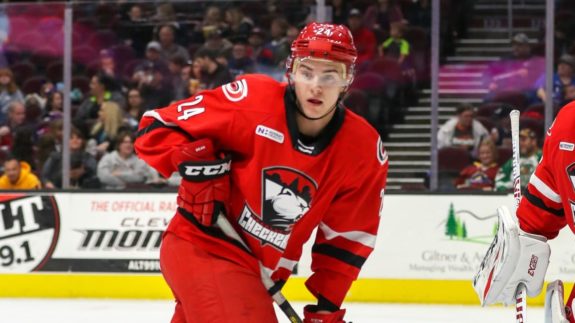 Bean's problem is that all of his success at the junior level has yet to result in any significant playing time at the next level. He played two games with the Canes in 2018-19 but got only a handful of minutes.
Heading into the 2020-21 season, he has a chance at making the Canes roster as a rotational defenseman or a bottom two pairing, but the depth the Canes have on defense will make this a challenging endeavor. Regardless if Bean makes the roster this year or not, everything in his junior career projects he to be a top-four defenseman in the NHL, even if the Canes might not be able to provide him with that opportunity.
Grade so far: B
Bean has proven to be a talented defenseman at every level he's played at, but his lack of NHL experience is starting to get worrisome, entering almost five years removed from the draft. That being said, he is only 22-years-old and will have the chance to compete for a roster spot with Carolina this offseason, which is more than can be said for many drafted around him. There's plenty of time left for him to show why Carolina took him 13th overall.
Pick 21: Julien Gauthier
The second first-round pick for the Hurricanes is no longer with the organization in right-winger Gauthier. Now 23-years-old, he was drafted out of Quebec Major Junior Hockey League (QMJHL), where he was putting up around a point per game with the Val-d'Or Foreurs and briefly the Saint John Sea Dogs. he also had an impressive showing with the U20 Canadian National Team during the 2017 World Junior Championship, scoring five goals and two assists in seven games. His transition to the AHL was where things became shaky, scoring only 69 goals and 34 assists in 184 games.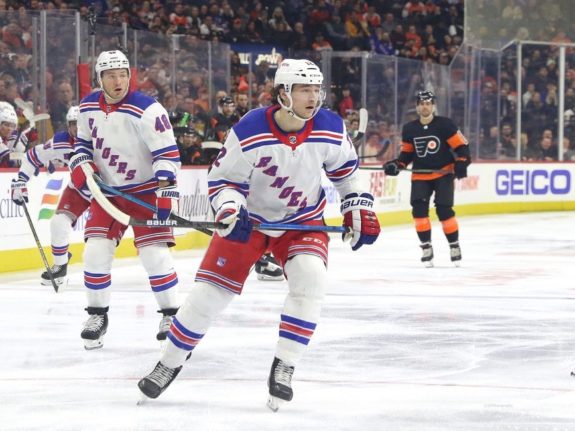 At the trade deadline last season, Carolina decided they didn't like what they saw either and traded Gauthier to the Rangers in exchange for Joey Keane, a 21-year-old defenseman. Keane is a great skater and is a solid offensive defenseman, but he is a long way off making an impact in the NHL. He had 37 points in 58 games in his rookie AHL season, and it's looking likely that he will play a second season there in 2020-21. 
Grade so far: C
If Carolina didn't swap him for Keane, they might have received a lower grade since Gauthier seems destined to be a bottom-six forward in the NHL. But Keane still has a shot at being an NHL-level defenseman, and if he turns into something serviceable, there's a chance this pick will have been better than just a "C" grade.
Middle Round Selections (2-3)
Pick 43: Janne Kuokkanen
Kuokkanen, a winger-center combo forward coming out of Finland, was the Canes' second-round selection. He has had a promising career in the minor leagues, scoring 62 points with the London Knights in the OHL in his rookie season, then having three solid seasons in the AHL and even playing 13 games with the Hurricanes between 2017-2019.
Like Gauthier drafted before him, Kuokkanen is no longer a member of the Hurricanes organization, having been traded to the New Jersey Devils at the trade deadline last season, along with Frederick Claesson and a fourth-round pick, for veteran defenseman Sami Vatanen.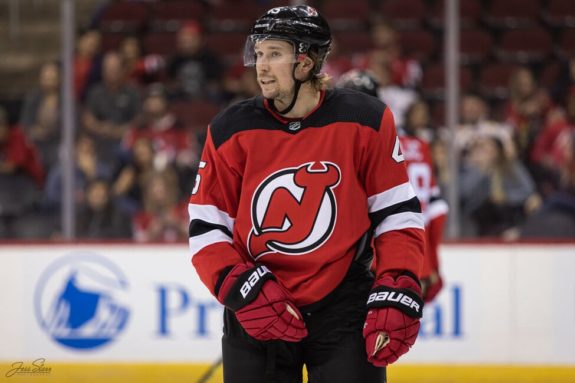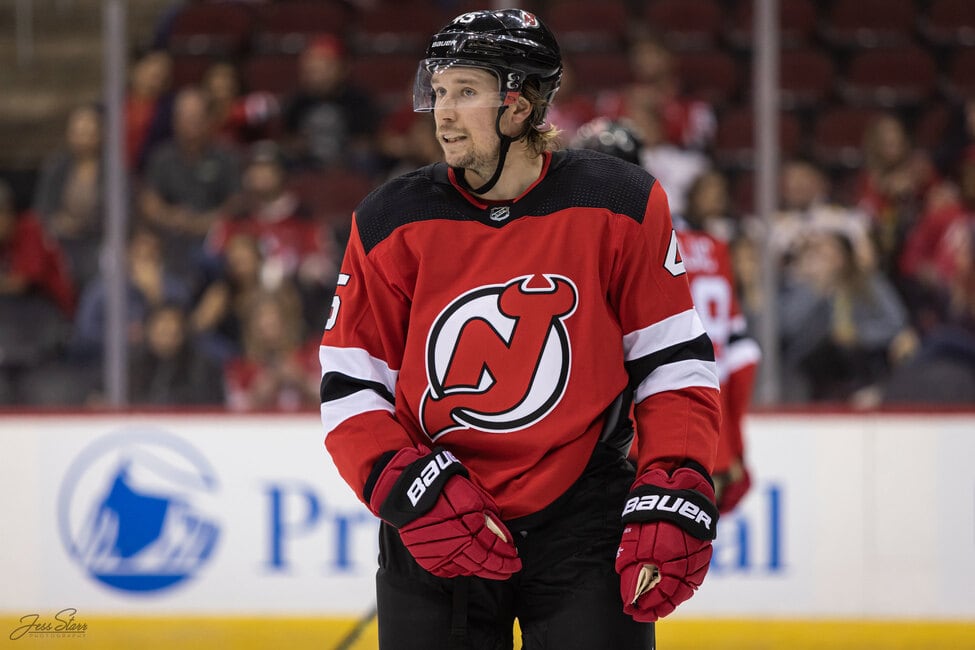 Vatanen was injured at the time of the trade, only appearing for Carolina in seven games during the NHL restart; he is now an unrestricted free agent. As for Kuokkanen, he is currently on loan in the Finnish Liiga with Kärpät, where he has seven points in 16 games so far this season.
Grade so far: C-
The jury is still out on Kuokkanen, and now that he is with New Jersey, he should get the chance to play in the NHL. He still has the potential to be a top-six forward in the NHL, but that's far from a given, and it seems more likely he will be a bottom-six forward. Like Gauthier, this pick would have gotten a C, but since Carolina is unlikely to bring back Vatanen in free agency and only got seven games from him, they get docked extra points.
Pick 67: Matt Filipe
Filipe was a forward taken in the third-round out of the United States Hockey League (USHL), playing with the Cedar Rapids RoughRiders. After being drafted, he chose to attend Northeastern University in Boston, where he put in four solid seasons of work for the Huskies. After graduating from Northeastern, the Hurricanes did not sign Filipe, and he became a free agent deciding to sign for the Boston Bruins. He will likely play for the Providence Bruins in the AHL for the upcoming season.
Grade so far: D
It's hard to give a grade to a draft pick who has yet to play a single minute of minor league hockey. Still, Filipe was a third-round pick that never even signed an entry-level deal with the team, so even if he turns out to be a great NHL player, the Canes essentially drafted nobody with this pick.
Pick 74: Hudson Elynuik
Elynuik, a Canadian center drafted out of the WHL, did not sign an entry-level contract with the Hurricanes, making him the second third-round selection the Canes did not bring into the organization. He later re-entered the draft in 2018 and went undrafted, later signing an entry-level contract with the Toronto Maple Leafs. Since signing, Elynuik has spent time in both the AHL and the ECHL, but it looks unlikely that he will ever appear in the NHL.
Grade so far: F
Elynuik probably won't ever play significant minutes in the NHL, which is bad enough for a third-round pick, but the Canes get docked extra points for not even thinking highly enough of him to bring him into their organization at all.
Pick 75: Jack LaFontaine
LaFontaine is a Canadian goaltender drafted out of the North American Hockey League (NAHL), and despite being drafted in 2016, LaFontaine is still playing at the collegiate level with the University of Minnesota. He had two seasons to forget at the University of Michigan, then spent a season in the British Columbia Hockey League (BCHL) with the Penticton Vees before transferring to the University of Minnesota for his final two seasons of NCAA hockey.
Grade so far: D+
It's hard to grade a player who has yet to play a season of minor league hockey, but unlike Filipe, LaFontaine still has a chance to sign with the organization. Before the 2020-21 season, it seemed incredibly unlikely that the Hurricanes would sign LaFontaine, but he is having an excellent start to the season for the Gophers and could play himself into an entry-level contract.
Later Rounds Selections (4-7)
Pick 104: Max Zimmer
Zimmer is an American left-winger drafted out of the USHL playing for the Chicago Steel. After being drafted, Zimmer played four seasons of college hockey with the University of Wisconsin, where he put up below-average numbers before graduating. Zimmer got one tryout game with the Checkers, but this didn't result in an entry-level deal, and currently, it seems Zimmer is out of hockey altogether.
Grade so far: F
Zimmer's professional career looks to be in jeopardy as he's not currently signed to any team at any level, meaning his pro career could be that single game in the AHL last season.
Pick 134: Jeremy Helvig
Helvig, at pick 134 in the fifth-round, is the only other member of this draft class to still be signed to the Hurricanes at any level outside of Bean, but it seems that may no longer be true shortly. He is a Canadian goaltender who played in the Ontario Hockey League (OHL) with the Kingston Frontenacs prior to being drafted. He actually did sign his entry-level contract and even impressed in his first season in the ECHL with the Florida Everblades, leading some to think he could make the jump to the AHL.
However, a disappointing second season in the ECHL and a game to forget with the Checkers have dampened those hopes for Helvig. He was most recently in the news in March of this year for being arrested on the accusation of battery while in Orlando. (from 'Hurricanes' goaltending prospect Jeremy Helvig arrested in Florida,' Charlotte News-Observer, 03/05/2020)
Grade so far: C-
The fact Helvig is still in the organization is an improvement over the past few picks, but his disappointing season in 2019-20 have left his NHL chances in significant peril. He has one year left on his contract, and his off-ice legal issues mean his current standing in the organization is up in the air altogether.
Pick 164: Noah Carroll
The final pick of the 2016 draft for the Hurricanes was Canadian defenseman Noah Carroll from the OHL. He was not signed to an entry-level contract and is about to enter his third Canadian college hockey season with the University of New Brunswick.
Grade so far: D-
Carroll was never signed and it seems unlikely that he will re-enter the NHL post-college, but the fact he is still playing – and that the Canes drafted him in the sixth round – saves this pick from an F.
Final grade so far: C-
There's still plenty of time for these prospects to turn their careers around, but it's hard not to look at the 2016 draft as a missed opportunity for Carolina. Only two players drafted remain in the ranks for the Hurricanes, and only Bean seems likely to ever play for the team.
So far, the Canes have received a combined 14 NHL games from this class, and two of the players who got NHL minutes have since been traded. These players are still young and will have plenty of time to prove their worth to the NHL, but as things stand now, the Canes must be looking back at this draft class with disappointment.
---
---