The NHL Carolina Hurricanes have a great deal in common with their namesake from another sport, the North Carolina Tarheels men's basketball team. The Hurricanes have attained the highest goal in their sport, winning the 2006 Stanley Cup Finals. The Tarheels have also achieved their sport's highest level, winning 5 NCAA National Championships.
Both teams call the Raleigh, Durham Chapel Hill area of North Carolina home. They have shared fan bases, although the 'Canes play in the PNC Arena which is also home to North Carolina rival NC State. Fans of the Tarheel basketball team have been bemoaned as having a "wine and cheese" mentality, lacking the vibrant energy of other top college basketball programs.
Of late, the Hurricanes have seen a drop in their regular season attendance. Of course this is not due to a lack of energy, but frustration on the part of fans at the team's performance or lack thereof in recent years.
Good coaches
While both teams are underachieving in realtion to expectations for their seasons, both teams have excellent head coaches. The newly minted Hurricanes Coach Bill Peters is slowly but surely changing the culture in Raleigh. The Tarheels are led by NCAA Hall of Famer Roy Williams. His coaching pedigree is without challenge. While armchair hockey and hoops fans may disagree, both of these teams are being coached very well.
Carolina Hurricanes Coach Bill Peters was recently quoted as saying his team was not "hungry enough." While this is an alarming statement to make about professional athletes, it is something that is being heard less around the 'Canes post game than it was last year.
North Carolina's Coach Roy Williams shared similar sentiments about his team after they lost to Virginia Monday night:
"I'm disappointed in our sense of urgency at some points during the game. I'm disappointed that we gave in."
Wow, Hurricanes fans, does that sound familiar? How about this snippet from Coach Peters after Saturday nights loss to the New York Rangers:
"…and then we quit playing from that point on until the horn went."
It seems that no matter the level – professional or collegiate – coaches are always going to be confronted with challenges to team focus and playing hard for the entire game. Rookie NHL coaches and college Hall of Fame coaches alike are always trying to find the motivational buttons to push their teams a little harder. While it should not be something a NHL coach should have to contend with – his players are professionals, after all – nevertheless it seems to be a sad reality.
Carolina injury bugs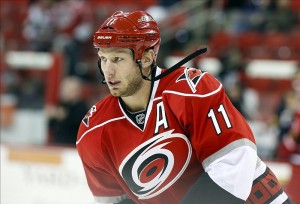 The Carolina Hurricanes have had their share of injuries this season. Of course the most significant was the broken leg of Jordan Staal. Early in the season there were also injuries to Jeff Skinner, concussion and Eric Staal, upper body. Alexander Semin has been recovering from a hand injury and Patrick Dwyer and John Michael-Liles have missed games due to injuries.
The North Carolina Tarheels have had injuries to deal with, also. Freshman Theo Pinson broke the fifth metatarsal in his left foot. Joel Berry was sidelined with a groin injury. The Fayetteville Observer noted that in Monday's loss to Virginia,
"Sophomore center Kennedy Meeks arrived at the Dean Smith Center for the game with a headache, sore throat and a fever of 101 degrees. He played limited minutes. Team leader Marcus Paige scored 15 points despite being slowed by plantar fasciitis in his right foot and a sprained left ankle."
The Hurricanes have responded to getting back key players like Jordan Staal with having better success. They finished the month of January with a 7-3-2 record. It was their best month in terms of points earned and winning percentage this season. The North Carolina Tarheels are struggling to win games, after some notable victories early on. Injuries have hurt in the Carolinas, whether the game is played on ice or on hardwood.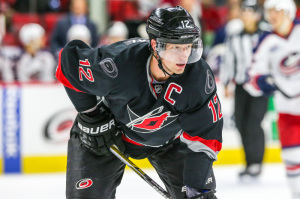 Carolina Stars
Both the Hurricanes and the Tarheels have what could be considered star players. Eric Staal is the 'Canes team captain and an NHL star. Marcus Paige is leading the basketball Tarheels in minutes played per game and in scoring. Unfortunately for both teams the supporting cast of characters is simply average at best. The talent level across the teams is just not strong enough to win championships.
It can be argued that the Hurricanes have a supporting cast that has the potential upon which to build a playoff-caliber team. The team has a strong set of what I call "young guns" who have tremendous upside potential. Jeff Skinner is already a prolific scorer – or was until this season's slump, Elias Lindholm, Justin Faulk, Victor Rask, and a few others are not bad building blocks.
But building takes time. The free-agent landscape in the NHL does not seem to hold season-changing potential. Hurricanes GM Ron Francis does not have a crop of potential trades to choose from that would instantly change his team.[tweetthis] Getting the 'Canes back to the playoffs will take some time. (I really hate admitting that.) #THW[/tweetthis]
While the UNC Tarheels don't sport an all-star surrounding cast for players like Marcus Paige, it can be argued that re-stocking the talent cupboard is easier in college basketball. Even in these days of "one and done," that find players jumping to the NBA after their freshman season, success is still possible. Just ask John Calipari of Kentucky on having success with short-term players. Teams are going after prospects at earlier ages than ever:
Basketball star is receiving letters from Duke and UNC in EIGHTH GRADEhttp://t.co/VRLZIjzj2M via @MailOnline

— thaiparampil (@thaiparampil) February 3, 2015
Tarheels coach Roy Williams could very easily find his team in the Sweet 16 or better in this year's NCAA Tournament. A few good bounces and anything can happen in college basketball's March Madness. Unfortunately for Hurricanes coach Bill Peters, making a run to the Stanley Cup finals is much more grueling. It will take more than a couple of good bounces of the puck for the 'Canes to find themselves in a quest for the Cup.
Prognosis?
In terms of lacking real depth, both teams are being "coached up" as well as they can be. These teams are what they are.  They are not expected to be very good for this year or the next few years. The Carolina Tarheels can re-load with bright young talent and find themselves legitimately contending in the NCAA Basketball Tournament.
Shrewd draft selections and trades are going to have to be the hallmark of the Hurricane's Ron Francis. With the right mindset of building, and not just "gathering assets" as his predecessor used to say he was doing, Francis can field a playoff contender sooner rather than later.
Carolina is a great place to be a sports fan. The heritage of years past lives on. It will be nice when the current teams begin to build more heritage and establish legacy with greatness in the here and now. Another Stanley Cup in Raleigh would be fantastic, as would another NCAA Championship in Chapel Hill. Maybe the 'Canes will draft Connor or Jack and the Tarheels can sign that 8th grader. Yes!