Bill Peters, head coach of the Carolina Hurricanes, said after last night's 3-0 loss to the Vancouver Canucks, "We weren't hungry enough." That is a very disconcerting statement for fans of the 'Canes. It rings uncomfortably of too many post-game pundits from last year rendering the same analysis.
I received a text early this morning from a friend who asked, "What is wrong with these professionals that are getting paid to play hard?" Unsuccessfully I tried to come up with an answer. It seemed that the only suitable response that I could give was, "It is mind-boggling."
Bill Peters not Kirk Muller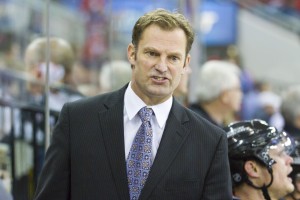 The three seasons that Kirk Muller was behind the bench of the Hurricanes were dismal at best. Muller never seemed to be able to win over the locker room. There were frequent reports of key players like Eric Staal simply not buying into the Muller game plan.
Whether or not the local media were correct in their observations about Staal, Muller and the Hurricanes is up for debate. One thing is true, however, and that is that there were way too many "we didn't play hard enough" statements heard in the post-game media gatherings.
I can remember time after time hearing this analysis with disbelief. I would lament, "How can it be that these guys are not playing hard enough? It's what they are getting paid to do." To hear Carolina's coach Bill Peters saying the same thing after a tough loss is indeed mind-boggling.
Bill Peters using a "go-to" comment?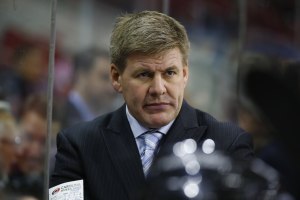 As I thought about the incredulity of professional athletes not being hungry enough or not playing hard, I wondered if this is a "go-to" comment that coaches use to explain the unexplainable. What Bill Peters actually said after the game was,
"I thought they (Vancouver) built a game, similar to what Colorado did the other night here. That's typically what happens on a back-to-back: you don't start as well as you'd like, but you build a game, find your legs and dig in. That's what they did, and I don't think we stayed with it well enough. We weren't quite hungry enough in the hard areas of the game."
There you go. A well-rested Hurricanes team has faced teams in two successive games who were playing their second game in as many nights. Isn't the team playing their second game in a row the one that is supposed to have "tired legs?" How is it that the 'Canes just were not quite hungry enough in the hard areas of the game? Was Bill Peters just reeling off a standard answer that coaches give when there is no obvious reason for the team's performance? Or were the Hurricanes really not hungry to win?
Unacceptable
If it is the latter, then for myriad reasons this is unacceptable. Many people get up every day and go to work and do their best. Some just try to do the least they can get by with to keep their job. In the business world and in every other arena, doing your best and being hungry to succeed separates winners from losers. It is no different in professional sports.
The fact that these guys are professionals gives credence to the question I received via text. "Aren't they getting paid to play hard?" Yes, of course they are. Where is the disconnect? Is it a lack of pride? Is it an attitude of resolution that there is no playoff run in sight this season? The answer is elusive and one that Bill Peters is wrangling with as he works to get his team to buy into his system and his work ethic.
The concerns over who is going to be traded and where the Hurricanes will land in the 2015 NHL Draft order pale in urgency when lined up against the issue of "heart" on a team. Until Carolina can dig down individually, and as a team, and find the "it" factor that will light the fire of consistent hunger, who is traded where and who picks first are non-issues.
Coach Bill Peters or Captain Eric Staal?
Is the responsibility for "being hungry" on the coach or on the team captain? There has to be acceptance from the captain regarding the system and culture that the head coach is trying to implement. (Obvious right?) In the case of Bill Peters, his status as a rookie head coach in the NHL makes the support of his team leaders all the more crucial.
I've been to most of the home games this season, in the locker room after the games, and in the media gatherings, as well. I believe that there is support from Eric Staal for the system and work ethic that Bill Peters is forging within the Carolina Hurricanes. I see Bill Peters as "old school" NHL. He talks about work and space, and net-front presence and all the things that one would expect from a guy with his experience.
He is a winner. He has won in his previous minor league coaching stints and he has been worked closely the consummate NHL coach, Mike Babcock of the Detroit Red Wings. There would be little substance to a characterization that the Wings are not an exemplary NHL organization. Bill Peters knows what he wants his team to look like and the work ethic he wants them to embrace. I truly believe that Eric Staal is on-board with the "Bill Peters system," and his work ethic when healthy is above suspicion.
Stuff happens
In the 3-0 loss to the Vancouver Canucks, the 'Canes had some things happen that caused those watching to raise an eyebrow. Take this play/mistake from defenseman, Justin Faulk:
Stuff happens, right? Faulk was the only Carolina Hurricane to be named to this year's NHL All-Star team. In fact, he is the only Eastern Conference defenseman to make the team.
This just brought to my attention. Justin Faulk is the only All-Star defenseman chosen from the Eastern Conference.

— Jamie Kellner 📸 (@jbkellner) January 11, 2015
Faulk's selection as an All-Star is well-deserved. The Hurricanes provided this summary of his season thus far:
Justin Faulk leads all Hurricanes in assists (17) and time on ice (24:14 per game) and ranks second on the team in scoring (24 points). Faulk leads the Hurricanes and all NHL defensemen in shorthanded goals (2), and ranks in the top 20 among NHL blueliners in goals (T-16th, 7), points (T-20th, 24), game-winning goals (T-3rd, 3), power-play goals (T-12th, 3), shorthanded points (2nd, 2) and shots (10th, 112).
Picking any player from a team that is struggling always stirs the ire of some fans, but Faulk is a good player who has worked hard and earned a spot. That being said, how does this happen?
Stuff happens? As stated, mistakes happen. But, that play was very disappointing to watch from a player who was just picked to be an All-Star. Does the play fit into the "we weren't quite hungry enough" gloss that Bill Peters gave the team's performance? Or does it get filed under the "stuff happens" category? You can decide.
Hunger
One thing is certain. Other teams are hungry. If the Carolina Hurricanes don't get hungry soon, they will get eaten alive night after night. That will not suit Coach Bill Peters at all. Apparently in the warmup before Saturday night's game against the Ottawa Senators, Peters will have the whole team on the ice and will then decide who will play:
So all 23 Canes will take the ice tonight for warmups, then three will be cut from the lineup. That's an interesting motivational tactic.

— Jamie Kellner 📸 (@jbkellner) January 17, 2015
That is an interesting motivational tactic. We know that Bill Peters is not above sitting a player he feels is not giving his best. Just ask Alexander Semin. He enjoyed a few games from the sidelines earlier in the season because the coach did not see the effort he felt Semin needed to bring. I don't think any member of the 'Canes is currently exempt from a ride on the pine if Peters thinks it will help.
I have a ton of confidence in Coach Bill Peters. I believe that he will get to the core of this team and how to motivate them, and that Eric Staal will play a large part in bringing the culture up to a consistent level of effort. Maybe skipping a pregame meal will make them hungry. Hey, if that's what it takes.