With the Carolina Hurricanes' trade of Zac Dalpe and Jeremy Welsh to the Vancouver Canucks over the weekend, it was another admission of failure on the part general manager Jim Rutherford. Through multiple training camps and call-ups, Dalpe had yet to stick in Carolina. Welsh is another missed opportunity, his NCAA ability never translating to the pro game.
Rather than subject either to waivers and a likely claim, they were moved for a late-round pick. Over the years, it's been an all too familiar sight. And it's starting to cost Carolina.
A Prospect Graveyard
Dalpe and Welsh aren't the first to strike out in the Hurricanes' system, nor are they likely to be the last. This has been an on-going problem for years. Zach Boychuk has been waived half as many times (4) as he has NHL goals (8). Drayson Bowman is clinging to a roster spot for dear life. Long-gone players like Jeff Hereema and Tomas Kurka scarcely made an appearance in Raleigh–or anywhere in the NHL, for that matter.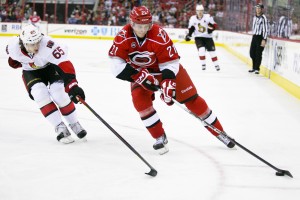 At one point or another, all of these players were highly regarded. Bowman had been a back-to-back 40-goal scorer for the Spokane Chiefs of the WHL and was looking like quite the steal in 2007's third round. But in his four years as a pro, Bowman has totaled 67 goals–20 more than during his last year in Spokane–and just 11 at the NHL level in 106 games.
The only players that seem to graduate to the NHL level through the system have spent minimal or no time in the AHL. Of the 8 drafted players still remaining in Carolina–and that low number is a problem in and of itself–only Bowman and Brett Bellemore have spent more than a season in the minors.  Eric Staal and Cam Ward only played in the AHL during the 2004-05 lockout while Elias Lindholm, Ryan Murphy and Jeff Skinner have combined for three total games.
The pattern is troublesome. A new round of players have begun their careers in Charlotte, and the 'Canes cannot afford to have the majority of them struggle in the way that their predecessors have.
Finding Fault
So, who's to blame? The scouting department, or Charlotte/Albany/Lowell's inability to develop players? It's very much a chicken-and-the-egg scenario. Both divisions have had major turnover, and yet the issue continues to plague the team.
Coming out of Ohio State, Dalpe never adapted to the pro game. He was among the softest 6'1'' forwards you'll ever see, and his failure to develop defensively hampered his ability to stick in the NHL. Kirk Muller has preached about defensive responsibility from his forwards, and those are the players that he's given a longer leash to.
If Dalpe flourishes in Vancouver–or merely hangs on to a roster spot–we'll know that the blame can lay squarely at the feet of Jeff Daniels and the Checkers' staff. Though Charlotte has had mild success during Daniels' tenure, the team's primary objective is developing talent for the Hurricanes. If he's falling short there, it may be time to make a change.
There's still time for Dalpe to turn his career around but the same cannot be said for everyone. Boychuk has struck out in multiple locations and appears relegated to AHL star. Time is running short for many players in the system who are on the last year of their deals. But perhaps an escape from the graveyard would be the best thing that could happen to them.
***
Before even playing a game, the Hurricanes' have been hit hard by injuries. In the last few days, Tuomo Ruutu was placed on injured reserve and it was announced that Tim Gleason had sustained a concussion. The status of Alex Semin and Elias Lindholm for opening night is up in the air.
For once, the 'Canes are getting close to the cap ceiling. The door was open for many from Charlotte to replace the walking wounded, but few made enough of an impact in their audition. Depth is becoming a concern and Muller may have to settle for playing players he doesn't trust, solely due to lack of other options. Going forward, with new deals due to Jiri Tlusty and Justin Faulk and dwindling cap space, the problem will only compound itself.
The Hurricanes need cheap talent coming out of the AHL to fill in the gaps. They simply cannot afford to keep plugging waiver fodder into their lineup and hope to be a playoff team. Whatever the cause of the inability for players to make the jump, it has to be remedied. And soon.
Andrew Luistro graduated from Appalachian State University. An avid sports fan, he began beat writing for the Sunbelt Hockey Journal, part of The Hockey Writers Network, with a focus on the Carolina Hurricanes. Andrew also actively follows the Boston Red Sox and Carolina Panthers, among other teams. Follow him on Twitter @ndrewL7