After a disappointing 2013 campaign and a rigorous summer of change, the Calgary Flames on Monday announced their opening roster for the 2013-14 season. If there's one theme for this team in the upcoming season, it's "change."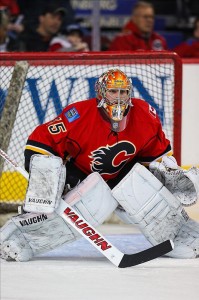 GOALTENDERS
#31 Karri Ramo (27; Finland)
#35 Joey MacDonald (33; Canada)
Neither goaltender began last season with Calgary, but both have been brought into the fold rather quickly. Ramo was acquired in 2012 when his rights were part of the Mike Cammalleri trade with Montreal. MacDonald was claimed off waivers last season when Miikka Kiprusoff was injured. Neither has experience as an NHL #1 netminder, but Ramo was better during camp and will get the chance to carry the mail to start the year. MacDonald will resume his back-up role from last season.
Reto Berra was assigned to the AHL to get some experience starting in North America. Indications were that he could return in the future with a strong stretch in the minors.
DEFENSEMEN
#4 Kris Russell (26, Canada)
#5 Mark Giordano (29, Canada) [Captain]
#6 Dennis Wideman (30, Canada)
#7 T.J. Brodie (23, Canada)
#27 Derek Smith (28, Canada)
#44 Chris Butler (26, United States)
#55 Shane O'Brien (30, Canada)
Brodie, Giordano, Wideman and Butler are hold-overs from last year's club, with Giordano being anointed as new team captain (following Jarome Iginla) and Brodie progressing from being the seventh defender early last year to being top pairing this year with Giordano. O'Brien adds some size and grit to the back-end, while Russell has some craftiness and a good first pass. It'll be interesting to see how Bob Hartley's staff balances out the three pairings (Giordano-Brodie and Wideman-Russell appear to be the top four) over the long haul, as the O'Brien-Russell pairing may get targeted by the opposition on the road.
Smith has cleared waivers and will be the #7 defender. He can be sent down anytime in the next 30 days (or before he plays 10 NHL games) without requiring waivers again. Patrick Sieloff was assigned to the AHL to get some playing time, where he joins a strong grouping of defensive prospects. Chris Breen has been declared as a non-roster player as he recovers from a shoulder injury, and the expectation is he'll be headed to Abbotsford as well once he is cleared.
FORWARDS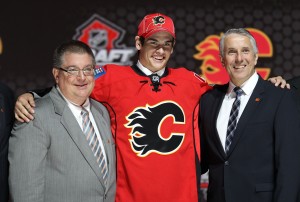 #8 Joe Colborne (23, Canada)
#11 Mikael Backlund (24, Sweden)
#15 Tim Jackman (31, United States)
#16 Brian McGrattan (32, Canada)
#17 Lance Bouma (23, Canada)
#18 Matt Stajan (29, Canada) [Alternate Captain during Cammalleri's injury]
#20 Curtis Glencross (30, Canada) [Alternate Captain]
#22 Lee Stempniak (30, Canada)
#23 Sean Monahan (18, Canada)
#24 Jiri Hudler (29, Czech Republic)
#38 Ben Street (26, Canada)
#39 T.J. Galiardi (25, Canada)
#47 Sven Baertschi (20, Switzerland)
#54 David Jones (29, Canada)
Five new faces up front for the Flames compared to last season. The top line will likely be Glencross, Stajan and Stempniak, so expect Backlund, Monahan, Baertschi, Hudler, Jones and Galiardi to round out the top nine to start the year. Mike Cammalleri is on the IR with a hand injury retroactive to September 14, so he can be cleared anytime – Matt Stajan has worn the A in Cammalleri's place during the pre-season and will likely continue to do so. Bouma, Colborne, Jackman, Street and McGrattan will likely rotate through the fourth line for the time-being.
Once Cammalleri's back, expect Street to get sent down (as he's already cleared waivers), although Sven Baertschi doesn't require waivers and could also be sent down to the AHL to round out his game. Sean Monahan starts the year in the NHL and will be given his nine-game try-out to see if he can stick in the NHL.
THE FARM
After the re-assignments from Calgary, the Abbotsford Heat will be rather top-heavy this season.
In addition to Reto Berra in goal, the Heat have blueliners Mark Cundari, Chad Billins, John Ramage, Patrick Sieloff and Tyler Wotherspoon, and forwards Michael Ferland, Markus Granlund, Ben Hanowski, Roman Horak, Blair Jones, Josh Jooris, Corban Knight and Max Reinhart as players on the cusp of playing in the NHL regularly. Breen and Street also fall into this group, should they eventually be sent down.
With so many players not requiring waivers to go down, and the beginning of the long-awaited rebuild, expect a lot of movement between southern Alberta and the Fraser Valley during the next several months.
Ryan Pike has covered the Calgary Flames and the NHL Draft extensively since 2010 as a Senior Writer for The Hockey Writers and Senior Contributing Editor of FlamesNation.ca. A member of the Professional Hockey Writers Association, he lives in Calgary.