With the season looming – and rosters being set – some teams are fighting to drop under the cap by moving players to long-term injury reserve or sending others to their minor league affiliates.
As it has widely been discussed, the signing of Cody Franson is one move that sent the Toronto Maple Leafs over the cap. The team followed that up by trading Joe Colborne to Calgary before sending some players to their AHL affiliate Toronto Marlies.  This includes John-Michael Liles – if the 32-year-old defenseman clears waivers and reports.
Liles becomes the second player in the past two seasons to find himself in this situation – following in the footsteps of Tim Connolly who found himself in a Marlies uniform last January. But it was a tweet earlier today by Cap Geek that really caught my eye and got me thinking.
If Liles is demoted, #Leafs will be spending $5.45M in cap space and ~$9.7M in salary for players not on roster. http://t.co/qsSFnPR4Xf

— CapGeek (@capgeek) September 30, 2013
Cap Hits Not Wearing Blue And White
Now according to this Cap Geek report, the Leafs currently have five players who no longer play for the team that still have a cap hit on the their salary.
Ben Scrivens and Matt Frattin (both signed in '12-'13)
Scrivens and Frattin were both part of the Jonathan Bernier trade with Los Angeles. Part of that deal has the Leafs retaining some of their salary through 2013-2014 when Scrivens becomes an unrestricted free agent and Frattin becomes a restricted free agent.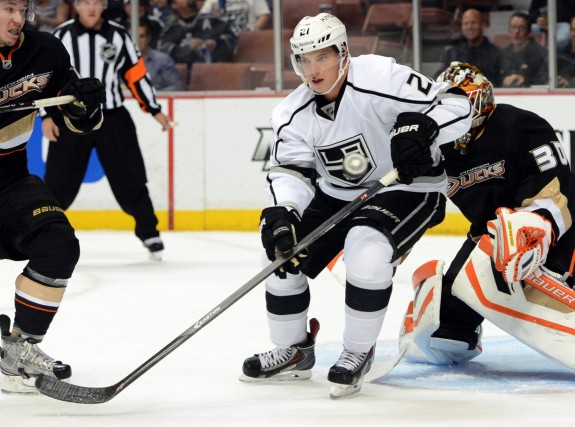 The – now – Kings backup goalie comes in at a cap hit of $62,500 over the next year. Frattin, on the other hand, is eating up $437,500 of the team's cap room – a team he's no longer playing for.
Colby Armstrong (signed in '10-'11) and Darcy Tucker (signed in '07-'08)
Armstong and Tucker – who retired – both come in as $1-million cap hits for Toronto over the next season. Armstrong never had a great stint with the Leafs – only managing to score 26 points (9 goals and 17 assists) over his two seasons with the blue and white. This was in large part thanks to multiple injuries over that time. In June 2012 the team decided it was time to part ways with the forward buying him out of the final year of his contract.
Tucker, on the other hand, had a good time offensively in Toronto racking up 148 goals and 171 assists over eight seasons with the Leafs. After signing him to a 4-year $12-million contract prior to the 2007-2008 season, the Leafs decided to buy him out of the remaining three years of his contract after his numbers declined for the second straight season – making him a $1-million (per season) cap hit for the team from 2008-2009 to 2013-2014. Thankfully for Leaf fans, this will be the final year they will have to see the team hand out a cheque with Tucker's name on the recipient line.
John-Michael Liles (signed in '12-'13)
Finally, there's Liles. The Leafs signed the defenseman to a 4-year $15.5-million deal before the 2012-2013 season. Although he could still play within the organization, he'll be an expensive minor league player earning nearly $3-million as a member of the Marlies. Liles' contract would see him paid that same amount through the 2015-2016 season if he remains with the team's AHL affiliate.
Actual Maple Leafs Salary of Non-Leaf Players
While their cap hit is one thing, Mikhail Grabovski and Mike Komisarek (along with the players named above) will be paid by the Toronto franchise. But how much is the team paying out these players? How much is coming out of the team's pockets for players that aren't associated with the team any longer?
According to the same Cap Geek report, there are currently seven players or former players the Leafs will pay money to this coming season that have been bought out, traded, or possibly buried in the AHL. Here's how it looks for the Toronto Maple Leafs, in terms of actual salary:
Ben Scrivens will be paid $63,776 in 2013-2014.
Matt Frattin will be paid $449,324 in 2013-2014.
Colby Armstrong will be paid $1-million in 2013-2014.
Darcy Tucker will be paid $1-million in 2013-2014.
Mike Komisarek will be paid nearly $1.2-million per season in 2013-2014 and 2014-2015.
Mikhail Grabovski will be paid nearly $1.8-million per season from 2013-2014 to 2020-2021.
John-Michael Liles will be paid $4.25-million per season in 2013-2014 and 2014-2015 and $2.75-million in 2015-2016.
Totals Paid in 2013-2014 Season
The players, to an extent, know that parting ways with a team is often just part of the business. Liles said it best in an article (LINK) published by the Canadian Press.
"It's management, it's not something that you control as a player, whether it's me, whether it's one of the young guys. It's the nature of the game we're in and the business that we're in," he said.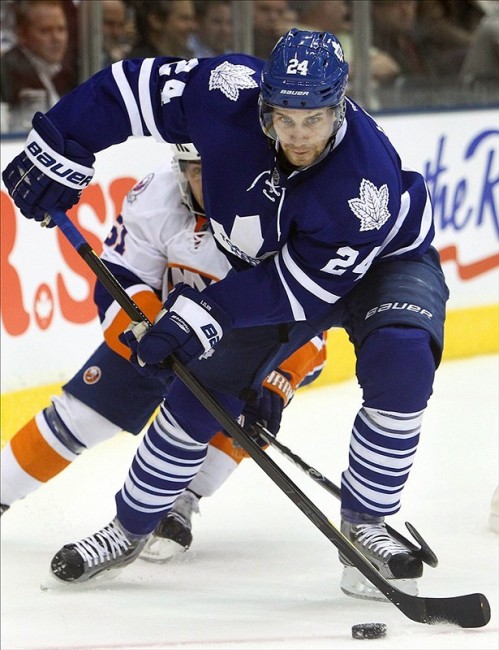 But not all the fans understand this. The team, in total, is spending just over $9.7-million dollars in salary and $5.45-million in cap space on these players. Of course fans are somewhat disgruntled with that kind of spending.
However, making these moves – buying out these players – has given the team the opportunity to sign Franson and to keep Morgan Reilly up for now. In turn, this spending could be part of the reason that the NHL on TSN panel expects Toronto to make one of the playoff wild card spots in the Eastern Conference this season.
ICYMI – @NHLonTSN East playoff projections: Leafs, Flyers nab wildcards; Habs, Isles miss http://t.co/OexWPlPndH (vid)

— Mark Masters (@markhmasters) September 30, 2013
It seems ridiculous to think that six years after signing Darcy Tucker, that he is still being paid by the blue and white. But as Liles said, it's part of the game. It's part of the business. And only time will tell if these non-player salaries will restrict the team or benefit them by ridding themselves of the players that just didn't fit with where they wanted to go.
Any questions or comments, let me know on Twitter @AndrewGForbes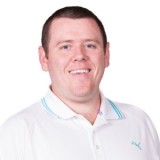 Andrew is in his 8th year reporting for The Hockey Writers covering the Toronto Maple Leafs. He began his broadcasting with CBC's Hockey Night in Canada team as well as being part of their coverage of the 2014 Winter Olympic Games in Sochi. He's the former play-by-play voice of the London Jr. Knights for Rogers TV and currently hosts the Sticks in the 6ix podcast. You can follow him on Twitter at @AndrewGForbes.