The Carolina Hurricanes are headed into the All-Star break sitting atop of the Metropolitan Division with 74 points. There hasn't been much to complain about, and they have given themselves a nice six-point cushion between them and the second-place New Jersey Devils for the division lead. Everyone has been chipping in and providing value to their role, and some have been exceeding expectations.
With Max Pacioretty re-injuring his Achilles, the trade deadline approaching, and struggles on the power play, there is a lot to talk about. These questions were all sent on Twitter, and fellow 'Canes writer Brandon Stanley (BS) will be here answering questions with me. Make sure to get your submissions in over the next few weeks, as we do one of these at the end of each month! Follow us both on Twitter at @bwstanley26 and @JacobBillingt10, and look out for the tweet asking for your questions!
Question #1 – Trade Possibilities
Will Carolina trade for a top-six scoring threat now that Pacioretty is done for the year? – @BlainPovtin_THW
BS: With the cap space potentially now available to them when they move Pacioretty to long-term injury reserve (LTIR), the Hurricanes can add a significant piece ahead of the deadline. The option definitely exists. However, the Hurricanes have been an elite team playing most of the season without Pacioretty. The Hurricanes were reportedly in on Bo Horvat before he was traded, but they weren't willing to pay the high price that included Martin Necas. They have shown time and again that they won't force it if the value is too steep. I'd expect some kind of move, likely for a center, but it may not be a blockbuster, depending on how the market shakes out.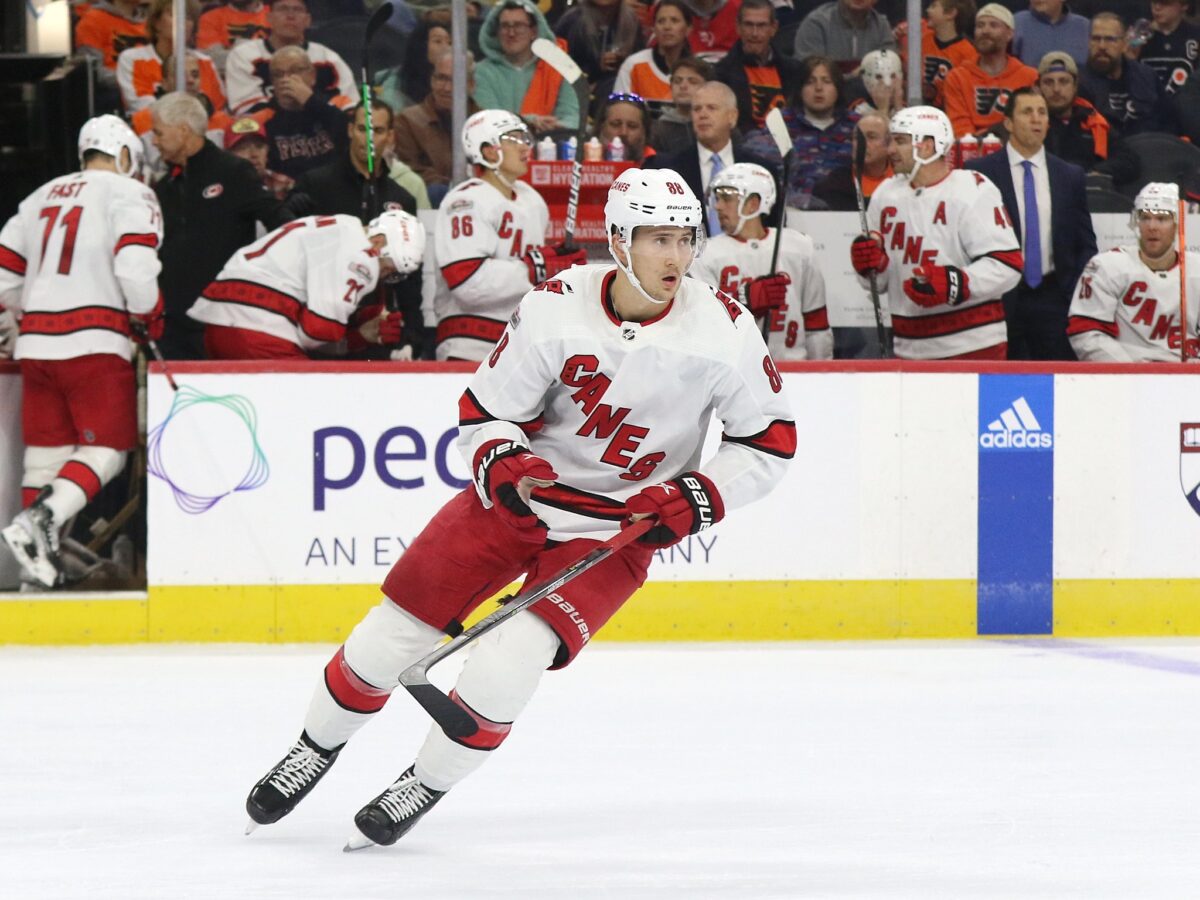 Jacob Billington (JB): As mentioned in Brandon's answer, the ability to move Pacioretty to LTIR opens up an additional $7 million to work with. With that, any player they look to acquire could work financially. It may take some retention or moving another piece out, but I don't imagine they will have any trouble making the money work. There are some big names on the trading block right now, and there are a few that the Hurricanes may have their eye on.
Related: Hurricanes Are a Complete Team Without an Active Trade Deadline
---
Latest News & Highlights
---
With the Bo Horvat deal setting the market at a fair value, I could see general manager (GM) Don Waddell making a move to bring in a top-six player. There is no pressure to replace Pacioretty, as the team has gone 31-7-7 without him this season. However, adding a piece like Ryan O'Reilly to give the team more center depth or an elite scoring winger like Timo Meier will give the team a big bump in their odds of playoff success. It is worth noting that the Hurricanes don't typically go big for rentals at the deadline, so if they acquire a big name, look for an extension to go along with it.
Question #2 – Fixing The Power Play (again)
I'm going to beat a dead horse but the PP [power play]. What would you do to get it scoring again?!? – @GoldenCaniac
JB: We talked about this in the last mailbag, but with Pacioretty now injured, this time, I have a bit of a different answer. I don't think that personnel is the issue here. Sure, adding Meier or Horvat would certainly boost the success rate, but let's not pretend they don't already have elite players on both waves. Right now, the top players are split up a bit across the two units, with Stefan Noesen on the first wave and Necas and Seth Jarvis on the second. I think it is valuable to spread the wealth, but when the units are struggling, you need to put all your eggs in one basket and make the best possible five-man scoring unit you can. There is a lot of skill on the ice on the power play, and they need to make sure they are getting every puck on the net instead of waiting for the perfect seam to open up.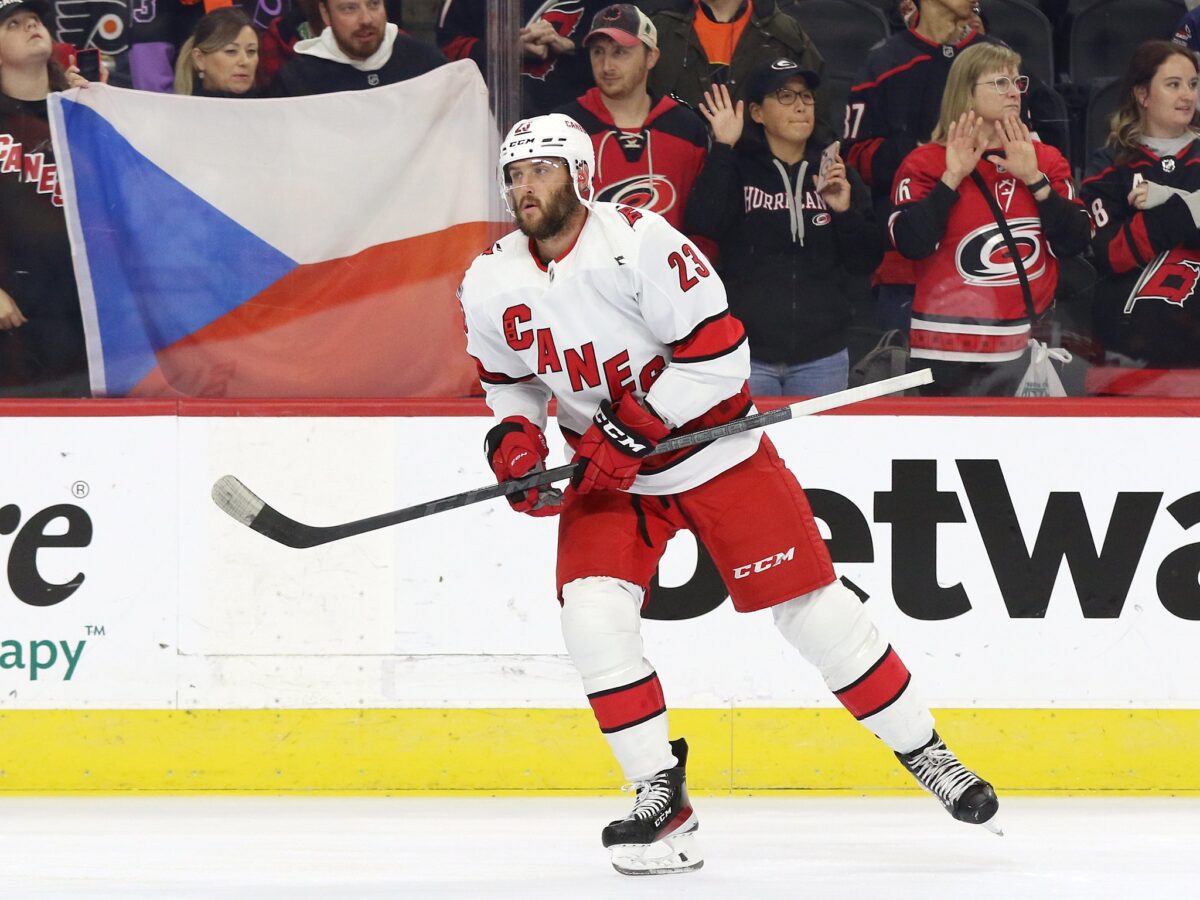 BS: We did talk about this last edition, but the answer has changed slightly, with Pacioretty now out of the picture. The power play has actually taken some solid steps in recent games, culminating in scoring a huge goal to go up 2-0 against the Boston Bruins' third-ranked penalty-killing unit last game. The Hurricanes have the skill players to score pretty goals, but I think they need to simplify; their identity is built around their hard work and forechecking opponents to oblivion. That shouldn't change just because they go on the man advantage. Greasy goals by out-working their opponent, winning battles in the dirty areas, and banging in rebounds from point shots, with a sprinkle of occasional skill plays by Sebastian Aho, Andrei Svechnikov, and Martin Necas should be plenty to get the power play looking a lot more competent. They're on the right track, and with so much capability, they are bound to see some positive results sooner than later.
Question #3 – Defensive Depth
Is it time to give Max LaJoie a shot at D7 instead of Coghlan? I hate to pull the Wolves captain, but Cogs gives me anxiety – @stormceller97
BS: Maxime Lajoie is a decent fill-in defender who won't hurt you too much, but I'm not sure he's that big of an upgrade over Dylan Coghlan. His skating ability does give him one edge that could be useful, but Coghlan has actually had his moments in recent games. People underestimate how hard it is to come to a new team and barely play on top of that. I thought the Boston game may have been his best of the season, as he made a couple of solid defensive plays and continued to show his ability to get his massive shot through traffic on net. But while I don't think they call up Lajoie, I do think they look to add a depth defenseman before the trade deadline.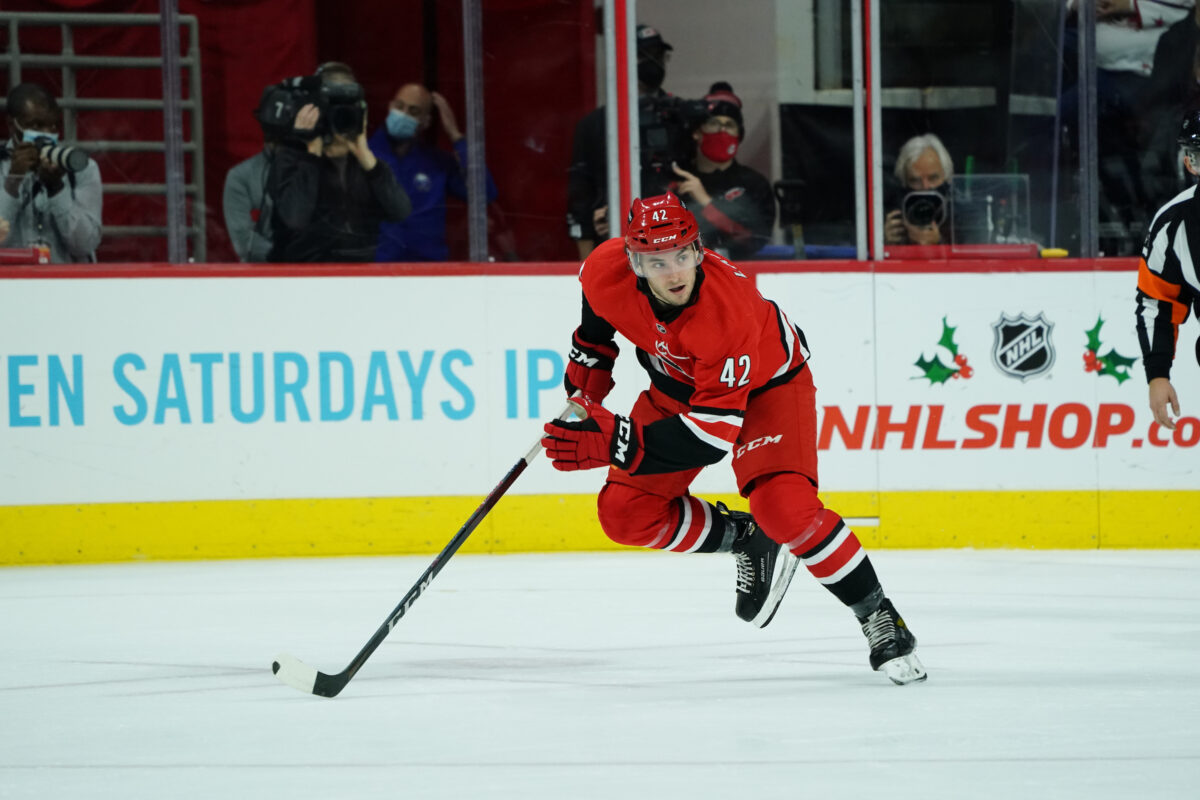 JB: I don't think Coghlan has been problematic enough to call up Lajoie. There are pros and cons to each player, but neither is a big step up over the other. As Brandon said, you have to take into account that Coghlan is fresh to the system. In the pre-season, he showed signs of being a great asset, and while he hasn't played to that level, it is clear that it is in there still.
With Calvin de Haan and Jalen Chatfield on the bottom pair in a healthy lineup, I don't think there should be much concern over the seventh defenseman. If any long-term injuries come into play, I could definitely see them making a move to add to the defense and bolster their depth, but with Jaccob Slavin out, they faired pretty well with the depth they have. I wouldn't identify it as a priority for the trade deadline, but a luxury if they can make a good move (from "Carolina Hurricanes and trade options: What might they do without Max Pacioretty?", The Athletic, Jan 25, 2023). But back to the original question, just to clear up my answer, there is no sense in trying to replace him with Lajoie.
Question #4 – Kotkaniemi's Contract
Was KK [Jesperi Kotkaniemi] a bad signing? Do you feel they will try to move him? Or does he still have potential to break out? 3 questions I guess – @TregeWilson_THW
JB: When Jesperi Kotkaniemi signed the deal, there was a clear expectation that he would grow into its value. Whether he did or didn't is debatable, but what is certain is that he is a valuable asset for the Hurricanes. Everything about his game, outside of his point production, is well worth the contract. Some people can't look past the lack of production, and that is fine, but he has been an asset the Hurricanes would like to keep around. The term of his deal may raise some eyebrows, but it was a risk Waddell was willing to take.
In terms of a potential breakout, that is up in the air. Kotkaniemi is 22 and has been scoring at a 30-40 point pace throughout his career so far. I think there is more production to be found from him, but what I struggle with is the definition of breakout. Assuming this question is talking about point totals, I could see him peaking at 55 points shortly.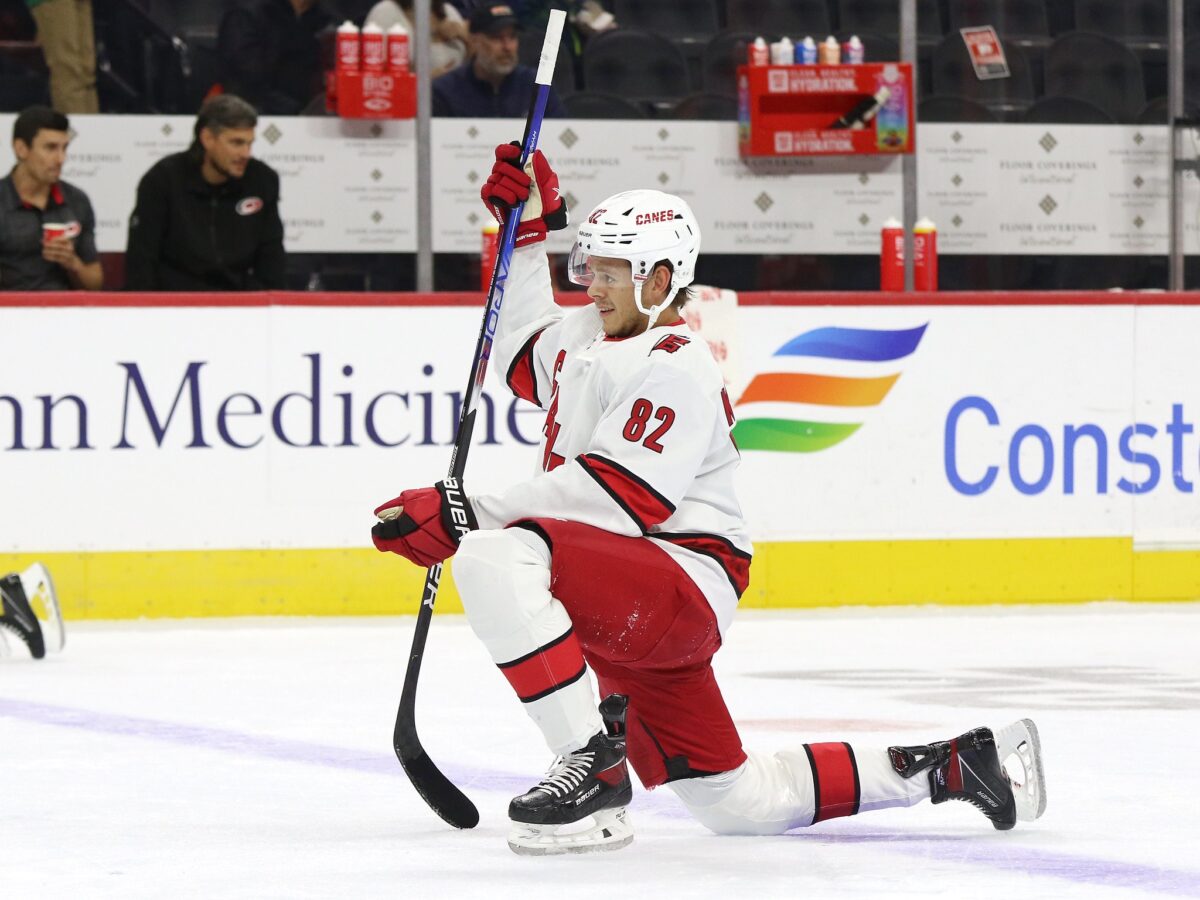 BS: He wasn't a "bad signing," but I'm still a little puzzled by the eight-year extension. It just seemed like a ton of term for a player we still don't really know well. I recently wrote about how his forechecking and physicality were an understated part of the Hurricanes' recent success, so while the offensive production hasn't been as hoped, he's been a really good two-way center behind Jordan Staal and made the team that much harder to play against. His offensive game is still mostly just flashes for now, but with an expanded role in the second half of the season (after his promotion back to the second line between Necas and Svechnikov), perhaps some improvement will come there as well. If he continues to play the same simple, north-south game he has in the bottom-six, that line can be really effective.
Lastly, no, I don't expect the team to move him. His value is relatively high to the Hurricanes right now, but with that contract, I'm not sure he DOES have any value to another team. It's easy to forget he's only 22, so if he can make strides with his offensive production, alongside his vastly improved defensive and physical games, he's a valuable player.
After the Break
As I mentioned, the Hurricanes and the NHL are headed into the All-Star break, and we will have a week without regular-season games. That may be tough for some, but make sure to check out all of the other Hurricanes' content posted over the past few weeks and keep yourself up-to-date.
---
---