Last week, St. Louis Blues GM Doug Armstrong revealed his most important plans for the summer.  He all but promises to lock up restricted free-agents Alex Pietrangelo, Kevin Shattenkirk, Patrik Berglund and Chris Stewart.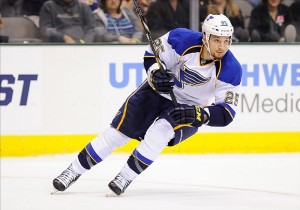 "We're going to want it the way we think is proper for the St. Louis Blues," he told Jeremy Rutherford of the St. Louis Post Dispatch. "If there's an offer sheet there, we're very content with where we are with the NHL salary cap, we're going to be able to match any offer and we will.
"These are core players that we're not going to let go."
Pietrangelo and Shattenkirk, numbers 1 and 2 in terms of ice-time per game (with the exception of Jay Bouwmeester's 14 games), have been a vital part to the Blues' core of young, puck-moving defensemen.  After Shattenkirk was acquired from the Colorado Avalanche in February 2011, it became clear that the team was focused on having a steady, although young, back end.
Berglund has been one of the faces behind the Blues' rebuild from the ground up.  Drafted with the 25th overall pick in 2006, Berglund stepped into the spotlight with friend T.J. Oshie in 2008-09 and has filled the second or third line center role nicely.
Then, we have Stewart.
Somewhat of an enigma for the Blues, Stewart was the Blues' leading scorer during the 2012-13 season (18G-18A—36P).  His production tailed off during the playoffs as he only tallied one assist in the Blues 4-2 series loss to the Los Angeles Kings.
This all came one season after Stewart recorded just 15 goals and 15 assists in 79 games played.  He was awarded a one-year contract by Armstrong last summer, allowing Stewart to show what he can do when the pressure is on him to deliver top-six forward production.
Stewart's contract earned him $3 million last season, which was a step down from the $3.25 million he earned in 2011-12 in the last year of his previously signed two-year deal.
For those not familiar with the NHL RFA compensation table, the team that loses a RFA to an offer sheet is due compensation that is measured by the amount offered.  Here is the NHL's set compensation table:
$1,110,249 or below – No Compensation
Over $1,110,249 to $1,682,194 – 3rd round pick
Over $1,682,194 to $3,364,391 – 2nd round pick
Over $3,364,391 to $5,046,585 – 1st round pick, 3rd
Over $5,046,585 to $6,728,781 – 1st round pick, 2nd, 3rd
Over $6,728,781 To $8,410,976 – Two 1st Round Picks, 2nd, 3rd
Over $8,410,976 – Four 1st Round Picks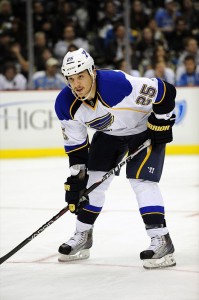 For example, if a team offers Stewart 60% above his pay grade from last season (or $5 million), and Armstrong decided not to match, the Blues would receive a first and a third round pick in the following year's draft.
For a team that is looking to win now, this is not an ideal course of action.  Stewart has shown flashes of brilliance throughout his short tenure with the Blues, but his inconsistency was one of the many contributors as to why the Blues fell to the Kings for a second straight post-season.
A first and a third round pick could prove to keep the Blues relevant in a very competitive league.  With a self-imposed salary cap, it could prove to be difficult to retain all the talent needed to remain successful.  The Blues are already staring at a 2013 Draft without a first-round pick; having two in 2014 could be a nice alternative for the St. Louis team.
To alleviate the loss of Stewart now, the Blues would need to fill his role via free-agency or trade.  His $3 million would come off the books, freeing up space to bring in some other talent up front.  Although this year's free-agent crop is thin, there are some sound veterans that could replace Stewart as a top-six forward.
Nathan Horton
Currently playing in the Stanley Cup Final with the Boston Bruins, Horton can be seen on the top line with David Krejci and Milan Lucic.  The native of Welland, Ontario is currently the second-leading scorer in the playoffs with seven goals and 11 assists in 19 games.  His highest-scoring season came in 2010-11 when he contributed 26 goals in his first season as a Bruin.  Horton's eye for the net and ability to find open teammates has been his reason for success but he has faced his fair share of injury problems, including the all-important concussion.
Horton earned $5.50 million last season and carried a $4 million cap-hit.  Hitting the open market after possibly winning his second Stanley Cup in three years could raise his asking price a bit, which has the potential to take the Blues out of the running.
Jarome Iginla
Yes, he is 35 years old, but he still packs a powerful punch.  The long-time Calgary Flames captain was sent to Pittsburgh at the trade deadline with Stanley Cup aspirations, but those dreams came crashing down in a four-game sweep at the hands of the Bruins in the Eastern Conference Final.  Iginla becomes a UFA this summer and the belief is that the Penguins cannot afford the veteran right-winger.
Earning $7 million last season, Iginla joins Brenden Morrow, Matt Cooke, Pascal Dupuis and Douglas Murray as the big names that are unsigned on the Penguins roster.  The Pittsburgh team currently has just over $7.5 million in cap-space, which means that they could afford Iginla, but they would likely be waving goodbye to some other valuable assets.  Iginla could rejoin the Flames and retire with the team that raised him, but chances are he wants to join a roster that could make a deep run in the playoffs.  Whether that is Pittsburgh or an outside team, the higher tier teams could all find themselves in a bidding war.  It's not exactly about money, though, as we saw when Paul Kariya and Teemu Selanne signed identical $1 million contracts with the Colorado Avalanche in 2003 for a chance to win.
David Clarkson
Playing a similar style to Stewart, Clarkson has made a comfortable home with the New Jersey Devils.  Clarkson was in the Devils' top-three leaders in goals and hits in each of the past two seasons.  The 29-year old winger is best known for leading a wrap-around resurgence (known in New Jersey as the "Clark-Around"), but has been the physical presence to an otherwise finesse set of forwards.  His 30 goals in 2011-12 was not only a personal-best, but was a large reason why the Devils were able to finish with the sixth-seed in the 2012 playoffs.
Clarkson earned $3 million last season, which was the last year of a three-year deal he signed with New Jersey in 2010.  With the thin free-agent pool, his price will likely be driven up by competitors.  If the Blues can get to him early, he could sign for less than what Stewart may receive in an offer sheet.
.
I am a former NHL media member and reporter for the St. Louis Blues, working for various media outlets. Currently, I am an NHL News Writer and Editor for The Hockey Writers. I live in St. Louis and work as a freelance copywriter in numerous industries.