by Eldon MacDonald
Potential Florida Panther Picks
The purpose of this article is to get a feel for what the Florida Panthers might be looking for in the upcoming 2013 NHL Draft in New Jersey and to provide some idea as to who may be available and picked with each draft selection. To give the reader a fairly wide range of information, we have provided the following:
Major Needs
Likely Draft Positions and Potential Picks
The Major Team Decision Makers
The Big Club – Current Roster
Top 10 Prospects
The Last Three Drafts
Other Posts in This Series (THW's War Room Final Rankings)

Round 1 – Prospects ranked 1 to 30
Round 2 – Prospects ranked 31 to 60
Round 3 – Prospects ranked 61 to 90
Round 4 – Prospects ranked 91 to 120
All see:
Major Needs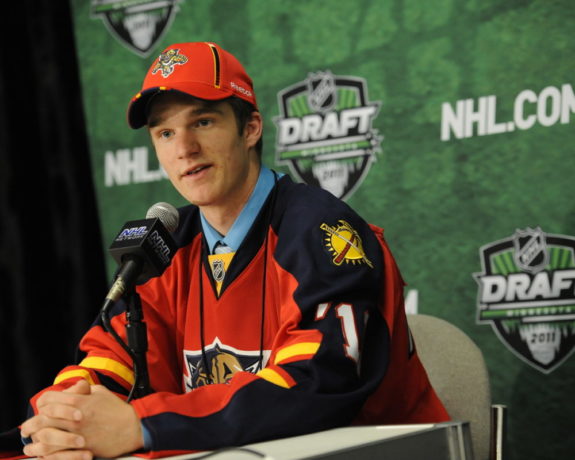 1 – First line center – The team has lacked a top line centre for some time now –Ollie Jokinen was the last one and he had his faults.
2 – Shutdown defenseman – Look at Florida's core D and it doesn't look like the other team has too much to fear.
3 –1st/2nd line winger – Other than Jonathan Huberdeau, there are no top flight scorers in the line-up or on the way other than potentially Rocco Grimaldi.
4 – Best player available – Best player available is always a good pick. However, when there are many players of similar value, it is usually the one who has the qualities your team values the most that comes out on top.
Likely Draft Positions and Potential Picks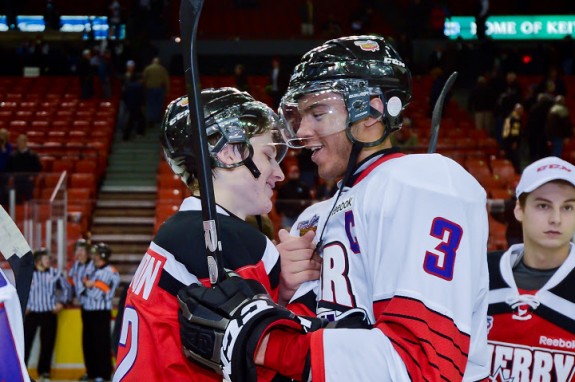 Round 1; pick #2 (The numbers in brackets are THW War Room Rankings)
Preference 1 – Nathan MacKinnon (#1)
Preference 2 – Seth Jones (#2)
Preference 3 – Jonathan Drouin (#3)
Luckily, for Florida the top three needs of the team are met in the top three ranked players in the draft. Likely, Colorado will draft Jones since they need D and Jones is a hometown boy with personal connections to the top decision maker – Joe Sakic, VP of Hockey Operations. If that happens, Florida's life is made easy and they draft their number one missing link (a top line center) by the name of Nathan MacKinnon who would likely have the same amazing fit with Jonathan Huberdeau as he currently does with Jonathan Drouin. The second choice, in my opinion, would be Seth Jones who not only would feel need number two but also help control the tempo of the game and lead the power play in the future.
Continuing the SB Nation 2013 NHL Mock Draft, with the second selection, @LitterBoxCats as the #FLAPanthers selects: http://t.co/D6YRFyrhbQ

— 2020 Stanley Cup Champions Raw Charge (@RawCharge) June 17, 2013
Round 2: Pick 31 – Historical success rate = 33%
Preference 1 – Mirco Mueller(#28)
Preference 2 – Ian McCoshen (#36)
Preference 3 – Dillon Heatherington (#43)
Potentially available starting at 27 and ending at 36 are: Madison Bowey, Mirco Mueller, Chris Bigras, Morgan Klimchuk, Robert Hagg, Shea Theodore, Zach Fucale and Ian McCoshen – as well as Dillon Heatherington at 43. There is quite a bit of talent in this group and a team would be lucky with any one of them. However, if there is a strong requirement that Florida needs to be more difficult to play against, then the three of Mirco Mueller with his long stick and 6'5 reach, the 6'3 Ian McCoshen and the 6'4 Dillon Heatherington would be my choices. Don't place too much stock on the 15 place discrepancy between the preference ranked 28th and the preference ranked 43rd as there is little discrepancy in the abilities of the two. Some teams could even have them ranked the other way around.
Round 4: Pick 92 – Historical success rate = 19%
Preference 1 – PeterCehlárik(#91)
Preference 2 – Carl Dahlström(#92)
Preference 3 – Jackson Houck (#95)
Potentially available starting at 88 and ending at 95 are: Dunn, Ikonen, Murphy, Cehlárik, Dahlström, Kivilhalme, Houck, Saros, Houck  and Hansson.   I love the potential of all three preferences – Cehlárik is big at 6'2 and has skills around the net and I think his skating is not so bad, Dahlström is also a big man at 6'4 who skates well but is still putting his game all together. Jackson Houck is that energy, buzz-saw winger who is always working and can put up a few points as well.
Round 4: Pick 98 – Historical success rate = 19%
Preference 1 – Mason Geertsen (#101)
Preference 2 – Gage Ausmus (#104)
Preference 3 – Tyler Hill (#99)
Potentially available starting at 95 and ending at 104 are: Houck, Hansson, Trainor, Harms, Hill, Butcher, Geertsen, Djuse, Florentino and Ausmus.  Mason Geertsen, I have ranked a little lower than most so he may not be available. Gage Ausmus, a stay at home defenseman of decent size for the USA NDTP U18 team would be a good second choice. The third prospect, the 6'6 winger, Tyler Hill, is very much a project with potentially a high reward and also a high likelihood of failure.
Round 5: Pick 122 – Historical success rate = 11%
Preference 1 – PatrikBartosak(#115)
Preference 2 – Brendan Burke (#120)
Preference 3 – Marcus Högberg(#124)
Potentially available starting at 115 are Patrik Bartosak, Taylor Cammarata, JC Lipon, Avery Peterson, Markus Søberg, Brendan Burke, Carter Verhaegae, Connor Rankin,Cole Cassels, Marcus Högberg, Luke Johnson and Ben Harpur. Since there are still potentially decent goalies available, this would be a good time as any to select one.
Round 6: Pick 152 – Historical success rate = 9%
Preference 1 – Matt Murphy (#90)
Preference 2 – Peter Trainor (#97)
Preference 3 – Jesse Lees (#109)
It is virtually impossible to tell who might be available at 152 so what I did was list those personnel who I have ranked in the 3rd and 4th rounds which the NHL has ranked greater than 152 which still have a decent chance of still being available. As this is as good time as any to make sure you take the best player available, I have listed them in ranking order of how they were ranked in the War Room Edition of the rankings:
#90 – NHL 156 – Matt Murphy
#97 – NHL 211 – Peter Trainor
#109 – NHL NR – Jesse Lees
#114 – NHL 230 – MiroAaltonen
#119 – NHL >290 – MarcusSøberg
#124 – NHL 200 – Marcus Högberg
#125 – NHL 165 – Cole Cassels
#131 – NHL 175 – Steven Harpur
The Major Team Decision Makers
1 – General Manager: Dale Tallon
2 – Head Scout: Scott Luce
3 – Coach: Kevin Dineen
The Big Club – Current Roster
| | | | |
| --- | --- | --- | --- |
| No. | Left Wing | Centre | Right Wing |
| 1 | Jonathan Huberdeau | Peter Mueller | DrewShore |
| 2 | Tomas Fleischmann | Stephen Weiss | Kris Versteeg |
| 3 | Scottie Upshall | Shawn Matthias | Tomas Kopecky |
| 4 | Eric Selleck | Marcel Goc | Jack Skille |
| 5 | | | George Parros |
|   | Prospect | Prospect | Prospect |
| 1 | QuintonHowden | NickBjugstad | Rocco Grimaldi |
| 2 | YaroslavKosov | Vincent Trochek |   |
| | | | |
| --- | --- | --- | --- |
| No. | Defense | Defense | Goal |
| 1 | Ed Jovanovski | Brian Campbell | Jose Theodore |
| 2 | FilipKuba | Eric Gudbranson | Scott Clemmensen |
| 3 | Dmitri Kulikov | Mike Weaver |   |
| 4 | TJ Brennan | Tyson Strachan |   |
|   | Prospect | Prospect | Prospect |
| 1 | Michael Matheson | Alex Petrovic | Jacob Markstrom |
| 2 | | Colby Robak |   |
Top 10 Prospects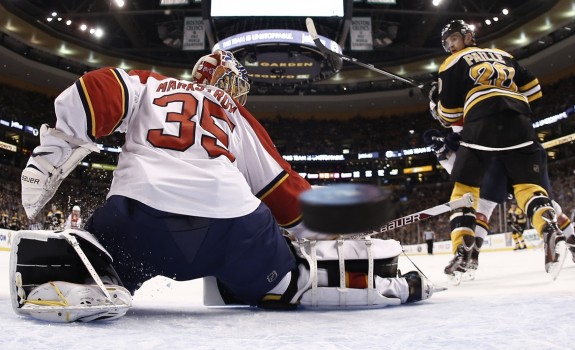 1 – 2010 – 003 – Nick Bjugstad
2 – 2008 – 031 – Jacob Markstrom
3 – 2011 – 064 – Vincent Trochek
4 – 2009 – 044 – Drew Shore
5 – 2010 – 025 – Quinton Howden
6 – 2010 – 036 – Alex Petrovic
7 – 2011 – 124 – Yaroslav Kosov
8 – 2012 – 023 – Michael Matheson
9 – 2011 – 033 – Rocco Grimaldi
10 – 2008 – 046 – Colby Robak
The Last Three Drafts
| | | | |
| --- | --- | --- | --- |
| No | 2012 | 2011 | 2010 |
| 1 | 023 Micheal Matheson | 003 Jon Huberdeau | 003 Erik Gudbranson |
| 2 | 084 Steven Hodges | 033 Rocco Grimaldi | 019 Nick Bjugstad |
| 3 | 114 Alexander Delnov | 059 RasmusBengtsson | 025 Quinton Howden |
| 4 | 174 Francis Beauvillier | 064 Vincent Trochek | 033 John McFarland |
| 5 | 194 JonatanNielsen | 076 Logan Shaw | 036 Alex Petrovic |
| 6 |   | 087 Jonathan Racine | 050 Connor Brickley |
| 7 |   | 091 Kyle Rau | 069 Joe Basaraba |
| 8 |   | 124 YaroslavKosov | 092 Sam Brittain |
| 9 |   | 180 IiroPakarinen | 093 Ben Gallacher |
| 10 |   |   | 099 JoonasDonski |
| 11 |   |   | 123 Zach Hyman |
| 12 |   |   | 153 Corey Durocher |
| 13 |   |   | 183 RJ Boyd |
Thoroughly enjoyed this story on being Florida fan. Incredible job by Kent Russell: The Nontraditional Fans of Hockey http://t.co/mjxk7ndR

— Craig Custance (@CraigCustance) April 21, 2012
_________________________________________
Chris is THW's senior draft/prospect analyst and a Managing Editor. Watch for "The Next Ones" Prospect Profile series, exclusive rankings, mock drafts, as well as the annual THW NHL Entry Draft Guide. Follow @ChrisRalphYQ on Twitter as he infiltrates, dissects and analyzes all happenings of hockey prospects and the NHL entry draft. Email: cralph[at]thehockeywriters[dot]com