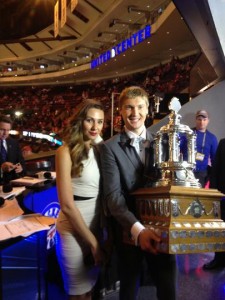 Hockey sweaters are not customary attire on steamy June nights in Columbus, Ohio.  However, on Saturday evening, they dominated the sartorial display at a Buffalo Wild Wings restaurant, where more than 200 Blue Jackets fans gathered to watch what they hoped would be a victory for their 24-year old goaltender, Sergei Bobrovsky, in the balloting for the NHL's Vezina Trophy, signifying the league's best goaltender for the season.   They were not disappointed, as Bobrovsky garnered the award with ease, earning 17 first place votes and 110 points, while runner-up Henrik Lundqvist earned just three first place nods, and half of Bobrovsky's total points.  Thus, Bobrovsky joins Rick Nash (shared Rocket Richard Trophy with Iginla and Kovalchuk in 2004) and Steve Mason (Calder Trophy 2009) as Columbus Blue Jackets who have earned one of the top NHL honors.  To be sure, Bobrovsky deserved the honor this year.  He shouldered a team struggling to find chemistry, and was the key piece in a run that brought Columbus within an agonizing hair's breadth of a playoff berth.The numbers are indeed impressive — 21 wins, 11 losses and 6 overtime/shootout losses in 38 appearances, with four shutouts, a .932 save percentage and an even 2.00 Goals Against Average.  Among goaltenders currently active, only Martin Brodeur (4), Miikka Kiprusoff (1), Ryan Miller (1), Henrik Lundqvist (1) and Jose Theodore (1) have won the Vezina — meaning that there are 24 other starters who haven't.  That's a rarefied atmosphere, to be sure.  While some would asterisk this award, as it came in a severely abridged season, a persuasive counter-argument can be made that the feat is even more impressive, given the compressed nature of the schedule and the relative lack of rest.  While Bobrovsky shared the net duty with Mason until the end of February, the ensuing two months were magical stuff.His efforts are perhaps best summed up by the following sequence against Nashville, which deservedly received considerable attention at the time (note when the stick disappears ):
This was an apt metaphor for Bobrovsky, who most concede is the hardest working net-minder in the NHL — and one of the hardest working players at any position.   However, the intrigue with Bobrovsky revolves not so much upon his past efforts, the quality of his work ethic, or the new piece of hardware for his mantle.  Rather, the focus now turns to the more mercenary concerns of compensation and what the future holds — for both the player and franchise.  (All cap hit and salary information courtesy of CapGeek.com.  All statistics are regular season only.)
Setting the Stage
Bobrovsky is a Restricted Free Agent this year, emerging from the ELC he inked with the Flyers, which carried a cap hit of $1.75 million, including signing and performance bonuses.  Yes, Virginia, he will be getting a raise.  A very big raise.  However, RFA status is designed just for these situations — a young gun who makes an early splash, thereby presenting both opportunity and risk.  The solution seems simple — negotiate your best, make a qualifying offer by July 5th ($850,500 for Bobrovsky), then continue negotiating until arbitration resolves the value dispute.  However, nothing is as simple as it seems in today's NHL, and this case is no exception.
First is the scenario itself, which is both precious and perilous.   Bobrovsky was obtained as part of the deal that sent three draft picks to the Flyers — a deal that now resembles grand larceny.  Bobrovsky came in as the intended antagonist to Steve Mason, who emerged mid-term in the 2008-09 season to lead the Blue Jackets to their only playoff appearance, conquering the best in the NHL and mononucleosis along the way.  His 33 win, 10 shutout season earned him the Calder Trophy, but also represented the pinnacle of his NHL career thus far.  From 2009 to his trade in 2013, Mason had a sub .900 save percentage, and a GAA well north of 3.00.   Bobrovsky, a year younger than Mason, emerged on the NHL scene for the 2010-11 campaign, and notched a 28-13-8-0 record, with very respectable save percentage and GAA numbers of .915 and 2.59.   However, the next season he saw only 29 appearances, but still managed a 14-10-2-0 record.  His .899 save percentage and 3.02 GAA were disappointing, but many thought that Philly GM Paul Holmgren was too quick on the trigger in awarding the crease to Ilya Bryzgalov for the next decade, at an annual cap hit of $5.67 million.  History has proven them right.
Still, for those in Columbus, this scenario is eerily familiar.  A young goalie emerges virtually from nowhere to post terrific numbers and earn a major NHL award.  In Mason's case, he received a nice raise from former GM Scott Howson — and struggled ever since.  With a grand total of 38 games in a Blue Jackets uniform, the base of experience upon which to make judgments is not broad and deep, and the anxiety among the fan base over another Mason-like situation is palpable.  However, Mason suffered from a poor work ethic, which is certainly not an issue with Bobrovsky. Sergei also turned in similar numbers during the lockout with SKA St. Petersburg, so his trail of consistent performance is a bit longer than it appears.  Still, he is a neophyte in NHL terms, and at the fundamental level remains a goalie — the most enigmatic and unpredictable segment of the hockey community.
Adding further complexity to the mix is the spectre of the KHL.   SKA St. Petersburg liked what they saw with Bobrovsky during his stint with the club, and reportedly is making a big push to sign Bobrovsky.  One report had a $10 million annual salary on the table, but such anecdotal reports are notoriously unreliable when it comes to the Russian league.  While historically the KHL has been more threat than reality, it is simply another variable in the equation that must be dealt with.
It's All About the Leverage
In the legal realm, "fair market value" is defined as the amount a willing buyer will pay to a willing seller, with neither side being under duress or disability.  Nice definition, but it rarely models life in the real world.  Negotiations are all about leverage — the actual or perceived advantage on your side — or the disadvantage on the other side — that tilts the playing field and causes the other side to exceed fair market value on one side, or surrender something at a bargain on the other.  The NHL is no different, and indeed is a model for how leverage works in negotiations.
Columbus President of Hockey Operations John Davidson acknowledged reality in a radio broadcast on Sunday, noting that Bobrovsky has significant leverage in this deal.  The Vezina is something that
no other active goalie of Bobrovsky's age and experience can claim, and the threat to bolt to the KHL is real enough to likely up the ante at the negotiating table.  As of today, the only signed goalie in the Blue Jackets organization with significant NHL experience is Curtis McElhinney.  Michael Leighton is a free agent, and saw no ice time after his acquisition from Philadelphia at the deadline.  Advantage Bobrovsky.
Certainly, the Blue Jackets are not without leverage in the situation.  They are the custodians of a coveted commodity — a starting goalie slot in the best league in the world.  Theoretically, there are only 30 of those spots.   However, for Bobrovsky, there is only one — and it resides in Columbus.  As an RFA, if Bobrovsky is going to play in the NHL, it will be with Columbus . . .period.  While the KHL can dangle large money, only a few native sons have turned to the KHL fold while in their prime.  The quality of experience is not of NHL caliber, and only Columbus offers the ability to match up with the best in the world on a daily basis.  Bobrovsky and his wife Olga have expressed a significant affinity for the Columbus community, and with the likes of Tyutin, Anisimov and Nikitin on the roster, Bobrovsky has to feel at home.  With the Blue Jackets moving East next season, he has the delicious opportunity to use his talents to stymie his former employer — the Philadelphia Flyers — several times per year.  Only Bobrovsky and his agent, Paul Theofanous, know whether the lure of huge money in his home country trumps what will be really good money in the best hockey league on Earth.
The Comparable Controversy
Assuming that Bobrovsky does not simply pack his bags and head to the eastern shores of the Baltic, the Blue Jackets and Bobrovsky are headed down the highway of negotiation, with arbitration looming at the end of the road.  That process will largely be governed by the standard of "comparables" — the deals that players of similar experience and accomplishment have received from other clubs.  However, it's not so easy when you have a young, largely untested net-minder who has accomplished things well beyond his years — but lacks the consistency of performance over time.  Bobrovsky's camp would love to point to the Vezina, and claim the contracts of Brodeur, Miller, Kiprusoff and Lundqvist as comparables.  That is clearly not happening, but neither will Columbus be able to simply dismiss the Vezina, and focus on youngsters with 100 NHL games or so of NHL experience.  Here is a list of the likely comparables that each side could point to — with varying degrees of credibility — as the process moves forward:
[table id=97 /]
Bobrovsky's team will point to players like Cory Schneider, with a cap hit of $4.0 million, fewer games played and fewer wins, but with slightly better statistics. If they want to focus on statistics, they will use the Hiller, Quick, Pavelec and Howard contracts to keep the line well above the $4.0 million mark.  The Blue Jackets would obviously counter with the argument that all of these guys have at least twice the experience of Bobrovsky, and have shown consistent performance over time, which adds value to the proposition.
For their part, Columbus will point to the contracts of Reimer, Varlamov, Crawford and Holtby as being truly more comparable, reflecting solid numbers, but little experience.  In response, Bobrovsky's team will simply pull the Vezina off the mantle and set it firmly in the middle of the table, and perhaps mention in passing that they are confident Curtis McElhinney will be terrific for 82 games.  "Do svidanya!"  There's that leverage thing again.
In reality, the best comparables might be Rask and Halak.  Rask has slightly better stats, but also has the benefit of a Stanley Cup roster in front of him, and is a proven playoff goaltender.  Halak has more games, but very comparable stats.
The End Game
At the end of the day, the goal for each side is a deal, but what that means is difficult to pin down from the outside.  Unless you know Bobrovsky's priorities, it's impossible to see how this plays out. Is he interested in massive immediate money, or long term security.  Is returning to Russia more desirable than the lifestyle in the United States?  He ostensibly  loves the NHL, but has also expressed fondness for his time in St. Petersburg.
Intelligently, Bobrovsky's team is not tipping its hand.  Asked directly about the KHL option on Saturday, Bobrovsky said simply "We'll see."   Davidson has indicated that everything is on the table  — short term deals, long term deals, etc., which is likely a smart play.  Davidson and Kekalainen want to emerge from this thing without joining the Bad Goalie Contract Wing of the NHL Hall of Shame — presently occupied by Garth Snow and Paul Holmgren.  While they could likely use their draft picks and personnel to bring a solid goaltender in house, they would prefer to reserve those resources to add offense.  Free agency offers Mike Smith and a few others, but that is an iffy proposition.  In the short term, they want to avoid some faux pas that drives Bobrovsky away, while still utilizing the leverage they have, and keep the talks moving in a positive direction.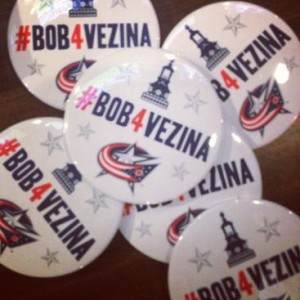 Theofanous arrives in Columbus later this week, and the ritualistic dance for dollars will begin.  Davidson and GM Jarmo Kekalainen have firmly stated that they will match any offer sheet Bobrovsky might receive, in a pre-emptive strike to hopefully deter such offers.  Davidson also said that the Blue Jackets will not come to the table like "pigs to the trough", and hopes that Bobrovsky takes the same approach.  While professing the patience to take this all the way to arbitration, you have to believe that Davidson and Kekalainen would much prefer to get this done in the next ten days, as their draft and trading strategy could well depend upon how this goes.  That certainly has not escaped the notice of Theofanous, which is simply another weight on his side of the leverage see-saw.
Where does this end up?   While the KHL threat is credible, you have to believe that  a young stud like Bobrovsky would prefer to ply his trade in the NHL.   My guess — and it's only a guess — is that they agree on a two year deal for a total of somewhere between $7.6 and $8.2 million, with an option for the third year.  Whether the club or the player holds that option will be the subject of some hard negotiating.  Although that is more than Columbus would probably prefer to pay, they have the cap space, and the term would be narrow enough that the "flash in the pan" risk is manageable.  They keep their picks and players to use for other areas of need.  From Bobrovsky's perspective, he moves into the upper echelon of NHL goaltenders, with the prospect of really cashing in should his performance remain at the same level, and gets to play against the world's best.  In a league where the average starting goaltender is about 29 years old, Bobrovsky would only be 26 when the next contract is due, and a long career horizon ahead.
Blue Jackets fans are certainly hoping that there are no pigs at the trough.
Fan of hockey at all levels, with focus on the Blue Jackets, Miami RedHawks and the business side of the game. I try to bring a rational, even-handed analysis to my writing, wtih just a touch of snark. I use my legal background to bring some more insight on the business side. Love family, travel, hockey, golf and curling.