Patrik Bartosak THW Close-Up:
Team: Red Deer Rebels
Date of Birth: 3/29/1993
Place of Birth: Koprivnice, Czech Republic
Ht:  6'1″     Wt:  188 lbs
Catches: Left
Position: Goalie
NHL Draft Eligibility: 2011, 2012, & 2013
Twitter: @PBartosak35
THW Rankings: 115
Other Rankings:
CSS (North American Goalies): 8
***
*Check out THW 2013 Draft Guide: The Next Ones, your quintessential draft resource*
***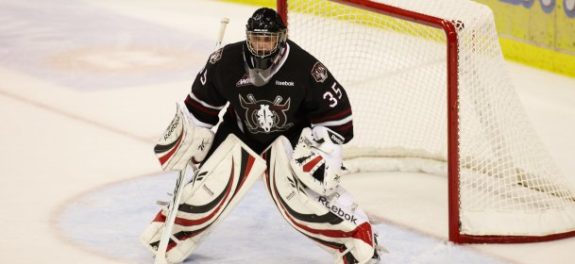 Third Time Is A Charm?
Going undrafted in two NHL Entry Drafts could be a deflating experience for any hockey prospect, but for someone like Patrik Bartosak, not being selected would not be a defining moment of their hockey career. Back in 2011, Bartosak was eligible to enter the NHL Entry Draft, but he was not selected in any of the rounds despite the fact that he posted good numbers for the U18 and U20 HC Vitkovice teams.
While the 2011 NHL Entry Draft proved fruitless for Bartosak, the goalie did not let that dampen his spirits as he was drafted by the Red Deer Rebels of the WHL. For Bartosak, playing in Canada was likely a dream come true, and the goalie certainly played like it as he put up formidable numbers (25 GP, 2.74 GAA, .915 Save Percentage) in his first season with the Rebels. Injury limited Bartosak's overall contributions for the 2011-2012 WHL season, and it undoubtedly impacted the goalie's draft stock as he was passed over once more during the 2012 NHL Entry Draft.
Despite posting solid numbers in his first season with the Red Deer Rebels, Bartosak's injury ultimately hindered his chances of being drafted last year. Instead of sulking about being glossed over for the second year in a row, Bartosak rebounded in strong fashion for the Rebels during the 2012-2013 WHL season. Not only did Bartosak win 33 games for Red Deer in his most recent hockey campaign, he registered an outstanding 2.26 GAA and .935 Save Percentage. If Bartosak's efforts during the regular season weren't enough to convince scouts and fans, the goalie's sterling efforts in the WHL playoffs (9 GP, 1.97 GAA, .941 Save Percentage) spoke volumes about his ability to perform well under pressure.
There is little wonder as to why Bartosak was named the CHL and WHL goalie of the year after the completion of his most recent hockey campaign, and there is little reason to doubt that Bartosak can adjust his game to suit the NHL if he winds up getting drafted this summer. Bartosak has already proven that he can perform well under pressure in North America as well as in international play. Even though some might point to Bartosak's unorthodox style of play when expressing concerns over drafting a goalie that plays such an odd style in net, Bartosak is more of a project at this point of his hockey career. Of course, any young goalie could use some refinement to certain aspects of their game, and Bartosak is no different. While Bartosak might not be the most sought after goalie at this year's NHL Entry Draft, the 20-year old certainly has enough upside and raw talent to be selected by an NHL team for further development.
Scout's Honour:
"The Czech Republic import made a strong showing all season with a plus .900 save percentage and kept Red Deer in games even after their loss of Ryan Nugent-Hopkins to the big leagues last season. He was still passed on again last draft and is in his final draft eligible year."
– Bill Placzek, Draftsite.com
"He has a very strong internal drive. He wants to win and he's a strong team player. For him to be an elite goalie at this level, he needed to be consistent and prove he's legitimately one of the top goalies in the league. He's done that this year… He's very athletic and he's a very smart hockey player… He reads the play very well and his anticipation is very good. He makes difficult saves look easy with his hockey sense and how he reads plays and shooters."
– Brent Belecki (Red Deer Goaltending Consultant), via HockeyNow.ca
Where He'll End Up In June:
Bartosak will likely be selected in the mid-to-late rounds of the 2013 NHL Entry Draft.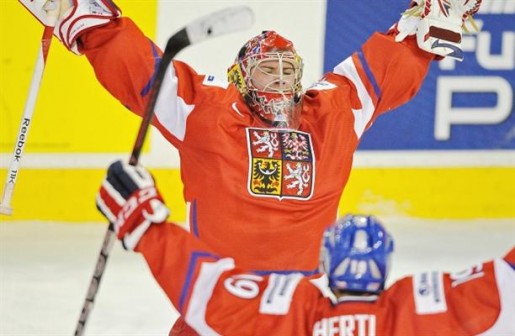 Statistics:
Bio/Interviews:
2013 NHL Draft Scouting Report by The Hockey House
Bartosak Wins Another Big Award by Red Deer Advocate
International Tournaments:
Bartosak has appeared in a number of international tournaments as a member of the Czech Republic's U16, U17, U18, and U20 teams, and played in five games for the Czech Republic at the 2013 U20 Junior Championship.
NHL ETA:
3-5 Years
Risk/Reward Analysis:
Risk: 2.5/5 Reward: 3.5-4/5
NHL Potential:
Number one starting goalie or strong backup
Strengths:
Athletic
Good size
Good puck tracking skills
Good hockey IQ
Good mental composition
Flaws/Aspects He Needs to Work On:
Odd style of play
Could use some overall refinement for his play as he is still a raw talent
Fantasy Potential:
Goaltending: 8-8.5/10
NHL Comparable:
No true NHL comparison at this point.
Video:
*** THW's The Next Ones prospect profile template design architect: Chris Ralph
In his third year with The Hockey Writers, Toli covers all things related to the New York Islanders. Focusing on the Islanders, the NHL Draft & draft-eligible prospect goalies, and hockey history, Toli can be contacted on Facebook by searching/messaging Toli Metter and on twitter by searching @ToliMetterTHW.