By Mike Miccoli
All season long, the Bruins needed a line to rely on.
The second, then first, now defunct line of Patrice Bergeron centering Brad Marchand and Tyler Seguin was the Bruins go-to set of forwards at the start of the regular season, jumping to the top of the depth chart almost directly out of the gate. Throughout the season, in spurts, the Merlot line stole shifts, tilting the momentum in Boston's favor when a change of pace was needed. Come the playoffs, the Bruins original top line of Milan Lucic, David Krejci, and Nathan Horton seemed rejuvenated and refreshed, back to their normal selves.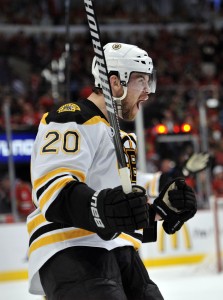 But there was never really a third line that stuck for the Bruins.
Down 1-0 against the Chicago Blackhawks in Game 2 of the Stanley Cup Final, Bruins' head coach Claude Julien shuffled up his bottom-six forwards to try and generate some chemistry, putting together a third line of Chris Kelly centering Daniel Paille and Tyler Seguin.  Since then, including a 2-0 Game 3 Boston victory over Chicago, three of the four Bruins goals in Games 2 and 3 have come from the new-look third line. Something stuck, and really, it has always made sense–we've just never noticed.
On the wings, Paille and Seguin are loaded with speed, able to create space with the puck while waiting for their teammates to get open. Kelly provides the two-way aspect of a center, a poor man's Bergeron built in the same mold as Campbell, two centers that Seguin and Paille are used to playing with.
But what has stuck out the most between the two wingers are the lightning quick releases of both of them.
Both of Paille's goals came as a result of a textbook pass from Seguin, slinging the puck across the ice to land perfectly on the left winger's stick. Paille's quick release and suddenly-soft hands sent the puck past Corey Crawford…two times in a row, two days apart. His back-to-back game winning goals were the first by any player since Fernando Pisani clinched Games 5 and 6 wins for the Edmonton Oilers in 2006.
In a way, it has almost always made sense. Paille's 10 goals this year has turned him into a solid, secondary scorer. Paired with the snake-bitten, yet speedy Seguin, the offense has come back to the third line and a spark has been found. Prior to his goal in Game 3, Paille fired a perfect pass to Seguin that was stopped by Crawford. Together, they're able to really stretch out the ice.
Really, expectations have just been lowered. Seguin isn't being looked upon to be a game changer as he was for most of the playoffs, but rather just to play good, sound hockey. Paille and Kelly, defensive forwards in nature, have transformed Seguin's game into more of what made him excel so well when paired with Marchand and Bergeron. Seguin can still be a dynamic forward, but the responsibility to backcheck puts the spotlight more on him now than ever.
It's not so much that this new-look third line needs to change their play to excel but rather, put the pieces together to accept their roles as two-way, secondary scorers. The pressure is off, really. Kelly, who has had a terrible postseason up until the Final, looks like a completely different player. Each of the forwards have been responsible for boosting the others' game. When ones' linemates step up, it leaves you with no choice.
For right now, it's the third line that suddenly has all of the momentum for the Bruins. And that's all that really matters.
Follow Mike on Twitter for more Bruins news, updates, and commentary.
Mike Miccoli covers the Boston Bruins for The Hockey Writers and has been a credentialed member of the media for all Bruins' home games for the past five years. As a former player, coach and official, Miccoli has been around the game of hockey since the age of three. Along with his work on THW, Miccoli has also been published in the New England Hockey Journal, Improper Bostonian magazine and on BostInno.