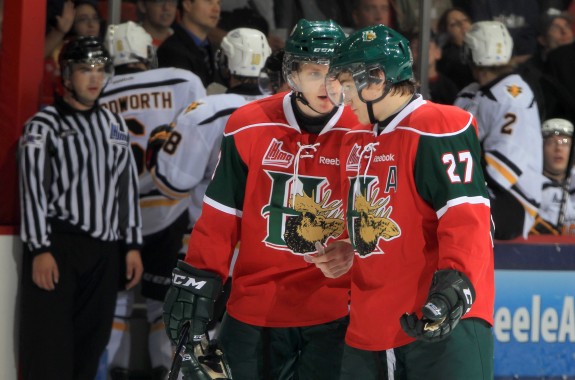 The Great #1 Overall Debate – Jones, Drouin and Nate
In what The Next Ones has now viewed since last fall as more of a 1a, 1b and 1c, in terms of ranking the three at the top of the heap, Jonathan Douin rather stealthily surpassed the two more highly touted, fine young guns ahead of him, in The Next Ones midterm edition of the Top 100 draft rankings. In the introduction to that article I went into detail justifying how I ranked the big three, albeit with the smallest of margins.
At the start of the season, I would have bet that the phenom prospect Nathan (Nate) MacKinnon would have went coast-to-coast, from start to finish in sole position as the number one rated prospect for the 2013 edition of the NHL Entry Draft, to be held in Newark, New Jersey. While there were times in the season when one could argue Seth Jones and Drouin could have surpassed him for the pole position in the draft, he has everyone talking again with an unforgettable brilliant Memorial Cup winning performance.
Size. Skating. Vision. Passing. Shooting. Puckhandling. The son of ex-NBA player Popeye Jones seems to have everything you want in a franchise blueliner. He has also been firmly embedded as a probable top two or three pick in the 2013 NHL draft.
To be honest, I've wavered about who to have ranked #1. While Jones is an outstanding prospect who obviously deserves first overall consideration, for me it comes down to the Halifax Mooseheads' dynamic duo. After his dominating playoff run and Memorial Cup, my head tells me MacKinnon is deserving. Drouin was overshadowed slightly at the Memorial Cup, but his play was also stellar in the final game of the season, being the catalyst for so many offensive opportunities.
In the end, I went with my instincts. I do think both MacKinnon and Jones are more NHL ready and both will be all-star NHLers. However, as I stated back in January, Drouin's hockey sense is at a stratospheric level:
"Two words sum up the case (or least make a good starting point) for choosing the sublime winger over the two aforementioned potential cornerstone prospects – hockey sense. Often used when describing, but what really do we mean when we talk about hockey sense. Not easy to put to words, but his awareness, vision, anticipation, poise and focus are all off the charts. Jonathan doesn't just go where the puck is; he goes to where the puck will be."
While MacKinnon and Jones both possess high level of hockey sense to go with their superlative skills, Drouin is at another level in this aspect – a level rarely witnessed, even in the NHL.
Keep in mind, in choosing Drouin as the 1a prospect in this draft class, it is an interpretation and prognostication of the player he will be 5, 10, 15 and 20 years or more (if you look at the hockey lifespan of Selanne and Jagr) down the road. I am also not predicting who will go number 1 in Newark. Stay tuned for my mock drafts for that. As a teaser, I actually think Drouin is destined to be draft #3 overall with MacKinnon having a slight edge over Jones for #1.
The Tiers of New Jersey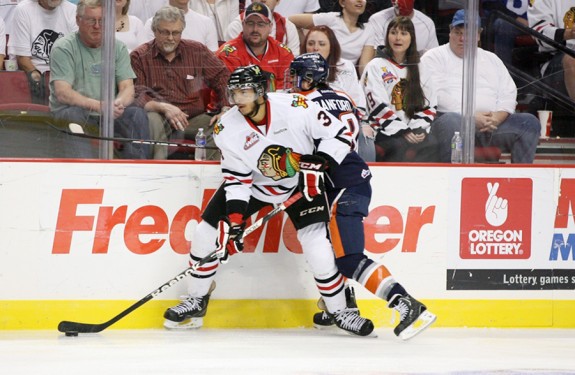 Breaking down the tiers of any draft is not always an easy task. Here are some of the groupings from The Next Ones' perspective:
After the aforementioned top 3, there is very slight drop off as you get to prospects ranked 4 to 9. One could argue that prospects ranked 4 to 6 are a notch above.
The next grouping is less clear cut but 10 through 21 is our next cut off.
The largest tier with considerable interchangeability takes place in the next gang of prospects; those ranked 22 through until 47. Basically then, we feel 47 prospect could indeed garner first round consideration for a first round selection. There are also a couple of players we have as a solid second rounder that NHL squads may have ranked in first round territory.
Beyond the top 30 ranked prospects, The Next Ones deems a further 51 prospects with second round-like potential. All in all, this is a deep draft class with high quality prospects available well into the third round, with some gems surely to fall into the fourth round and beyond.
To be frank, prospects ranked 151 to 210 are more of a listing of 60 Honourable Mentions with an effort to rank them in order. At this point in the draft, there are hidden savy picks to be made, but the odds are definitely stacked against you.
Prospects Ranked Higher Than Most
Some player rankings will jump out at you as being ranked higher than the majority of scouting services and media outlets.
While we've had our fair share of deemed misses, The Next Ones has also had some luck when it comes to keying in some prospects that were ranked lower by most scouting outlets. While it's still early to look back at our track record since 2009, here are a couple of calls that are looking good to this point:
In 2010, Emerson Etem at 7th overall, Jeff Skinner at 9th overall and Tyler Toffoli at 24th all look like astute rankings.
In 2011, although even really too soon to tell, Boone Jenner at 10th overall and Brett Ritchie at 30th look promising, compared to where most services had them ranked and where they eventually got drafted.
Here's a sampling of some of those prospects for this year:
Jonathan Drouin: as noted above, most have him behind Mackinnon and Jones.
Hunter Shinkaruk: this dynamic goal-scoring difference maker seems to get lost in the shuffle in the discussion of elite prospects. His determination to succeed will almost assuredly allow him future success.
Max Domi: his playoff performance and Memorial Cup play has had his name buzzing in the scouting and hockey world. Questions about his effort away from the puck in the defensive zone remain, but his talent is undeniable.
Josh Morrissey: every year it seems a puckmoving defenseman goes off the board early on draft day. Morrissey's skill-set, especially his scintillating skating, has been coveted by The Next Ones all season long.
Morgan Klimchuk: extremely intelligent and efficient player.
Shea Theodore: yet another prospect from the Dub; enormous offensive upside, Theodore just has to continue to develop his defensive acumen.
Anthony Duclair: stock seems to be dropping by most; some have questioned attitude, but explosive skating and offensive ability could result in a home run pick in the second or third round.
Matt Needham: a sleeper pick; he's unranked by most, if not all, scouting services. I've been impressed with his Steve Ott-like play, as Dan Lizee called it with respect to the Kamloop Blazers; forward.
Prospects Ranked Lower Than Most
The Masked Men: No offense intended to any of the goalies ranked or unranked. In comparison to skaters,  gate keepers present more of a risky proposition and thus many are ranked lower than what you might see elsewhere.
Seth Jones: while still ranked 3rd, many rightfully have him as a top 2 prospect.
Valeri Nichushkin: still a top 10 prospect at 9th, many have him top 5. I simply like the guys ahead of him too much to take any sort of risk. The Rick Nash-like Russian is still a heck of a talented prospect.
Madison Bowey: his ranking seems to be all over the place. Many have him as a rocket riser up their ranks. Our Western WHL bird dog is a little worried about hockey sense and longterm payoff. There is no denying the skating ability, physical tools and potential, should he put it all together.
Anton Slepyshev: many had him as high as a 1st rounder in 2012. Many have him as a 2nd rounder in 2013. While he is probably worth a flier in the latter rounds of this year's draft, The Next Ones feels there are just too many quality prospects this year to take him in the Top 100.
***
For comparison, reflection and to see how the rankings have evolved, check out:
(Above link takes you to a separate article featuring the rankings)
_________________________________________
Chris is THW's senior draft/prospect analyst and a Managing Editor. Watch for "The Next Ones" Prospect Profile series, exclusive rankings, mock drafts, as well as the annual THW NHL Entry Draft Guide. Follow @ChrisRalphYQ on Twitter as he infiltrates, dissects and analyzes all happenings of hockey prospects and the NHL entry draft. Email: cralph[at]thehockeywriters[dot]com