Sometimes things don't always work out the way you wanted them to. Sometimes things don't work out the way they were supposed to, or the way 99% of NHL fans predicted. Case and point: the 2012-13 Carolina Hurricanes.
Fresh new season for Head Coach Kirk Muller to work with, a couple new studs working up front in Jordan Staal and Alex Semin- sounds pretty good.
It's safe to say this roller coaster season turned out to be a pretty big disaster by the end. I would relate it to the Parkour episode of The Office. Hey, it was pretty funny at first when Michael, Andy, and Dwight were running around the office pretending to be elite traceurs. (I actually did some research to find out what you call someone who practices the art of Parkour. You're welcome for being enlightened on this imperative subject.) The amateur stylings of The Office characters doing their best to make a legit parkour video made it a classic episode. But what was even better, and relates back to the Hurricanes so well, was the fact that there were plans. Plans to do great things: "Truck, to refrigerators, to dumpster, 360 spin… into the trash can."
The plans the Hurricanes had for their season didn't include losing Jeff Skinner and Cam Ward early on. They also didn't include watching a different team lead the Southeast division every month. The changes in division leaders from month to month can only speak to the streakiness and struggle that was the Southeast division of 2013.
Now official. End of Jan, #Bolts led SE Division. End of Feb, #NHLCanes led SE. End of March, #NHLJets led SE. End of April, #Caps clinch SE

— Ben Raby (@BenRaby31) April 24, 2013
Were the Hurricanes ever in discussion before the season as a cup favourite? Absolutely. How could you deny two NHL all-star brothers being united on the same team to lead the Hurricanes to the promised land? Dramatics, it's a gift. The third season of Jeff Skinner- Calder Trophy recipient in 2011 – and addition of signing Alex Semin to a low-risk contract created high expectations for this team. We all know when Cam Ward is healthy, he's a pretty decent goaltender. His career stats include a .910 SV%, 2.74 GA, and 21 shutouts.
The season started on top of that truck, planning the future, seeing greatness, overcoming obstacles… But things went awry. Jeff Skinner missed 5 games due to an injury from February 18 to February 27th. Through that period, the Hurricanes went 1-5, losing to Montreal, Winnipeg, Tampa Bay, and Washington. Before his absence, the Canes were 8-4-1. After his return on February 28th, the Canes beat powerhouse Pittsburgh 4-1 in regulation. Soon after this resurgence into the line-up, Cam Ward would go down with a season ending knee injury which occurred against the Panthers on March 3rd.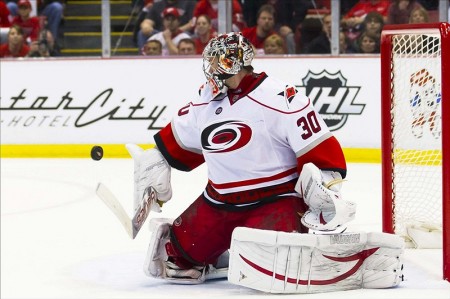 Since Cam Ward's injury on March 3rd, the Hurricanes started down a path of destruction. Their record for the month of March was 6-7-1, which spiralled into a record of 3-9-1 for the month of April. Once looking at all the possibilities on top of that box truck, now the Canes sit inside that fridge box with Andy Bernard, and sigh "Parkour" as they look at their either third or fourth place division finish.
Where does the organization go from here? Only place to go is up. They don't exactly sit at the bottom of the league standings, but let's be honest, not making the playoffs was a huge disappointment based on the expectations of this team.
Maybe next year they'll actually make it to the point where they do a 360 spin and land themselves in a conference final for the first time since 2008-09. And maybe after that they'll land in the trash can- the planned final destination, aka the Stanley Cup Final. Who knows, but anything has to be better than the season they put together this year.