When the 2014-15 NHL season ended, nearly every Blue Jackets fan had a top-four defenseman on their wish list. The city of Columbus then got an early Christmas present in the form of Brandon Saad. It was an amazing, and unexpected surprise…but not a defenseman.
So people continue to wish, but current circumstances, and available options, do not favor the Blue Jackets making a move prior to the start of a new season.
Recently, it has been reported that the team has been talking to former Penguins defenseman Christian Ehrhoff. At face value this makes a lot of sense. Ehrhoff would immediately be the most talented defender on the roster and a veteran presence for a mostly young group.
Puck-rakers: Blue Jackets? Christian Ehrhoff? Maybe, just maybe, the two are a fit http://t.co/kIZxMMSZ2Q #CBJ

— Aaron Portzline (@Aportzline) July 20, 2015
Even statistically, there is a great case for it. Strictly speaking of the injury-riddled 2014-15 season from both Ehrhoff and the Blue Jackets collective defense, Ehrhoff was statistically superior in most facets.
Ehrhoff had a 5v5 Corsi For % of 51.54 compared to the Blue Jackets players:
Cody Goloubef 50.17
Ryan Murray 49.84
Kevin Connauton 48.06
Dalton Prout 46.72
Jack Johnson 47.44
David Savard 47.04
Fedor Tyutin 45.63
Ehrhoff is also a capable power play QB, and a minutes hog averaging 17:23 minutes per game.
There are, however, three major points that make him a question mark in regards to the Blue Jackets.
Firstly, there were many times that Ehrhoff seemed hesitant on the ice. Media members heard from "people in the know" that much of this came from playing on a poor Sabres team, and playing with less skilled players that he didn't have confidence in. If this was a factor while playing with Kris Letang and Paul Martin, how will this translate to playing with a sometimes defensive liability in Jack Johnson, and youngster Ryan Murray?
Secondly, last year the Jackets were injury prone. Ehrhoff was injury prone. Not exactly a match made in heaven.
Thirdly, the salary cap. With only $3.7 million free under the cap, I have to admit that my brain still hurts after trying to find a scenario in which they could fit him in. Ehrhoff made $4 million last year, and despite wanting to prove himself, I don't see him taking a pay cut.
There are other options out there, but none are really any better than Ehrhoff from a hockey or financial standpoint.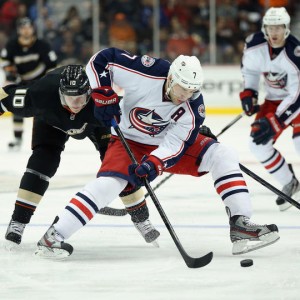 Right now the Blue Jackets need to focus on keeping their players healthy and evaluating what kind of team they have right now. Last year, during the few times that they were healthy, the team appeared to be the contender that everyone thought they would be. Add Brandon Saad to that mix and they are that much better. They can roll out three solid lines to match any in the NHL.
The current defense is just about the definition of average, but it will not keep them out of the playoffs. The best thing that this team can do is find their identity and evaluate their "healthy" assets, while putting themselves in a position to make a trade to improve their defense prior to the deadline. Rarely are teams a finished product in October.
Early "Power Rankings" for the Blue Jackets are all over the place. Some have them as high as 4th in the east, with some as low as 10th. This is largely because of the defense, but also because of the unknown. It goes without saying that keeping Ryan Murray healthy will be a game changer.
Right now general manager Jarmo Kekalainen has a good enough team that he can afford to be picky, but if the trade deadline comes and goes without defensive improvement, either internally or externally, then there may be reason to be concerned.
Just remember Blue Jackets fans, when someone said that the Jackets could be "Scary" good this year, they weren't lying.
Greg is a Pittsburgh Penguins writer for 'The Hockey Writers'.
He is a Pittsburgh area native who has written for multiple Penguins news and opinion sites. In addition to hockey writing, he is also an experienced YouTube creator.
Greg started with THW in 2015 as a Blue Jackets writer, and spent time as a Fantasy Hockey analyst.