The Red Wings' Ken Holland Has Adapted As Players Continue to Fall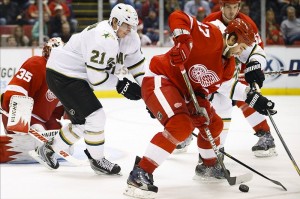 The Detroit Red Wings will be without another important member of their blueline, as Kyle Quincey is expected to miss four to six weeks with a fractured cheekbone. The injury, which occurred in the third period of the Wings' 3-2 overtime victory in Edmonton on Friday, will require surgery.
In a season that has been marred by injuries to key members of the team—as of March 3rd, the Red Wings led the NHL in man games lost due to injury by a large margin—the team has done a remarkable job of staying afloat in the tough Western Conference, where every game, every point means something in a shortened season.
GM Ken Holland has managed to patch the team together, such as plucking defender Kent Huskins off the free agent pile after an injury to Carlo Colaiacovo in the second game of the season.  Holland has even called up talented youngsters like Peter Mrazek, Brian Lashoff, Tomas Tatar, Joakim Andersson, and Gustav Nyquist, which is generally not the organization's M.O.  The team has preferred in the past to let their prospects gain experience in the juniors, minors, or overseas before bringing them to Detroit. This practice has become somewhat sarcastically known amongst fans as "overripening."
Lashoff, a 22-year-old undrafted free agent, apparently made such an impression that Holland immediately rewarded him with a three-year, $2.175 million contract extension. Veteran Ian White has been a healthy scratch in seven of the Wings' last nine games in favor of young defenders like Lashoff and Jakub Kindl.
While it seems like the injuries have forced the organization's hand a bit, particularly the injuries to Detroit's defense, their apparent willingness to give playing time to rookies over struggling veterans or career AHLers is a welcome change for fans. Just a few years ago, the Wings were turning to the likes of journeyman Doug Janik to fill in holes on the blueline. Now, players like Lashoff, Kindl, and Andersson, for example, are are carving out roles on the team for themselves, and there are more talented young players in Grand Rapids just waiting for their chances.
In spite of the predictions of rebuilding and doom thrown out early on during the lockout-shortened season, the Red Wings' not-so-gloomy future is in the hands of capable kids and a smart GM who's learned how to win against an ever-changing NHL landscape.