Monday the Carolina Hurricanes had their players available to the media for their season-ending interviews. I went inside the Hurricanes locker room and sat down with many of the players and asked a few questions. Here are some of the highlights of that time.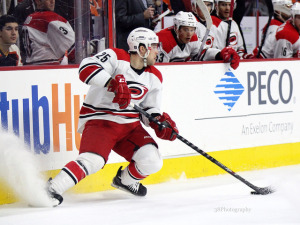 Chris Terry
The question that everyone in the media was asking each player was not very creative, but it was asked nevertheless. "How does it feel to not be in the playoffs?" I was secretly hoping one of the guys would say, "Gee, it feels great!" Sometimes the obvious gets asked too often, but be that as it may, here are some of the responses – as you can imagine, all very similar.
Chris Terry, left winger for the Hurricanes said,
"Not making the playoff is a measure of a team's success in a year."
Terry added, "We got off to a slow start, but got better at times as the season went along."
When asked how he felt about his play this season, Terry said, "I thought it was a pretty good first full season. I thought I started strong and finished strong. I had some lulls but overall I thought it was an alright season."
Michal Jordan
In his first year in a Carolina Hurricanes sweater, Michal Jordan feels the pain of not making the playoffs, too. The Czech defenseman talked about the hard work that starts in the summer for every team, and the disappointment of not advancing into the playoffs. Jordan said,
"It's everyone's goal to make the playoffs and we didn't so obviously from this point we're disappointed."
Jordan was happy to "get more than five games" with the Hurricanes. He said, "I was really happy to get to play in the NHL and hopefully it's going to help me to become a full NHL player."
Brett Bellemore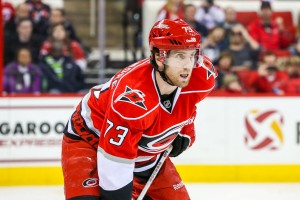 Defenseman Brett Bellemore said he felt his season was, "Pretty good, but obviously every season has its ups and downs." Bellemore noted that the injury to Jordan Staal early in the season really hurt the team's chances of making the playoffs. He said,
"Unfortunately as a team we couldn't make the playoffs, that's obviously our goal. Losing Jordan early we got off to a bad start and we couldn't get on a roll."
Bellemore said that last summer he concentrated on getting stronger and feels like he made progress in that area. He said his plans for this summer include, "working on foot speed and agility."
Brett Bellemore stirs mixed emotions in the fans. Some love him:
Of course Brett Bellemore made a beautiful play. Brett Bellemore can do no wrong. He's perfect. Learn it. Live it. Love it. #TeamBellemore

— Nicole (@zambonispice) April 9, 2015
And some, not so much:
Can we please let Brett Bellemore fade into irrelevance and not resign him?

— Leah Z. (@LMZR88) April 12, 2015
I like Bellemore. He seems to bring a high-level of effort to the ice and plays hard. He needs more experience, obviously as he has only had two full seasons with the Hurricanes, and missed a part of this season due to injury.
Is Brett Bellemore a top-two NHL defenseman? Not at this time, but he has shown the willingness to work hard to make his game better. At 6'4″ and 225 lbs. I kind of hope GM Ron Francis keeps him in Raleigh.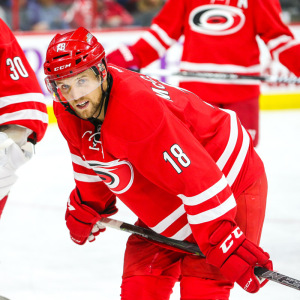 Jay Mac
Jay McClement just spent his first season with the Carolina Hurricanes. The 32-year old center from Ontario has been with the St. Louis Blues, the Colorado Avalanche, and the Toronto Maple Leafs.
As a rookie head coach in the NHL, some of the media were curious about how some of the players felt about their new coach. On Coach Bill Peters, Jay Mac said,
"He came in very well-prepared, very detailed. I think it shows in the way the team plays, there's a lot of attention to detail."
McClement talked about the way the NHL game is played today saying you can't have any loose-ends. "Coach Peters is a no-nonsense guy, he is very detailed and a very hard worker…very serious."
Some would argue that the Hurricanes had too many loose-ends this season, particularly in the defensive zone. These are details that Peters will look to correct during the off-season and in training camp.
Andrej Nestrasil
At age 24, the young center imported from the Detroit Red Wings has gotten his first taste of not only a season in the NHL, but the bitterness of not making the playoffs. Andrej Nestrasil said it was frustrating to be four months into the season and know you were out. "It's pretty tough mentally, actually," Nestrasil said. "It's not gonna turn around in a day, but we're on the right track. We've shown we can be a really good team, and hopefully we will continue to improve."
Asked about his game this past season, Nestrasil said it was really great to play a full season in the NHL. He said, "I hope I didn't let anyone down. I know that are some parts of my game where I need to get better, a little faster, a little quicker." The bottom line for Andrej was simple. He said, "I want to come back and I want to start winning."
The long-suffering Hurricanes fans agree wholeheartedly with Nestrasil. Winning would be a welcome change in Carolina.
More to come from the Hurricanes locker room
* Part Two of my conversation in the Carolina Hurricanes locker room is forthcoming. Look for comments from Alexander Semin, Anton Khudobin, Cam Ward, and Eric Staal.
Mark Shiver is a staff writer for The Hockey Writers credentialed with the Carolina Hurricanes. You can follow him on Twitter @markshiver
Check out Mark's latest article on Eric Staal's possibly leaving and the Hurricanes' desperate need for offense here.
Mark lives in the Raleigh, NC area and covers the Carolina Hurricanes.