The Calgary Flames should not be this good.
This is a common refrain throughout the National Hockey League. It's extolled by many on both sides of the aisle; the hardcore hockey people and the bright-eyed analytics types. Yet roughly a third of the way into the 2014-15 NHL schedule, they sit amongst the top third of the NHL standings. despite being a team that has a few deficiencies, both analytical and otherwise.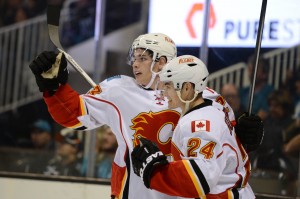 Here's a quick glance at the primary objections of the folks that say that Calgary shouldn't be this good and are destined for a course correction as the season moves forward.
IT'S YEAR TWO OF THE (RE)BUILD
The most common reason folks are confused and excited about the Calgary Flames' success is that the team has only recently pulled the rip-cord on their (re)build. When they traded Jarome Iginla in March 2013, it was the white flag – a signal that they had given up "going for it" (the playoffs) and were going to get back to basics.
After last winning a playoff round a decade ago and trying in vain to recapture the prior success with, arguably, an out-dated team model, the team brought in new coaches, new management and Brian Burke to oversee the whole shebang. And here we are, a year and a half later, in Year Two, and the Flames are in the midst of a playoff push.
The simple fact that it's hard to fathom that a plan to build an organization back up from its foundation could be successful so quickly has led to some skepticism, particularly since a couple hours up the road in Edmonton it seems to never progress past a certain point. Digs at the Oilers aside, less than two years into this project, Brad Treliving's team still has several holes and seems to be working around them for the time-being. It's just tough to imagine a house held up with chewing gum, gumption and hard work can withstand the elements for too long, regardless of the impressiveness of what it has already withstood.
THEY'RE YOUNG (AND HAVE MISSED VETERANS)
It hasn't been as bad as last season – the club lost Mark Giordano, Dennis Wideman and Kris Russell mid-season and never really recovered – but the Flames have really had to rely upon youngsters up-front with their many injuries to veterans. Especially at center.
Mikael Backlund is still out with an abdominal injury and has missed 11 games and counting. Mason Raymond is about to return after missing 18 games. Joe Colborne is close and has missed 17 and counting. David Jones missed 13 games. Matt Stajan missed 16. These five guys represent the bulk of Calgary's experienced core, as well as three of their four natural centers.
As a result? The team has relied upon 20-year-old Sean Monahan as its top pivot, as well as 21-year-old rookie Johnny Gaudreau, dark-horse project Josh Jooris and Finnish forward Markus Granlund. Jooris may be the biggest head-scratcher here; he's the team's only right-handed center and after an amazing training camp, has cemented himself on the team's roster as a key contributor despite (a) not being drafted and (b) not really being a prospect of note last season in the AHL.
Granted, the team is gradually getting veterans back into action, but the sustainability of a team performance born upon the shoulders of several untested rookies playing above their heads is the main objection of skeptics to be found here. That said, the experience these kids are gaining will be invaluable as they grow and progress, particularly since Monahan and Jooris have been leaned upon heavily for face-offs in key situations – like Calgary's many third-period comebacks.
If nothing else, though, this points to the fact that the Flames are incredibly lucky their injuries have been to forwards. They have depth at forward. They have very little depth on defense beyond farm-hand Tyler Wotherspoon. And over a long season, they are bound to have that shallow defensive depth tested.
THEY'RE STILL BAD AT PUCK POSSESSION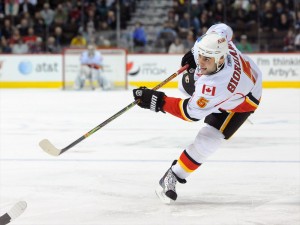 There are two measures here that act as proxies for puck possession: the "fancy" one and the regular one.
In terms of fancy stats, the Flames haven't been great in recent years. To be short: they get out-shot a lot and have relied upon a punch-counterpunch game rather than one based upon puck possession. So far it's worked because they are a fast team, but once word gets out regarding specific tendencies, you'll see teams adjust – in recent games teams have merely cluttered the neutral zone with bodies to counter Calgary's team speed with some success.
Calgary is 29th in the NHL in Corsi percentage overall – shots on goal, missed shots and blocked shots – and 27th when within a goal of their opposition. That's not great, as if the other team is shooting the puck at your net that often, they probably have the puck more often than you do. And based on the percentages, the other team has the puck a lot more than Calgary does.
Also not great? Calgary's awful face-off numbers. Granted, this can be (somewhat) explained by the fact that the team's most-used centerman is 19-year-old, but the Flames are 29th in the league in winning draws (only Buffalo is worse). They've been bad at face-offs for years, but only recently have their begun winning in spite of it.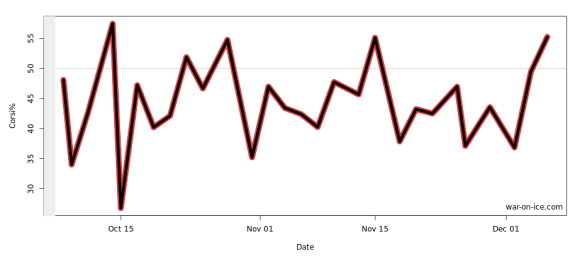 THEY'RE RELYING ON THE BOUNCES
This is the most common refrain of the fancy stats crowd, but it's one that is arguably the most entrenched in reality.
Calgary is a young team that doesn't have much depth on the blueline. If key guys on the back end get hurt, they are probably sunk, and given the team's reliance on blocked shots someone will probably get hurt sooner or later. They are frequently out-shot. They don't have a lot of established offensive fire-power – if you had told me that Johnny Gaudreau would be replacing Mike Cammalleri's production, I would've laughed in your face – and are relying on a scoring by committee model, which rarely works in the long-term.
In essence, the team is relying on the bounces – timely goals late in games and heroic goaltending from the tandem of Karri Ramo and Jonas Hiller. While their dynamic duo has improved Calgary's goaltending from poor to about league-average (in terms of save percentage) and that's likely to remain reasonably consistent, the team's shooting percentage – third-best in the NHL – is likely to drop somewhat.
That means they'll have to make what goals they do get count.
TIME WILL TELL HOW GOOD THEY ARE
I had the opportunity to speak with several Flames players about their start, the majority of them veterans who were with the club last season. It was frequently pointed out that this recent success can actually be traced back to the last chunk of the 2013-14 season. Following the January 18 line brawl in Vancouver against the Canucks, the Flames went on a tear to end the season. If you include that segment together with this season's start, the Flames are an impressive 36-23-2 in their last 61 games.
That's good enough to make the playoffs.
The difference-maker? A full training camp and 2013-14 season for Flames coach Bob Hartley – whose prior season was truncated with a lockout – and the presence of a veteran group this season that's now familiar with Hartley's systems.
"Last year was big on the culture. We wanted to find an identity, and I thought we did," said alternate captain Kris Russell. "We were one of the the hardest working, if not the hardest working, teams in the league, and we wanted to carry that over."
When the Flames began their string of strong play last season, they were three points up on the Edmonton Oilers at the bottom of the conference and a scant 19 short of a wild card playoff berth. Flames forward Matt Stajan points to the stakes of this season as what makes things different this go-around.
"I never like to look at the last quarter of any season," said Stajan. "There wasn't much on the line for our team in terms of getting to the playoffs because we were so far back, so you're playing a little looser. This year, you're seeing us, we're in the playoff picture, we're near the top of our division and every game really means something and that pressure is there and you need to buy in, because if you don't we're going to fall behind."
There's a lot of excitement in the Flames locker room. The players are completely aware of what the external expectations were heading into this season, but they're also plain about the expectations internally – progression. Good efforts were considered successes last season when the group was learning a system and a new coach and trying to lay groundwork. Now, particularly given that the team has suddenly found itself in the playoff spot a ways into the season, results are how the team will be judged. The X-factor for the group is that a considerable chunk of the roster are young players that, while green right now, are on the up-slope of their careers. Progression from these young players – arguably best represented by the emergence of Sean Monahan as a reliable NHL centerman – will likely be accompanied by progression in the group as a whole.
"Everyone thinks we're expected to be a rebuild team," said Russell. "We can hear that, but at the same time there's one reason you want to play in this league – and that's to win the Stanley Cup. We want to have an opportunity at that, so every day we just try to get better as a team."
The Flames hot start is water under the bridge. Points are locked away and can't disappear on them. Their success to date, unsustainable and/or driven by luck, cannot be taken away. However, the team's true mettle will be judged by how the team performs going forward.
If they continue performing at their current torrid pace – which is unlikely – then they have a shot at winning the division.
If they slide back a bit and chug along at a .500 pace – which might happen based on their underlying numbers – they still have a realistic shot at a playoff spot.
If the bottom drops out and the team performs below .500, they'll likely fall a ways behind the playoff bunch (but still finish well ahead of where they were last season).
Ryan Pike has covered the Calgary Flames and the NHL Draft extensively since 2010 as a Senior Writer for The Hockey Writers and Senior Contributing Editor of FlamesNation.ca. A member of the Professional Hockey Writers Association, he lives in Calgary.