The St. Louis Blues are finding ways to win through adversity this season. Whether it be due to injuries or questionable passing and team defense, the Blues have shown how talented they truly are by securing a 18-8-2 record so far this season, which has them T-2nd in the West. The Blues defensive line has seen some shifting over the past several games, as consistency on the back-end has been a question mark all year. Kevin Shattenkirk has been in the middle of that shift, playing more and more minutes when needed while positively influencing his teammates along the way.
@Sea__Cow @StLouisBlues yes but our defense. Watchs the puck never plays the man letting them create space

— BLUEBLOODS (@STLBlues5thLine) December 4, 2014
Blues Inconsistent Defense is a Sore Spot this Year
It's not because of just one player by any means, but the St. Louis defense has been fairly lax all season, and has cost them a couple of games in the recent past. Even in Monday night's affair against the Florida Panthers, the Notes allowed a less talented team (overall) hang with them for over a period. As was against the struggling Buffalo Sabres, the Blues got out to a lead just to slowly watch it diminish as the game wore on. The difference on Monday was a great hand-eye play by grinding forward Chris Porter that secured 2 points for the club, and another $20K for Martin Brodeur. The biggest problem facing the defense, that reared its ugly head at times again on Monday, is the in-zone gaps left open for opposing players to get into prime scoring areas untouched. The team seems to be standing still in their own zone too often, and over-committing at the wrong times. Luckily the Blues have great goaltending, which was addressed eloquently by Ian Cole after Monday night's win,
"We've got an NHL All-Star, we've got the best goalie ever, and we've got perhaps a 2-time All-Rookie Team goalie. So that's the only time that's ever happened, we're very lucky, we're very spoiled."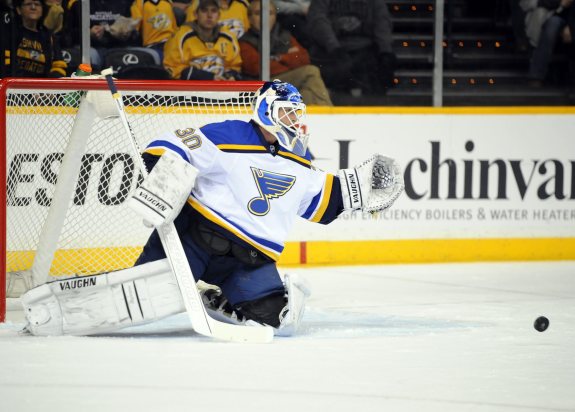 With Martin Brodeur's NHL record (every win he gets is a new NHL record) 690th win, that fact was put on display again Monday night. But Marty's play wasn't the only reason the Blues came away with 2 points against the Panthers, it was also because of the solid play by Kevin Shattenkirk and Barret Jackman (who was a plus-3, and assisted the GWG) on the back-end that thwarted various different chances throughout the game. As the team continues to figure out the right balance of aggressive backchecking and actively filling lanes while staying in position in their own zone, it will be Kevin Shattenkirk who will continue to lead the Blues d-core forward, and here's why.    
Kevin Shattenkirk: The Silent Warrior, The Real Deal
When Kevin Shattenkirk was playing for Boston University he was focused on making his team better while bettering himself. This core set of values is what drove him to a National Championship with the club in 2009, and partially why he became the first sole captain of the Terriers since 1961-62 the following year (the main reason was because co-captain Brian Strait turned pro before the season began). The then All-American honed his skills through college, and into the AHL (briefly) and NHL with the Colorado Avalanche before becoming a Blue on February 19, 2011.  
Shattenkirk leads all @NHL defensemen with 14 power-play points and his 12 PP assists lead all players. #stlblues #FaceOffShow — Jeff Ponder (@jponder94) December 9, 2014
Over the years he's been in St. Louis fans have had a chance to watch him grow, sometimes painfully, into a stalwart defender who has a heck of a knack for putting up points. Kevin Shattenkirk currently sits T-2nd overall in defensive scoring (3 G, 19 A, 22 P), and T-16th overall in defensive plus-minus (plus-9). He silently focuses on each game at hand, and how he can make a positive impact for his team in every zone and every situation, and the Blues' record reflects how good he is at just that. To make the differences a little more staggering, here are some 'normal' and some advanced "fancy" stats between Shatt Dueces and the team's #1 defenseman (for now), Alex Pietrangelo.
Pietrangelo and Shattenkirk Head to Head: Stat Central
When looking at the two blue-liners form a time on ice (TOI) stand point, Pietrangelo still holds the edge, but the gap is rapidly closing. Over the past few years Shattenkirk has hovered around 21 minutes per game, while Pietrangelo's average was around 25 minutes per game. However, this season the pair has seen ice time almost split, with Shattenkirk getting almost 23 minutes a game, and Pietrangelo averaging over 25 in each contest. This shows management has taken notice to Shatty's consistency, something that is desperately needed on the back-end of this offensively minded St. Louis team.
When you dive in to other 'normal' stats you see that Shattenkirk's hockey IQ is helping him create offense from quick transitions and more accurate passing (than the team as a whole). His plus-9 overshadows Pietro's minus-7 rating (Pietro is a minus-3 over the past 5 games) in a big way, and his 22 points makes Pietro's 14 (2 G, 12 A) look miniscule for a supposed #1 d-man. The story doesn't stop there, as the Corsi and Fenwick stats show the table shifting even further in Kevin Shattenkirk's favor.
Advanced Stats Show Kevin Shattenkirk's Rise, Alex Pietrangelo's Off-Year
The Corsi and Fenwick stats focus on plays directed at a net (whether it be for or against your team is what shows how effective a player is for a team while on the ice). You get a positive point for each play your team directs at the net while you're on the ice, and a negative one for each play the opponent directs at your net. The only difference in these stats is that the Fenwick stats don't count shots that are blocked, as blocking a shot is a hockey skill. When you look at the percentages, these advanced stats show you the good and the bad combined into one number. Over 50% on either the Corsi or the Fenwick percentage is achieved when a player is considered a positive overall influence on his team.
Lastly, the PDO, or a team's shooting percentage plus it's save percentage, can also help show who on your team is the most effective at positively influencing the game as a whole. If you help less goals be scored (which increases the team's save percentage while you're on the ice), and you aid your team's scoring on a regular basis (increasing the team's shooting percentage while you're on the ice) you should see a PDO index of over 100. This means you've helped score and stop goals more than the average teammate. So without further ado, here is the breakdown for Kevin Shattenkirk and Alex Pietrangelo (NOTE: These are only for even strength opportunities):
Corsi/Fenwick Ratings Pietrangelo and Shattenkirk
Player
Corsi/GM
Corsi For %
Fenwick/GM
Fenwick For %
PDO
Alex Pietrangelo
-1.2
49.50%
3.1
51.70%
97.3
Kevin Shattenkirk
51.1
71.10%
53.6
72.50%
107.7
What the above chart exposes is Alex Pietrangelo's rough start to his 5th full NHL season. He has had some troubles this year, but is still a great d-man and teammate for the Notes. The chart also shows how great of a teammate Kevin Shattenkirk really is, and why his movement up the depth chart has been warranted. He has been able to positively influence this Blues team at both ends of the ice, unlike Pietrangelo for much of this season. Kevin Shattenkirk is able to positively influence each game the Blues have played this season, which shows his maturity is still reaching new heights. His hockey IQ will only continue to develop as he plays with players like Alexander Steen, Vladimir Tarasenko, Jaden Schwartz, Jori Lehtera, Jay Bouwmeetser, and especially Martin Brodeur; all of whom have excellent hockey minds.
This means that over this coming year, and into the next few, Blues fans may see a shift in their #1 defenseman, but it won't be at the expense of points. Hopefully Pietrangelo can muscle his way through this rough patch (he has already started playing better as of late), and Shattenkirk can continue to complement him (regardless of their place on the depth chart) so that the Blues defense will continue to tighten up en route to a long and profitable season for the club.
Like what you've just read? Follow me on Twitter:Follow @pep30
And get in on the Blues conversation using:Tweet #FaceOffShow

Mike has covered the St. Louis Blues and Tampa Bay Lightning in depth for The Hockey Writers since 2013. He is also a contributing writer for KSDK News Channel 5, the St. Louis area NBC affiliate, and has been a credentialed media member of the Blues since 2014. Follow him on Twitter @pep30.