The Injury Ninja has hit the University of North Dakota hockey team hard this season. They can't seem to catch a break.
To date, the University of North Dakota has played in 17 games, and the players have beaten a path to the training room.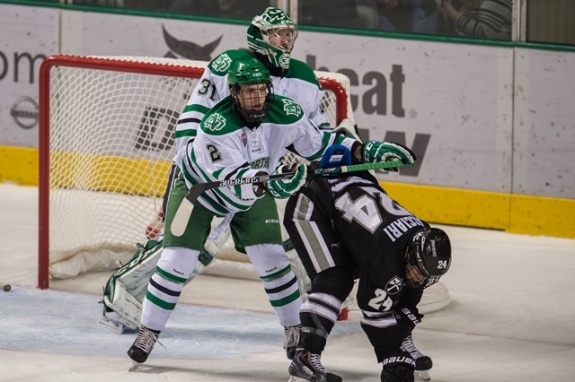 One of the busiest people on the UND staff has been the trainer Mark Poolman. I don't think it's unreasonable to suggest that Poolman has been one of the team's most valuable players.
Almost weekly, another UND hockey player goes down with an injury. Just when one player gets healthy, another one goes down.
Looking at the statistics, six UND players have missed roughly 17 games due to injury (Nick Schmaltz 4 games, Mark MacMillan 4 games, Paul LaDue 1 game, Brendan O'Donnell 2 games, Bryn Chyzyk 5 games, Colten St. Clair 1 game).
McIntyre starts in goal. Caggiula remains in the lineup. Simonson back in the lineup. Chyzyk still out. St. Clair out indef. (upper body).

— North Dakota MHockey (@UNDmhockey) December 6, 2014
Add three more players to the list
This past weekend, UND added three more names to their growing list of injuries. Forwards Colten St. Clair, Drake Caggiula and defenseman Troy Stecher, all sustained injuries in the series against the Lake Superior State Lakers.
Friday night, junior forward Drake Caggiula suffered an apparent lower body injury after blocking a shot. Caggiula would head to the locker room in a great deal of pain. In the second period, Caggiula would take one shift before returning to the locker room. Fortunately for North Dakota Caggiula would return for Saturday's game.
Also during the first period of Friday's game, junior forward Colten St. Clair was on the receiving end of a big check. St. Clair would leave the game and not return. On Saturday, UND announced that St. Clair was out indefinitely with an upper body injury.
In the third period of Saturday's game, sophomore defenseman Troy Stecher would land awkwardly behind the UND net suffering an apparent lower-body injury. Stecher was helped off of the ice and appeared to be in great pain.
If Stecher's is out for an extended period of time, that would be a huge blow to UND's lineup. The sophomore defenseman has scored (1g-8a—9pts) in 17 games. Stecher is also a team-leading plus (+10). Lucky for UND, they have over a month off during the Christmas Break.
Despite getting bitten by the injury bug, UND has gone (12-3-2, .794) and is ranked number one in both polls. Much of this can be attributed to UND's depth. As one player has exited the lineup, another players has taken their place.
Eric is a 1996, 1999 graduate of the University of North Dakota. Eric covers the University of North Dakota Hockey and Division I college hockey. Eric is the Contributing Editor for Inside Hockey.