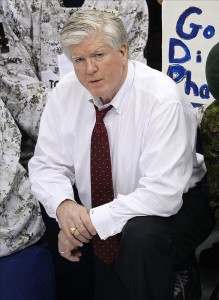 When the 2011-12 season ended Toronto Maple Leafs president and general manager Brian Burke quickly conducted an exit interview with the Toronto media. While many topics were discussed, what the fans and media were most interested in was what Burke had planned for the offseason.
Burke made reference to the draft and how important it was for the Maple Leafs to take the best player available. He also noted that he felt his team would need to upgrade between the pipes and in the Physical department.
While there were plenty of rumors surrounding a possible acquisition of Vancouver Canucks veteran goaltender Roberto Luongo, nothing has materialized. The same can be said for Los Angeles Kings backup Jonathan Bernier, who was also part of a number of rumors involving the Maple Leafs.
With no upgrade between the pipes in sight it appears as if Burke is willing to go with James Reimer and Ben Scrivens between the pipes.
On the physical side, Burke said goodbye to a number of players, including Colby Armstrong, Joey Crabb, Luke Schenn and Jay Rosehill.
Burke replaced that muscle with one player— Jay McClement. With all due respect to McClement, his addition to the Maple Leafs roster will not be enough if the Maple Leafs want to establish themselves as the physical team both Burke and head coach Randy Carlyle talk about assembling.
Yes, Burke also brought in James van Riemsdyk, but while he brings decent size, he is not here to throw his weight around, he is here to score goals and park his butt in front of the net on power play opportunities.
With no upgrade between the pipes and little truculence added, Burke's offseason plans have come into question. If Burke is so intent on assembling a tough team why does every NHL team look down the Blue and White's lineup and say "hmm, they ain't so tough?"
A quick look at Toronto's lineup reveals that, while on the right track, Burke still needs to fill several holes.
While we respect managements creativity in giving JVR a chance at the first line centre's duties there is no guarantee that he can pull it off. JVR has little experience at centre (at the NHL level) and with his defensive game an area of weakness, one wonders if he can handle the job.
Both Clarke MacArthur and Nikolai Kulemin struggled at times last season. Kulemin's drop from 30 goals in 2010-11 to a paltry seven in 2011-12 was alarming. Should Kulemin fail to get back to that 20-30 goal level the Maple Leafs may have a problem on their hands in their top-six.
As for MacArthur, he was very inconsistent last season and his compete level came into question on more than one occasion. If Kulemin struggles and MacArthur follows, look out— big trouble!
And then is the mater of scoring depth. Both Tim Connolly and Matthew Lombardi did little to earn the confidence of the Leafs' brass last season and while we can give Lombardi a mulligan due to his concussion issues and late season injury, Connolly looks to be a total waste of $9.5 million.
On the blueline Burke has assembled some decent depth, but lets not forget that the Maple Leafs ranked 28th in goals against last season and a lot of that blame falls on the bluelines shoulders. With the exception of Schenn, that same blueline will be employed next season, give or take a Cody Franson or Korbinian Holzer.
Meanwhile Burke has assembled one of the better group of prospects this franchise has ever seen. Blue chippers such as Morgan Reilly, Stuart Percy and Matthew Finn represent a very good mix of talent on the backend for the Buds, while Nazem Kadri, Greg McKegg, Joe Colborne, Tyler Biggs and Bradley Ross should all be NHL forwards some day.
When you add it all up Burke has a ton of depth at the NHL level and in the AHL— maybe too much.
With that in mind, maybe Burke's silence this summer is a sign that he is working on something bigger? Maybe, just maybe, Burke is working on a blockbuster deal that could shift the Maple Leafs from the NHL's laughingstock to a playoff contender in one blockbuster deal?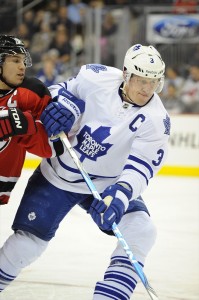 Former Maple Leafs' GM Cliff Fletcher did it when he orchestrated the Doug Gilmour deal and to a lesser extent the deal that brought Mats Sundin over from the now defunct Quebec Nordiques. Burke also made a pretty big deal when he sent a load of crud to the Calgary Flames in return for Dion Phaneuf and spare parts.
Could Burke be working on a deal that might mirror his work on the Phaneuf trade?
As it stands now the Maple Leafs have just over $7 million in cap room left with which to sign players. Trouble is, what's left of the unrestricted free agents is garbage (well, maybe Jason Arnott would make a nice addition) and we all know Burke is not a fan of making offers to restricted free agents.
That means IF Burke is going to use up that $7 million he is likely going to do it by acquiring some serious contracts and not through the signing of UFA's.
With the CBA still in limbo Burke may very well be posturing in order to move in like a vulture when and if the salary cap is reduced, leaving many teams in a cap-crunch.
Several teams (Boston Bruins, Minnesota Wild, Vancouver Canucks, Calgary Flames, Philadelphia Flyers) are dangerously close to the proposed $70,200,000 cap limit. Should that upper limit get reduced by a significant amount many teams may be forced to move a big contract or two in order to get their cap down.
Teams like New Jersey, Detroit, Nashville, New York Rangers and the Dallas Stars will likely be in the hunt for an upgrade or two as well, so don't expect Burke to land those deemed expendable by NHL teams looking to shed salary on the cheap.
Burke may also be able to move the likes of Lombardi, Connolly and/or MacArthur (all are UFA's after next summer) to a team that needs to get to the cap floor but doesn't want to take on too much term on a contract. Burke has moved dead-weight out of Toronto before, why couldn't he do it again?
Over the past two months I have heard plenty of fans of the Blue and White suggest that Burke has lost his touch, that Burke hasn't done enough to get Toronto into the playoffs and that Burke has ignored the teams biggest needs (goaltending and a first line centre).
To all of the Burke bashers I say, the off-season is not over. And, if everything goes his way, maybe the off-season is just beginning for Burke? Maybe Burke knows an NHL strike is coming? Maybe he knows the salary cap will be reduced? Maybe Burke has a number of NHL teams right where he wants them?
One thing is for sure, Burke has to do something. Let's all hope he knows what he is doing.
Until next time,
Peace!
Known as an honest, opinionated and trusted writer, Mark Ritter brings a unique view on the Maple Leafs and the NHL in general. Mark has been writing about hockey for almost ten years and is known for bringing an honest view on the Maple Leafs. You can view more of Mark's work at www.theslapshot.com
Please follow Mark on Twitter: @theslapshot