In his first season with the Philadelphia Flyers, goaltender Ilya Bryzgalov might have finished strong but he certainly didn't prove he was worth $10 million.  The decade-long goaltending controversy General Manager Paul Holmgren seemly put to rest last summer has still remained front page news and although the NHL might be in the midst of a lockout, Bryzgalov remains a topic of conversation – only now it's with CSKA Moscow of the Kontinental Hockey League.
With the season appearing uncertain this fall, it seemed imminent that Bryzgalov would head to Europe to not only stay in shape, but also to earn a tax-free paycheck.  The talent in the KHL has continued to improve since the league's inception in 2008, with perhaps a higher skill level than that of the American Hockey League.  That talent has caused the 32-year-old to continue to remain inconsistent and has left him even looking foolish at times.
Perhaps he's still getting accustomed to the new league, or maybe he's still trying to get well acquainted with the new defense in front of him but whatever the case, it's a cause of panic for many Flyers fans.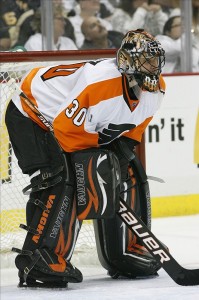 In four games with CSKA, Bryzgalov has a 1-3 record, a goals-against average of 3.27 and a .887 save percentage.  Those numbers don't tell the entire story, however.  After a rough start to the season, Bryzgalov looked to bounce back in his second start, after his team got him an early two goal lead.  But due to lack of defense and a wide open five hole, he let in four unanswered goals en route to a loss.
The very next game he would bounce back.
Bryzgalov stopped 30 of the 31 shots he faced from Salavat Yulaev on Monday, at which point he was awarded a second straight start for Wednesday's matchup against Ak Bars Kazan.  Things appeared to go well for the goaltender, but then all of the sudden – he looked Michael Leighton-esque.
CSKA trailed 2-0 after the first period but battled back to tie the game early in the third period.  Just minutes after the score was knotted, Bryzgalov allowed a soft goal on a low backhand shot from inside the lower right circle – a play which began thanks to a turnover.
The very next shot he saw – nearly a minute later – also went into the back of the net.  It might have been the result of a defensive lapse but it was a difficult shot that Bryzgalov could have stopped.  Big time goaltenders make the big time saves.  Instead it gave Ak Bars a two goal lead, which they eventually held on to for a 5-2 win, as the last goal was courtesy of an empty net.
Many Flyers fans got their first glimpse of Bryzgalov after a viral video depicting the goaltender falling alone in front of his own net began to make its way around the internet.  Though it might have generated a few laughs – much like his Winter Classic antics last season – it was just another goaltender gaff to continue to leave some Flyers fans worried.
But should they be worried at this point?
The answer is simple: absolutely not.  Last season Bryzgalov began the year with three straight wins – though he did give up four goals in the third game, a 5-4 win over Vancouver – he then lost five straight games, all of which he allowed at least three goals.  It was at that point that he began to find a groove – not to mention the defense began to hold up its end of the bargain.
There are some out there that want to trade Bryzgalov but then where does that leave the Flyers?
Trading Bryzgalov – who currently has a No Movement Clause – would basically put the team back where it was a few years ago, scrounging to find a serviceable NHL goaltender, while attempting to cultivate what it hopes is the next big talent.  Meanwhile, the people would still bother the local sports talk stations and blogs, complaining about the lack of an elite goaltender.  What he did in Phoenix, as a member of the Coyotes, shouldn't be overlooked because he's still capable of putting up Vezina-like numbers, he simply needs more time.  More time to grow as a goaltender; more time to get acclimated to Philadelphia, its media and its fans; and more time to prove his worth.
To want a change now, after one season, is just not the way to do it.  While Stanley Cup caliber goaltenders do have a shelf life, they're not something you give up on after one above-average season, in the hopes of moving on to "Plan B".  He might still have to exorcise the playoff demons, but Bryzgalov was not the reason the Flyers lost to the New Jersey Devils last May – though he wasn't all that great against Pittsburgh.  There sometimes isn't a quick solution and that might just be the case here.
Though he might not look consistent right now in the KHL, Bryzgalov is continuing to remain active in the hopes that the NHL lockout is soon resolved.  If he can get it all out of his system and come back to Philadelphia prepared to prove he is worth that hefty contact, then perhaps Flyers fans will be happy.  No matter what the case, his second season in the orange and black could be the most important in determining if the fans want to see him go, or if they want him to stay and hopefully hoist the Stanley Cup.