This season is proving that it makes no difference how much money the Philadelphia Flyers spend on a goaltender because by the time February comes around the orange and black are always left with the same problem – goaltending.  Year after year, the local rags and sports talk "experts" complain and whine about who is in between the pipes for the Flyers.  And it's tough to argue with them.
But this year might be a little different.
After the Flyers' 6-4 loss to the Pittsburgh Penguins on Saturday – a game in which both Ilya Bryzgalov and Sergei Bobrovsky each gave up three goals – it appears as though fans are lining up to jump off the Benjamin Franklin bridge, but who exactly are they upset with, is it owner Ed Snyder?  It can't be.
After years of going with the more thrifty choice at goaltender – remember Philadelphia passing on Curtis Joseph and Mike Richter for John Vanbiesbrouck, or perhaps signing the vertigo-ridden Jeff Hackett – but this year Snyder finally listened to the fans' request, signing the best available goaltender to a $51 million contract.  Bryzgalov has a Stanley Cup under his belt as a backup, a gold medal from the World Championships and was even a runner-up for the Vezina Trophy two seasons ago with the Phoenix Coyotes.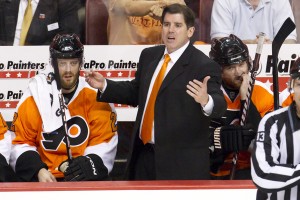 So maybe it's Peter Laviolette's fault?  Let's face it, if there has been one issue Laviolette has had during his tenure in Philadelphia it has been the ability to select a starting goaltender.  In the playoffs last season, Laviolette used three different goaltenders and pulled the starters almost more than the amount of goals the team scored in their series against the Buffalo Sabres.  With such a strong start this season, Bryzgalov was used a lot early on but in the recent months Laviolette has been a little more stingy in how often the 31-year-old starts.  It can really limit his ability to get any sort of rhythm going and as he has shown signs of improvement recently, he seems to lose momentum due to Laviolette starting Bobrovsky.
Blame the owner, blame the coach, you can even blame HBO for feeding Bryzgalov's ego for their 24/7 specials on the Winter Classic but it has really been his own fault.  Philadelphia is not like Phoenix, I think we all know that but it perhaps Bryzgalov failed to get that memo.  Sports are king in Philadelphia, I mean even the city's most beloved hero was a fictitious boxer!
Bryzgalov had to learn that the hard way.  It's a hard working city that expects the same from its athletes and it found Bryzgalov to be a breath of fresh air when he blamed himself after a loss to the Winnipeg Jets.  He said that he needed to do a better job but it got old the more he continued to say it, which eventually led to his remarks at the Winter Classic after learning he had been benched.  Thouse comments certainly changed much of the city's opinion on him.
The guy has almost become like Roman Cechmanek – Flyers starting goaltender from 2000 until 2003 – who admitted he didn't like the city, nor the team and eventually requested for a trade but even he was given a fair shot his first season, like most of the goaltenders that have gone through the revolving door since Ron Hextall.  Bryzgalov has only started 38 games with the Flyers but is that really enough time to base an opinion or litter your Facebook and Twitter with updates hoping that he is shipped out of town?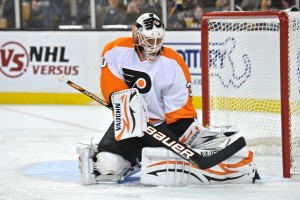 I say no.  It's too early to jump ship on a player who still has the potential to help carry the Flyers during the spring months.  Obviously it is easy to say that "all he has to do is get hot" but what real choice to the Flyers have this season?   There is no reason to suspect at this point that the Flyers will not make the playoffs – barring a meltdown of epic proportions – and that is when the true test begins for the Flyers goaltender.  Danny Briere has not been worth his contract during the regular season while in Philadelphia but when the postseason come around he steps up his game big-time and earns his keep.  Maybe that is all Bryzgalov needs, as it is clear he loves having the spotlight shone on him.
The team is equipped with enough talent to make a legitimate run at the Stanley Cup this year and if it trades Bryzgalov – though who would want that contract – to make room for a star defenseman or Rick Nash, then next season Philadelphia will be watching the same re-run it has seen for well over a decade.  Bobrovsky has proven he is a good goaltender but he cannot carry the team for an entire season.  It is just too much of a load to bare.  Yes, Bryzgalov has been a huge disappointment up to this point with a 2.79 goals-against-average but he put up a lot better numbers in Phoenix with far less talent around him. There is some good news about all of this; he won't have to battle the Detroit Red Wings in the first round, a who has been his kryptonite in the playoffs.
Step down from the ledge, don't hang on the result of every game and give the guy at least a fair chance in his first year after coming from one of the smallest hockey markets in the NHL.  I know it's not always easy to do when he lets in a soft goal, especially since Philadelphia has seen plenty of those lately but if he keeps it up he might be doomed to become the next Michael Leighton.