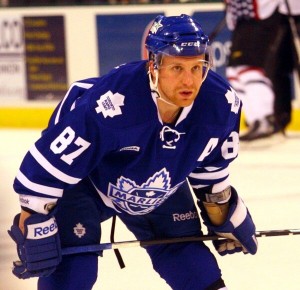 Several sources are reporting that Toronto Maple Leafs prospect Leo Komarov is looking to return to the KHL to play with the Moscow Dynamo.
Komarov, who stands 5'10 and weighs in at 187 pounds, was selected in the sixth round (180th overall) by the Maple Leafs in the 2006 NHL Entry Draft.
Known as a "pest", Komarov came to North America to fulfill his dream of becoming an NHL player. Since his arrival in Toronto he has been playing with the Maple Leafs' AHL affiliate, the Toronto Marlies, where he is currently tied for the team lead with five goals.
Komarov has a clause in his contract which allows him to go back to the KHL should the lockout persist, and with no end to the lockout in sight, Komarov is looking to return to the club that he won a KHL championship with last year.
For his part, Toronto Marlies head coach Dallas Eakins seemed fine with Komarov's intention to head back to the KHL.
"If there was no lockout this would not be going on at all," said Eakins. "This was a provision that was built into his contract. This kid's a good prospect, worked hard to get a shot at the NHL and that's his end game. This is about playing in the NHL, that's what he wants to do."
While not a certainty, should Komarov return to the KHL it brings into question his loyalty to the Maple Leafs, or more specifically, the Toronto Marlies. I mean, does Komarov not want to finish what he started with the Marlies?  Does playing in the KHL get Komarov a step closer to his dream of making it to the NHL or would he be better served to remain with the Marlies?
Both the AHL and KHL have seen an influx of NHL players due to the lockout, but the AHL mirrors the NHL game more closely, which could help Komarov make the next step.
While Eakins is saying all the right things about Komarov's possible move back to the KHL, one wonders if deep down Eakins is steaming mad?
To his credit, Komarov has been a valuable addition to the Marlies roster, and an integral part of the teams' early season success. Losing a player of Komarov's ilk must not sit well with Eakins' or Komarov's team mates, who will surely miss the pesky native of Narva, Finland.
Lockout or no lockout, Komarov has a lot of nerve wanting to head back to the KHL. Talk about abandoning your team….what ever happened to being a team player?