When the Boston Bruins acquired 3 draft picks in exchange for the rights to Phil Kessel back in 2009, they were afforded the unique opportunity to add some pieces to an already solid, young core of Stanley Cup hopefuls. And when one of those picks turned out the be the 2nd overall pick in the 2010 NHL Entry Draft, the Bruins gained an asset that was viewed as a significant building block for the future, a now / not yet cog in a wheel that would help the team contend in the present and remain strong in the future.
Couple Tyler Seguin with Dougie Hamilton (9th pick in the 2011 Draft), and throw in an should-be superstar in Tuukka Rask (another should-be Leaf) , and the Bruins had strength at 3 key positions that would keep the team going and the Cup window open when some of the veterans moved on or began to lose a step or two.
Well, compete for the Cup they have done, with a win in 2011 and a Final loss just a couple weeks ago (like anyone needs to be reminded of that). But when Nathan Horton decided that he was going to test the waters of free agency (meeting a furry little penguin in the process), and after it became clear that Jaromir Jagr was going to be moving on, it became apparent that the Bruins were going to need some help on the wing to keep their success going.
Bruins Off Season Questions Answered, For Now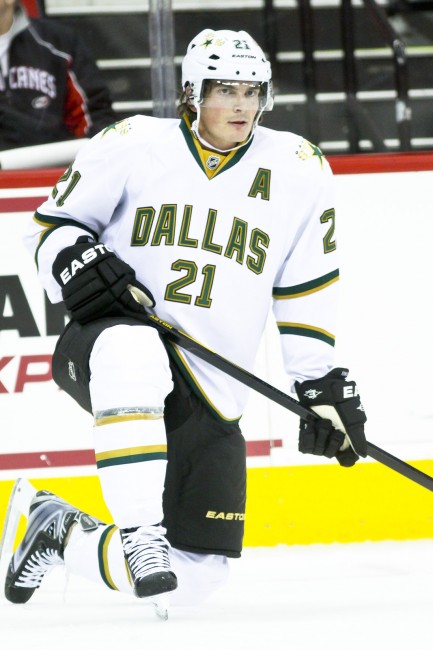 While Seguin was due to move back up to his old line with Patrice Bergeron and Brad Marchand, a replacement would be needed to play alongside David Krejci and Milan Lucic, and the 3rd line would also need reinforcements. After word came down that Seguin was being shopped, many (including myself) believed that it was only a message (albeit a strong one) being sent from the B's brass to their young forward. And as free agency approached, many wondered who would be brought in for the top line role, complimenting Seguin's renewed rise to stardom with an increased role next season.
Fast forward to July 4th, and the Bruins made the decision to cash in some futures for a more immediate payoff. Gone are Tyler Seguin, Rich Peverley and Ryan Button, and in comes Loui Eriksson, Joe Morrow, Matt Fraser and Reilly Smith. Hockey-wise, this was a case of Boston flipping one valuable asset for another; all conjecture about Seguin's personal life aside, the Bruins see Eriksson as an important piece to their continued success, and were willing to pony in a big way up to get him.
Eriksson – the NHL's consummate "underrated" forward over the past several seasons – does indeed seem like the perfect line mate for Patrice Bergeron; he can finish, he can dish, and he can play in his own end. In the present, he's an upgrade over Seguin at the wing position and on that line.
What Loui also brings, however, is 7 added years of *ahem* experience, and, at 28 years of age, a more limited shelf life than Seguin. And there's the rub with this deal. It allows the Bruins to remain uber-competitive in the present, and some may argue that they are a better hockey team minus Seguin and with Eriksson; but there exists the very real possibility that Seguin will emerge as a bona fide superstar in Dallas, and that he will be rolling at a high level as Eriksson (barring a Selanne-esque career track) begins to decline.
Yes, Eriksson has been remarkably consistent over the last number of years, averaging 69.5 points and missing only 3 games in 4 seasons prior to the lockout. However, his goal totals have steadily decreased since a career high of 36 in 2008-09, and this past shortened season was even more of a down year for Eriksson, as he was on track to score only 20 goals and 50 points over the course of a full 82 game schedule.
There's every reason to believe that he can and will bounce back in a big way in Boston, but there's no telling how long that consistent (if not already diminishing) production will last as he passes the age of 30, at which point a still spry Seguin will just be reaching his prime (allegedly).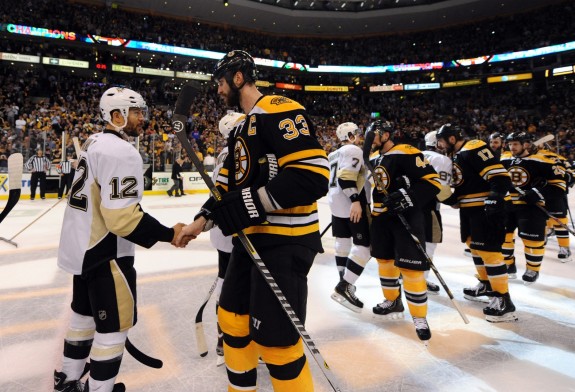 On top of that, with Horton now officially a Blue Jacket, the Bruins turned to an old Flame for solace. Jarome Iginla serves as a buzzy replacement, but also a significantly older one. Seemingly on the downside of what has been a great career, Iginla posted a line of 14 goals and 19 assists for the Flames / Penguins last year, and was virtually invisible for Pittsburgh during the Eastern Conference Finals.
While he and the Bruins are hopeful that a full season in Boston (and some nice bonus potential) will help rejuvenate him, there's no way of knowing if Iginla can find the kind of chemistry that made Horton so successful on the top line, especially when it matters most.
Contenders, Minus A Significant Building Block
Let's be honest: a top 6 of Iginla, Eriksson, Bergeron, Marchand, Krejci and Lucic would have to be considered the envy of many an NHL roster (with the latter 4-5 still firmly in their prime years), and there are a couple young guys that can be plugged in to fill the remaining holes up front (Ryan Spooner or Jordan Caron, specifically). The Bruins blue line also boasts a mix of veteran savvy and youthful exuberance that brings with it much to be excited about, and the forthcoming extension of Tuukka Rask will give the Bruin some much excellence in net for years to come.
With several of these guys locked in for a few more years, the Bruins are setting their sights on Flortheast domination and continued success in the playoffs for the foreseeable future.
It all appears to be enough to keep the championship window open (for the immediate future), and Bruins fans can enjoy the fact that the team appears to remain committed to winning a Cup in the here and now.
BUT, the idea of a long term plan built around Tyler Seguin is no longer there; young talent remains in the pipeline (with Hamilton, Malcolm Subban and Jordan Caron left as the only Bruins first round picks in the system, mind you), but that one significant franchise building block is gone, and an aging Boston core will march on in the battle without a young potential superstar as reinforcement. There's no telling if he can shed those pesky hackers and become who he's projected to be, but, if he does, Bruins fans may be forced to see him rise up (and up) just as Boston's window begins to close.
Follow Ian on Twitter for more hockey updates and commentary.