It is a painful thought to think that one of the best players ever to wear your favorite team's sweater won't be there next season. It's even more painful to think that that same player, who has played for one team his entire career, could also come back and play for another team. It just feels wrong.
This is the reality that Colorado Avalanche fans now face as Milan Hejduk will not be re-signed by the Colorado Avalanche for another season. Perhaps the saddest part in all of this is that the Avalanche are making the absolute right decision for their organization by letting him go.
How Can This Be The Right Decision for the Colorado Avalanche?
"Milan Hejduk has always been the picture of consistency, so how on earth could the Avalanche be better off without him?" This is a true statement, or at least it was a true statement. After running 11 straight seasons having scored 20 or more goals for the Avalanche, Hejduk suddenly lost that famous touch. In the 2011-2012 season, Hejduk posted his lowest goal total in a season since his rookie year, with just 14, and his lowest point total ever, with just 37. It was at this point it started to look like Father Time had finally caught him.
The following season didn't go much better. Not only were Hejduk's totals the lowest of his whole career, though the season was shortened by a lockout, he also spent a long time injured. During both of his past two seasons, Hejduk also spent less and less time on the top-two lines where he had been a mainstay his whole career.
More than just the numbers declining, it became apparent to all who would see that Hejduk's scoring touch wasn't what it used to be. More and more, shots that Hejduk had always been able to just bury, some way or another, kept being put directly in the goalie's chest. Whatever the explanation is for it, the end result is a Milan Hejduk that is just not the same.
Not to mention, the Avalanche now have one open roster spot left, barring any type of trade. The choice essentially comes down to giving the roster spot to Hejduk or newly minted Avalanche and first overall draft pick Nathan MacKinnon. At this point, MacKinnon's value to the current roster is greater than Hejduk's.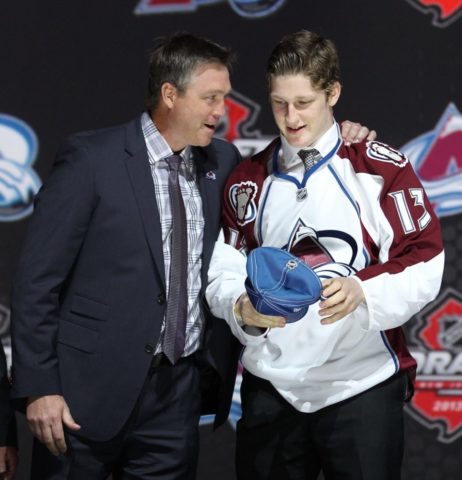 Where Might Milan Hejduk End Up?
It is apparent that Hejduk does still want to play this coming season, the question is where will he land? It's probably unfair to say that every team in the league would be interested in Hejduk, as several of them still have salary cap issues that they need to work out. Still, I think Hejduk will be able to find a home on an NHL roster.
The first team that pops out to me is the Dallas Stars. I don't know what it is about the Stars that makes me believe Hejduk will go there, but I just can't shake the feeling. Perhaps it's the fact that Dallas will be in Colorado's division next year, giving Hejduk all kinds of chances to make his former team remember him.
Toronto seems like a place the might like Hejduk, and that might also be attractive to him. The Leafs are a team on the rise and were about seven minutes away from ousting the Boston Bruins this playoff year. They're a young team that could benefit from the steady hand of a savvy veteran, though he wouldn't have the pressure of being the top guy on the team. Hejduk would be much more of a second fiddle, or even a third fiddle, whose production wouldn't be expected to be much more than 10 to 15 goals.
Third, the Chicago Blackhawks would be a great spot for Hejduk to find himself. The Hawks would likely be able to sign Hejduk for a bit less than he made this year, which was only $2 million, and give him one more shot at a Stanley Cup. The Hawks just let go several of their other Stanley Cup pieces, Milan Hejduk gives them another player who has all the experience in the world without much need for him to produce big numbers. Plus, Hejduk is already familiar with Joel Quenneville.
Milan Hejduk's Legacy
Milan Hejduk's legacy is firmly in place in Denver. He will always be remembered as a member of the Colorado Avalanche and is the player who has played the most games in an Avalanche uniform ever. Yes, Joe Sakic has more game within the Quebec/Colorado franchise, but since the team has moved to Denver, nobody has played more games as an Avalanche than Milan Hejduk.
Hejduk will always be remembered as a clutch goal scorer. That started his rookie year when he started scoring overtime game-winners in the playoffs. He'll also be remembered for one of the most bizarre goal celebrations in the history of the Avalanche, and the most unlikely of players to do it.
Not matter what happens with Hejduk, whether he does decide to move on to another team or retire, he will always be loved in the city of Denver. Hejduk has been a huge part of the community for years now. Denver is where he settled his family and raised his kids and it will always hold a place for him when his playing days in the NHL finally do come to an end.
Shakespeare was correct when he wrote "Parting is such sweet sorrow," but the Avalanche had to look forward as an organization. As painful as this realization had to be for the Avalanche, and for Milan Hejduk, this is the right move to make.  I hope for nothing but the best for Milan Hejduk going forward. Thanks for your time as a member of the Colorado Avalanche.
I'm a Denver native who has been a fan of the Avalanche since they came to town and a fan of the game before that. I started writing my own blog a couple years ago before moving to Bleacher Report and becoming a Featured Columnist there. You can also find me the Burgundy Brigade Podcast