It may not have been one of the more high profile selections of the 2013 NHL Draft, June 30, in New Jersey, but for 19-year-old defenseman Mackenzie Weegar being selected by the Florida Panthers in the seventh round (206 overall) was still a dream come true.
"It was great when I heard my name called at the draft," said Weegar. "It was a long wait, but well worth it. I knew that Florida had interest because I had spoken with one of their scouts, Paul Gallagher, and he pushed hard to get me. I couldn't be happier."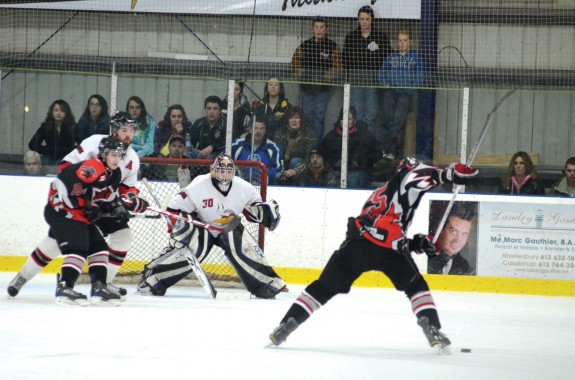 Weegar Starting Out In Jr. B
Weegar, an Ottawa native, got his start with the Winchester Hawks in the Eastern Ontario Junior Hockey League as a 16-year-old during the 2010-11 season. The following year, he played for the Nepean Raiders in the Central Canada Hockey League (CCHL) before spending last season on the Memorial Cup winning Halifax Mooseheads of the Quebec Major Junior Hockey League (QMJHL).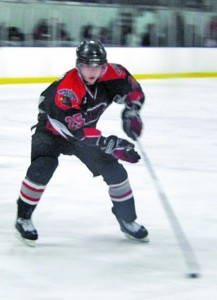 One of Weegar's former coaches, Tom Kirkwood-Winchester, said he and the organization were both thrilled with the news. "It was pretty exciting for us. Some people thought we were taking a chance with him (Weegar) as a 16-year-old, but from day one he saw the ice so well and the more responsibility we gave him the better he got."
Kirkwood remembers Weegar as a quiet kid who may not have had the size, but has always been a smart player. "We knew he had the potential and he still does. He is never intimidated on the ice, is a hard worker off it and knows proper nutrition. I couldn't be more thrilled for him. He had an unbelievable year in the QMJHL and if he gets a chance to prove himself with Florida, he'll prove he can play."
Draft Day
Last year, Weegar was ranked on the NHL scouting list, but was passed over in the draft after a sub par playoff in the CCHL. Yet he still attended the 2013 draft in Newark. "I knew what it was like to get passed over so I tried not to get my hopes up or think about it. Being passed over last year just motivated me and to be selected this year was really nice, but it was a long process. I was sitting there for over six hours and I did start to get a little worried."
Then came the final few picks of the draft where the Panthers swung a deal with Montreal to get the 25th pick in the round, where they selected Weegar. "I had thoughts in the back of my head that I could get passed over again but I kept telling myself not to get down. It was a long day but it ended on a good note."
Season To Remember In QMJHL
The selection was really the icing on the cake for what ended up being a great season for Weegar. In 62 games with Halifax, he registered 44 points (eight goals, 36 assists), 58 penalty minutes and an impressive +/- rating of 55. He also added five assists in the Mooseheads' playoff run. "Being on Halifax really helped out with exposure by playing with Nathan MacKinnon, Jonathan Drouin and Zach Fucale. But we had great coaches, too. Dom Ducharme really pushed me and got the most out of me," said Weegar. "It was no doubt a long season but was a lot of fun. We were a great team and it was special to win the Memorial Cup with them."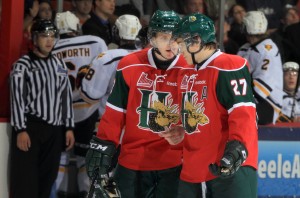 Weegar will be the first to tell you that his coaches have been instrumental in his development whether it was Kirkwood in Winchester, Peter Goulet in Nepean or Ducharme in Halifax.
Now Weegar will have a chance to learn from a new set of coaches. He has already spoken with the Panthers' General Manager, Dale Tallon, along with Gallagher, and is set to head to Florida for their development camp July 7-13. "They have just told me to play my game, don't force things and to try and be comfortable on the ice."
Future Preparations
When he returns from the development camp, Weegar plans to continue his training, in Ottawa five days a week, with Nepean Raiders Assistant Coach Dave Dorsey. He has a cardio and weights routine and is hoping that his hard work will pay off in the form of an invite to the main camp. "My main goal is to get that invite to training camp. After that, I just want to work on having another great season with Halifax and eventually sign an NHL contract with the Panthers."
Weegar is not afraid to play with an edge, despite his size. Here, he tangles with current Florida Panther Jonathan Huberdeau in a QMJHL game in 2012.
Weegar says the areas of his game he would like to improve on the most are his foot speed, becoming more physical and continue to keep up his +/-.
As for next season, Weegar knows the Halifax team will look different but thinks it will still be a force. "I think we'll be a strong team. We may not be as skilled, because guys like MacKinnon and Drouin may be in the NHL, but we should still be good. I hope to feel even more comfortable and continue to improve my game."
While Weegar still has a ways to go, his hard work is a testament to the player he can become. If he continues to progress he may just end up cracking an NHL roster in the not so distant future.