This is a Guest Post by Robert Bello
The "Iso-Cam" Is part of NBC's regular NHL coverage. For those of you not familiar with that term: Today, showcasing a game between Pittsburgh and Philadelphia, in addition to the regular TV game coverage, NBC announced that fans could also view NBC's online "Iso-cams,"  which show isolated footage of each team's best player (as selected by NBC).
For Philly, the choice was easy: Flyer Claude Giroux is currently 3rd in the league with 89 points (28 goals and a league leading 61 assists). For Pittsburgh, the choice also should have been easy. Evegeni Malkin is currently leading the NHL with 104 points (48 goals, 56 assists) and is the hands-on favorite to win both the Art Ross Trophy (Most points) and the Hart Trophy (League's Most Valuable Player).  But wait……
NBC decided instead to select Sidney Crosby as the Pen's top player for its Iso-Cam. For newer fans, here's the medical report for Mr. Crosby over the last two years: because of severe concussion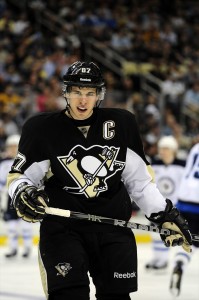 symptoms sustained in the Winter Classic in January 2011, Crosby played in only 41 games last year (32 goals, 34 Assists).  His recovery also caused him to miss the beginning of this season, return for 8 games in November and December 2011, suffer another concussion or neck injury resulting in concussion symptoms again, and then finally returned in early March 2012. All told, Crosby has missed 60 games this season, with only 5 goals and 24 assists.
Sidney Crosby is undeniably one of the greatest players in the NHL today.  He reached the 600 point plateau (220 goals, 380 assists) in Buffalo Friday night, in his 430th game, the 7th fastest time to 600 points in NHL history. He is only the 6th player in Penguins history to ever reach that milestone. Its understandable that NBC would favor Crosby over Malkin based on 87's career accolades.
However, Malkin recently reached the 500 point milestone in 413 games, among the top 15 in NHL history to reach 500 that quickly, a VERY select club of Hall of Fame Players. Since 1980, only 3 players have won the Art Ross Trophy as the Season scoring leader more than once: Gretzky (10 times), Lemieux (6 times) and Jagr (4 times).  Malkin won the Scoring race in the Pens' Stanley Cup year of 2009 and is poised to win it again this year, and if he does he will join The Big Three as the only 4  multiple year award winners.  Crosby hasn't done it, nor has Crosby won the Conn Smythe Trophy as the Playoff MVP. Who won Conn Smythe for the Pens in 2009? You guessed it: GENO.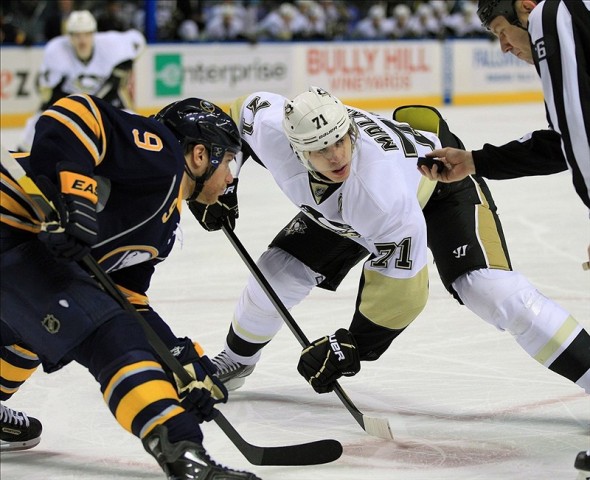 As described in detail below, Malkin is leading the league this season in almost every offensive category (with the only exceptions: Geno is 2nd in total goals (48 to Tampa's Steve Stamkos' 56) and 2nd in Power Play points (33 to Giroux's 37)), and will likely be the League MVP. It is indisputable that he CLEARLY deserved to be selected by NBC as Pittsburgh's best, "Iso-Cammed" player. Unfortunately, just like Penguin Coach Dan Bylsma has done since Crosby returned, NBC apparently has made Evgeni Malkin the forgotten man.
While Penguin fans lamented Crosby's inability to return most of this season, there was also concern over how Sid's comeback would impact Malkin's superhuman play this season.  Having both players available for duty, like having Gretzky and Lemieux on the same club, is a problem most teams would love to have: but is there enough ice for both of them?
Prior to Sid's return, Malkin was simply DOMINANT, unable to be knocked off the puck or kept off the score sheet. Malkin's line centering scoring machine James Neal (5th in the league in scoring with 80 points (39 goals, 41 assists and leading the NHL with 17 power play goals) and Chris Kunitz (56 points, 24 goals and 32 assists) has during the last half of the season easily the best and most dominant line in hockey, causing over half of the team's goals at home over the last 50 games.  Malkin is currently leading the NHL in points (104), shots (334), Points per game (1.44) and his line is also leading the NHL in Total Line Points.  He is 2nd in goals with 48 and 2nd in Power Play points with 33.
The rest of the team has also flourished in Crosby's absence. Jordan Staal, and the line he centered with Pascal Dupuis and Steve Sullivan, became a second scoring assault team, with Staal shooting at over a 23% scoring percentage (Scoring on 1 of every 4 shots=Sniper status), Dupuis scoring goals in 8 out of 10 games during the Pens extended winning streak, including a team leading 8 game winners on the season (he currently has scored a point in 14 games in a row, tops in the NHL this season)  and Matt Cooke having 15 goals, a career high for him.
With these two dominant lines and two solid checking lines below them, a solid defense corps and Marc Andre Fleury outstanding in the net all year, the Penguins rose like Cream to the top of the League, standing alongside the Rangers, Canucks and Blues as one of the Elite Teams coming down the stretch run. How did they accomplish this? After losing 6 in a row in early January, the Pens went on a 23-4-1 run, securing 47 of a possible 56 points from mid-January to late March, a blistering 82% winning percentage during that span.
Although thrilled to get the Team Captain and one of its leaders back, Coach Dan Bylsma thus had a real dilemma upon Crosby's return in early March:  How to prevent Sid's greatness from inhibiting and overshadowing Malkin's year long brilliance and dominance.  The best solution, as stated by Coach B in the Press, was to put Sid on the 3rd line with Cooke and Kennedy and preserve the chemistry and success the Malkin and Staal lines had had all year, and especially during the streak.
In Sid's first two games back, this strategy worked to perfection: Cooke had 2 two goal games and Kennedy scored and assisted on several. Unfortunately, like "Coach's crack," Sid's own dominant play began to tempt Bylsma to make a change. Coach, why try to fix something that wasn't broke? Unwilling to leave well enough alone, Bylsma began tinkering endlessly with the line combinations, plugging Crosby in EVERYWHERE, with Malkin and Kunitz, with Sullivan and Dupuis, With Kunitz and Dupuis, with Cooke and Kennedy, on the Power Play now showcasing 5 forwards and no defensemen (?!?!)……..I felt certain I would then see Sid put the pads on and replace Fleury in the net any minute…..
The Result: The Pens have now lost 4 of their last 6 at a crucial time down the stretch when they had hoped to catch the Rangers and take the #1 seed in the Eastern Conference and avoid a tough Flyers team in the first round.  EPIC FAIL. Playing that lowly 8th seed would've immeasurably helped the Pen's playoff chances. Given these untimely, losses, that is now no longer a possibility and the only question is whether the 4th place Penguins will finish ahead of 5th place Philadelphia and get home ice advantage. Today's untimely loss to the Flyers didn't help that cause either: The Flyers are now only 1 point behind the Pens (102-101), with the Rangers a comfortable 5 points ahead (107), despite losing to Boston today.  Here is a link to the current standings:     http://espn.go.com/nhl/standings/_/group/2
To recap: Prior to Crosby returning: 23-4-1. Malkin and his line unstoppable, Staal, Dupuis, Sullivan and Cooke playing extremely well. Since Crosby returned: 6-4-1. Malkin isn't dominating games the way he did game in and game out any longer and the Malkin line has done nothing special (no multi-point dominance).  With Crosby moving up to play with Sullivan and Dupuis, Staal is completely out of the offensive side of the game after having a 23% shooting percentage all year. The Power Play with 5 forwards since Sid returned has been pathetic (except for the 2 goals they scored in Buffalo) and given the lack of discipline and composure the team has exhibited with Bylsma experimenting with Crosby's placement and ice time  like a kid who just discovered dynamite in the lab, Fleury is losing confidence every start from the lack of line chemistry and defensive help.  TIME for a team time-out.
Coach Bylsma, I'm no coach but as a long time fan of the Penguins and the Game, heres a little unsolicited advice.  Restore the chemistry (and clear success) that regular unshuffled lines bring and keep the Malkin line together all game. Put Sid in at the 2nd line with Sullivan and Dupuis if you must….that combination HAS worked well (even though this moves Staal back down to a less offensive role on the 3rd line with Kennedy and Cooke).
DO NOT SHUFFLE SID in and out of the various line combinations like a so-called Rover "Ace" in the deck…..that strategy has completely backfired and the Penguins have lost their chemistry and togetherness over the last 6 games.  Put QB extraordinaire and defenseman Kris Letang back out on the Power Play…….Using 5 forwards and no Defensemen is a configuration that is too prone to giving up shorthanded chances and goals as we've seen over the last few games. Sullivan has excelled as the forward at the blueline all year….for now he gets the nod over Cros at the spot on the 1st power play unit (or better yet replace Kunitz with Cros down low on that #1 PP unit).
And with a career best 41 wins, 2.32 goals against average (tied with last year's stellar mark)  and 65 games played, its very clear from up here: Marc Andre Fleury is OUT OF GAS.  Hes had a phenomenal season….but he needs a well-deserved rest before the playoffs.  We aren't going to catch the Rangers in the last 3 games of the year…..alternate back-up Brent Johnson with Rookie Brad Thiessen in the net and let Fleury regain his Mojo for the next 10 days until the Playoffs begin.
But most importantly, don't diss Geno. He's been your Amazing Workhorse all season, coming back from a torn ACL and missing half the season last year, and he has once again proved he is the BEST player in the NHL today.  Give him the chance to continue to shine and to lead this team into the Playoffs and to the Cup.
"Its a Great Day for Hockey."
The Badger
Robert G. Bello