The Anaheim Ducks will miss the playoffs in what might be Teemu Selanne's last season in the NHL.
"It's pretty sad that we're not making the post-season, but there's a reason for that," Selanne told TSN after last nights game versus the Oilers. "The first half was just so bad that we couldn't climb back into the playoff race. We always did before, but this time we ran out of gas."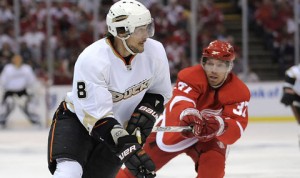 When a team takes the beginning of a season for granted, and doesn't play with urgency and desperation until after Christmas, it is very difficult to make those points back when it comes down to the wire. If you're behind on your work, you stay behind unless you exceed expectations as early as you can. It's probably pretty easy, as a player, to underestimate the importance of every single game, and not treat them all as if they were game-seven's. No organization is truly expecting a campaign as dominant as that of the New York Rangers this year, who are 50-22-7 in 79 games but, unless they're in "rebuild mode", the team is always expected to make the playoffs. Especially when you're a team as good as Anaheim usually is, and are used to winning.
Selanne has scarcely addressed the bevy of questions as of late about his possible retirement. When asked about it, Ducks coach Bruce Boudreau told TSN,  "He plays his cards close to the chest and he doesn't let on one way or another. I don't even want to speculate."
You would be very hard-pressed to find a man more passionate about winning than the Finnish Flash. At over 40-years-old he is still full of drive and intensity. In last years first-round playoff stint versus the Nashville Predators, after the Ducks went down 2-0 in the series, Selanne was absolutely beside himself with disappointment in his team.  "We have no reason to lose this (expletive) game. No business. They wanted it more, they won the battles. We're lucky even to be in the game. Very disappointed."
This man wants to win and, whether they are in contention or not, he expects it from his team. There are only three games left in the season before the Ducks put away their jerseys and break out their polo shirts, but it would be classy of them to give it their all for the last few games anyway, if only to make them fun for Selanne in case they are his last.
One More Year!
Follow Amos on Twitter @AmosLegault