Follow Lukas on Twitter @LukasHardonk for more Leafs coverage.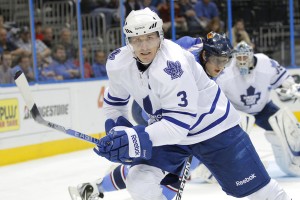 As everyone knows by now, the Toronto Maple Leafs are off to a hot start. While a quick 2-0-0 start didn't really surprise too many people, 3-0-0 after a full week off really got them wondering. After that, the Leafs improved to 4-0-1 and are still full of positive momentum.
That momentum has been a bit of a shocker considering that it has carried 11 games deep into the regular season. Last season, the Leafs had the same chance at early season success, but drastically lost steam after a 4-0-0 start.
Now with a 7-3-1 record, the Maple Leafs sit at the top of the Northeast Division, second in the Eastern Conference and have greatly increased their chances at qualifying for the post-season. Keep that one part in mind, though: "increased their chances."
Now, even though this Maple Leafs team continues to play hard each night and has maintained that "it's not over 'til it's over" mentality, let's not get too carried away. As mentioned above, the season is only 11 games old and there is still plenty of hockey to be played. Still, let's examine this team.
For once, the Maple Leafs finally have a true number one line: Joffrey Lupul, Tim Connolly and Phil Kessel.
After a great finish to last season, Lupul, who many were skeptical about, has picked up right where he left off. The 28-year-old is still scoring at a point-per-game pace and has failed to post at least one point in a game on just three occasions this season.
Connolly, who has only played three games this season after suffering from an injury during the preseason, has two points and a plus-1 rating. While he has only scored points in one game, Connolly has looked very impressive with Kessel.
It remains to be thought that Kessel will benefit from the arrival of Connolly, a former 65-point man who has been one of the top play makers in the game when healthy. Having already scored 11 goals, one of which came without Connolly, there is absolutely no reason to believe that Kessel will not reach the 40-goal plateau this season.
As for the Leafs' second line of Clarke MacArthur, Mikhail Grabovski and Nikolai Kulemin, Toronto is still looking for a bit more production. However, the trio has begun to gain steam over the last few games and have now combined for 18 points.
Silent contributors this season include Philippe Dupuis, David Steckel, Matthew Lombardi, Tyler Bozak and Mike Brown. Lombardi and Brown have been utilizing their speed to the maximum, Steckel has been outstanding at the faceoff dot, Bozak has five points and a plus-3 rating in nine games and Dupuis has been strong on the penalty kill, despite the Leafs' lack of success in that department.
On the blue line, Jake Gardiner continues to impress with his swift skating, his ability to join the rush and his tremendous hockey sense.
Head coach Ron Wilson called captain Dion Phaneuf the best defenceman in the league "by a country mile" with reason. Phaneuf is plus-7, has 11 points and has been an absolute force in shutting down the opposition's best.
John-Michael Liles, who was acquired during the off-season via trade with the Colorado Avalanche, has seven points and has shown that he can control a power play.
Mike Komisarek and Luke Schenn are both improving, especially Schenn after the tough start he had.
Many are trying to blame the Leafs' four losses on goaltending. That's not right, though, as both James Reimer and Jonas Gustavsson have shown that they can shoulder the load with limited mistakes.
Reimer continues to play the way he did last season with a .912 save percentage and a 2.58 goals against average. Gustavsson, meanwhile, struggled in his first few appearances but has since gotten back on the right track with a .917 save percentage in his last three outings.
Where the Leafs' problem really does come is in the shots department. Toronto ranks 21st in the league in shots against per game and just 22nd in shots for per game. This has allowed the Leafs five wins when they have been out-shot and just two when they have out-shot their opponents.
So instead of blaming the goalies for losses, why not blame the defence? Sure, they've been impressive at times this season, as mentioned above, but there is no doubt that the Leafs have plenty of room to improve on the back-end.
Room for improvement can also be found in the forwards, some of whom are still playing under par, such as former 30-goal scorer Nikolai Kulemin.
If the Maple Leafs can take advantage of this and improve where they need to, this team will be a dangerous one for a full 82-game schedule. If not, they may be staring another playoff-less season directly in the face.
Twitter: @LukasHardonk | Email: lukas.hardonk@gmail.com | Lukas' archive
For every Leafs article on THW, follow @THW_MapleLeafs on Twitter.