The New York Islanders faced an improbable task of playing their first Conference Final Game in 27 years, nearly 48 hours after their Game 7 win Saturday night over the Philadelphia Flyers. Also, the Islanders spent their off-day traveling from the bubble in Toronto to Edmonton, and clearly, they were not up to the task in their 8-2 loss to the Tampa Bay Lightning in Game 1. 
Related: Top 12 Fastest Skaters Ever in the NHL
Tampa Bay had played a ton of hockey to start the playoffs after their five-overtime contest in the opening round. However, they had almost a week off after beating the Boston Bruins in five games and had the legs to take a 1-0 lead in the best-of-seven series. Let's take a look at a couple of takeaways from Game 1 as the Islanders trail in a series for the first time in the 2020 postseason.
Speed of the Lightning
This was a complete adjustment for the Islanders as they have yet to see this much speed in the playoffs. Fortunately for them, it was only one game, but New York could not slow down the first line of Ondrej Palat, Brayden Point, and Nikita Kucherov. The Islanders' defenders also struggled while Tampa Bay's defense joined in on the play plenty. Both Victor Hedman and Ryan McDonagh scored first period goals, which set the tempo for the final 40 minutes.
The Lighting also did an excellent job of setting up traffic in front of the Islanders' goaltenders. Somehow, New York is going to have to be more physical in front of the net. Johnny Boychuk brings that, but the veteran has not played a game since Game 1 of the Qualifying Round.
If that trend continues, Boychuk though may get an opportunity, with Ross Johnston likely finding himself out of the lineup for Game 2. With the little ice-time he gets and the ill-advised misconduct penalty in Game 1, the Islanders are better off either going with seven defensemen or someone like Leo Komarov or Andrew Ladd next game, especially if Cal Clutterbuck is out.
Varlamov and Greiss
Thomas Greiss had no chance on any of the first three Lightning goals. However, head coach Barry Trotz's only option was to turn to Semyon Varlamov after the early deficit. This likely would have cemented Varlamov to start Game 2, but the veteran goaltender did not look himself with his outing. Varlamov gave up five goals and wasn't comfortable all night.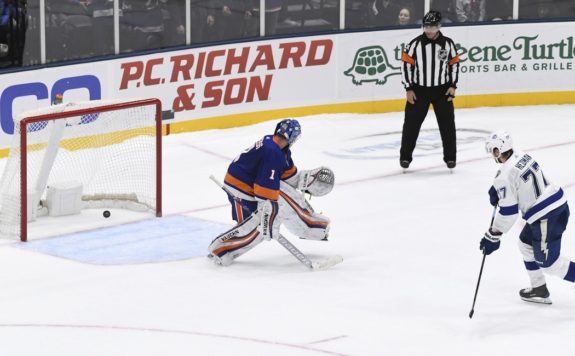 Greiss continues to give the Islanders what they have always got from him. He made a couple of big saves early as the Lighting could have scored five goals within the first ten minutes, but was pulled to help spark the Islanders. New York rotated goaltenders through nearly the first half of the regular season. Once again, they find themselves with a goaltending controversy in 2020.
Missed Opportunities
Nobody knows how the game would have turned out if Brock Nelson could have scored shorthanded before the Lightning's second goal, but the Islanders would have had a lead that they did not have all night. New York had multiple odd-man rush chances but couldn't get more than one goal by Andrei Vasielevsky, who has been stellar in the postseason.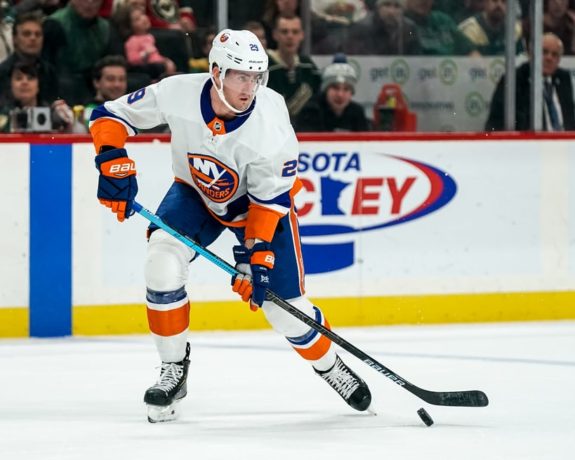 The Islanders had five opportunities on the power play and were only able to score once. They also gave up three power-play goals and will have to win the special teams battle if they want to move on to the Stanley Cup Final. It was essential to see Jordan Eberle break his goal drought, but it will take all 12 forwards and six defensemen to beat a superior team in the Lightning.
Related: Islanders' Butch Goring – Forever in the Rafters
The Islanders will undoubtedly have to pick up their play if they want to make a series out of this. The Lightning has plenty of experience late in the postseason, but the Islanders can't let this excellent opportunity pass without a fight.
---
---
Matt Rothman is a 2018 graduate from Florida Gulf Coast University receiving his bachelor degree in journalism. Originally from Long Island, he moved to Parkland shortly after high school. Matt worked as the assistant sports editor for his school paper, eaglenews.com in college becoming just one of nine students in his graduation class to serve over 1,000 community service hours. His goal is to travel to every Major League Baseball stadium, and has been to multiple US Open finals.