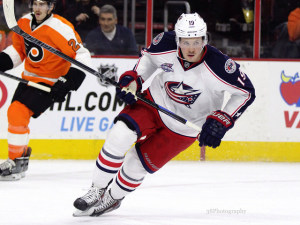 Maybe the Jackets need some home cooking:
6-13-2 and last place in the Metropolitan was not exactly where the Blue Jackets envisioned themselves by the time Thanksgiving rolled around. Columbus ranks 23rd in the league in total time shorthanded (77) and dead last with a goals against average of 3.57. Columbus is also 2-4-1 against Metro division opponents.
Alright, enough of the negativity, it's that time of the year where we give thanks for what we have and look on the bright side of life – shout out to the fine folks of Monty Python. It's still early in the season and the Jackets have been involved in several close contests. So, sit back, try not to spill any gravy or pie onto your screen and enjoy the five reasons why Blue Jackets fans should be thankful this season.
1.) Ryan Johansen
Shocker, huh? As of Nov. 26, his 24 points put him in a five-way tie for fifth place with the likes of Steven Stamkos and Claude Giroux. He is also in a multi-way tie for fifth with 16 assists. His contributions have not only been substantial, but they have been consistent; Johansen has registered at least one point in 15 of Columbus's 21 games so far with six of those finishing as multi-point efforts.
As of Nov. 25, Johansen had received 16,023 All-Star votes, putting him in 28th amongst forwards and one of four Blue Jackets – Johnson, Wisniewski, Bobrovsky – to make it through the first cut of voting. What makes Johansen worthy of those votes stems from his ability to make an impact at any point of the ice.
Three of his past four goals originated from speedy wristers in the left circle while two of his first three actually came from the right circle. Oh, and don't forget about this back-handed dandy against Winnipeg. Jackets fans ought to be thankful that Johansen's contract negotiations didn't bleed into the regular season.
Beep! Beep! ALL ABOARD THE @RyanJohansen19 DANGLEBUS!! #CBJ

— elaine shircliff (@imaraindancer) November 26, 2014
2.) Nick Foligno
By the numbers, Foligno is right up there with Johansen in terms of productivity. His 10 goals ranks first on the club, and eighth in the league, while his 11 assists is bested only by the aforementioned Johansen. His plus/minus rating of three is also tops on the team.
What doesn't show up in the stats book is how he sets himself and his teammates up for success through patience. Check out this goal against Philadelphia from a few weeks ago. Many players would have flung that puck at net as soon as it got to the tape, but his waits until the Flyers defenders are out of commission and throws it at net for the easy score. Other times, it's the hustle and willingness to play until the whistle that makes him a threat, as is evidenced by this goal against Carolina.
The only bad news with Foligno: he will become an unrestricted free agent after the season, per capgeek.com.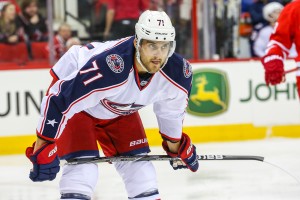 3.) The power play unit
Columbus has scored 51 goals this season – 19 of them have come while on the power play. For those who struggle with math, that's roughly 37 percent of the team's goal total. That power play goal total is also tied for the second highest in the league with the likes of Tampa Bay and St. Louis.
Only four teams have been granted more power play opportunities than Columbus' 82 and the Jackets have taken advantage: their power play percentage of 23.3 ranks sixth in the league. That power play unit will have to remain efficient should Columbus maintain its pace of being short-handed.
4.) Dancing Kevin
I don't have much to say other than Kevin Schroeder is a larger-than-life man with some slick moves and a passion for pouring beverages on himself. Enjoy:
5.) Columbus has been there before
Last year, the Jackets compiled a 17-19-3 record heading into New Year's Eve, but a monstrous 26-13-4 run to finish out the season. Granted, this is a different team from last season, but the main parts remain in Columbus, especially once Brandon Dubinsky makes his return from an abominable injury.
In theory, for Columbus to reach the 37-point mark, it would need 23 points in 14 games. It's not completely far-fetched, but it will be a challenge considering 10 of those games come against teams that currently rank in the top half of their respective divisions.
Brad has been with The Hockey Writers since November 2014 and currently attends Ohio University's E.W Scripps School of Journalism. During the summer of 2014, he served as an intern with the Columbus Blue Jackets digital media department.