It wasn't that long ago when the Dallas Stars were known as a perennial power house in the NHL. They finished the regular season at or near the top of the league standings for five seasons in a row (1997-2001). In that span, they made it to the conference finals once and Stanley Cup finals twice winning the only championship in franchise history in 1999.
It has only been 13 years, but it feels like a lifetime ago. Much was made about the franchise's potential turnaround and focus on returning to glory over the past two years. A new, motivated owner with a passion for the sport, a new general manager with tremendous potential, a new coach, new jerseys and new players. It has been a massive makeover, but they have not made a complete turnaround yet. These things take time, and the Olympics are a great opportunity in the growing process.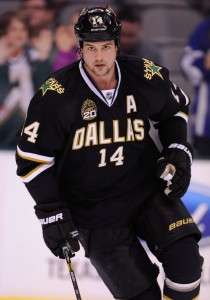 Four Dallas Stars are in Sochi, and they are not just regular members of the team. They are most of the big pieces of the team's present and future. It is a good sign when a team is represented by its head coach, captain, goalie and top rookie on such a big stage. It is even better when none were originally expected to make their national teams (except possibly coach Lindy Ruff), but they were called to action and have made an impact in the tournament.
For Team Canada, Jamie Benn played the first two games on the fourth line with Patrice Bergeron and John Tavares. That trio makes up the most intimidating and versatile fourth line in the tournament. In only 8:52 of ice time, the least on the team, Benn drew a penalty that led to Canada's first goal, scored a goal and three shots. On a team of superstars, Benn made an impact with very limited ice time. Benn's line was arguably the best line of the game in both ends of the rink.
Benn did not make as much of an impact on the scoreboard in the second game. Canada handed Austria a 6-0 loss, but the Stars captain failed to register a point and ended with an even plus/minus. He had more ice time (11:31), and maintained the physical, puck-possession game Stars fans are used to seeing from their captain. Furthermore, Benn was moved up the lineup and will get an opportunity on the top line with Bergeron and Sidney Crosby in Team Canada's final preliminary round game against Team Finland.
Tune to USA Network right now to catch Canada vs Finland. Jamie Benn (#22) on the line with Sidney Crosby and Patrice Bergeron.

— Dallas Stars (@DallasStars) February 16, 2014
Ruff is an assistant coach for Team Canada. He is largely in charge of the power play and defense. While the team did not score a power play goal through the first two games, the defense has been tremendous. Even with some mixing and matching on the back end, Team Canada has only allowed one goal in the first two games, but they face their toughest challenge yet against Finland on February 16.
Rookie Valeri Nichushkin was rumored to be a healthy scratch before Russia's opening game against Slovenia. He ended up playing in both of Russia's first two games, and is expected to skate in the third. More than that, Nichushkin made his presence felt so far, especially in the first game. He scored a very familiar-looking goal, using his speed to fly down the wing, his size to charge the net and fend off defenders and his hands to perfectly place his shot. He ended the game with 10:29 in ice time, three shots and an even plus/minus, and continued his strong play in the next two games.
Back to hockey now, meant to say this yesterday but have been blown away by Valeri Nichushkin. Powerful strides. A beast.

— Pierre LeBrun (@Real_ESPNLeBrun) February 16, 2014
Kari Lehtonen started Finland's second game of the tournament. His start came as a bit of a surprise considering he possibly entered the tournament as the third net minder on the team's depth charts behind Tuukka Rask and Antti Niemi. He showcased his usual calm, dependable skills in net by turning away 20 of 21 shots in a 6-1 victory over Norway. The only goal scored on Lehtonen was during a 5-on-3 for Norway in the third period. Lehtonen also tallied two assists in the game. There has been no confirmation, but Lehtonen will not play in Finland's third and final game of the preliminary round.
The Dallas Stars are well on their way to turning the franchise around with all the changes made over the past couple of years. Though they might be struggling in the standings, they are headed in the right direction. If their Olympians can maintain their strong starts, the players and the team can make names for themselves and show the world that there truly is a new star rising in Texas.
Mohammad received his Bachelor's Degree in Journalism from the University of Texas at Arlington with a minor in English.