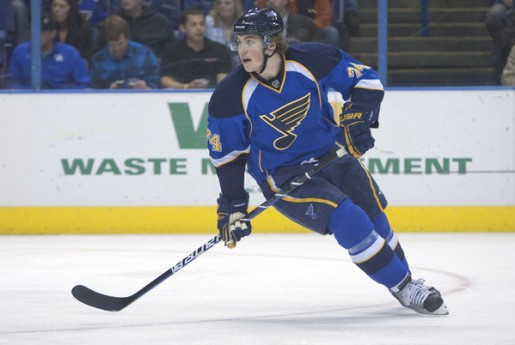 By now, you've probably seen or heard about T.J. Oshie's performance for team USA in the shootout against the Russians.  Saturday, Oshie's performance went viral after he made 4-of-6 attempts in the shootout against Russian goalie Sergei Bobrovsky, leading team USA to a 3-2 victory. Word has it, that Oshie gained  85,000 followers on Twitter after his shootout performance.
Very humbled by everyone's support for my teammates and I. Another tough task at hand today against Slovenia. #USA

— TJ Oshie (@OSH74) February 16, 2014
Oshie played three seasons three seasons at the University of North Dakota scoring (59g-83a—142pts) in 128 games. So on Saturday, Ralph Engelstad Arena in Grand Forks, North Dakota was a buzz. Everyone was talking about former UND hockey player's historic performance against the Russians.  
Oshie polished his shootout skills at North Dakota
After Saturday's game against the Miami RedHawks, UND head coach Dave Hakstol joked, "I got a message from Perp (former UND hockey player Mike Prpich), and he said he was the one that taught him that when they were roommates (at UND)."
Each Week,  UND practices the shootouts during the Thursday practice, and Oshie honed his shootout skills while he was at North Dakota.  
"He's one of the guys that did things that just kind of made you laugh and shake your head," Hakstol said. "He could do so many things, as we say today. Obviously, today is on a little bit different stage. I think that's just Osh competing and having fun and I think you saw that in him today."
Toews and Oshie light it up in the shootout
Oshie's performance on Saturday seem to mirror another former UND hockey player Jonathan Toews, who made USA goalie Jeff Frazee look foolish during a shootout at  the 2007 World Junior Hockey Championship. Coach Hakstol was asked if Toews and Oshie's performances were similar.
"It's a similar stage," Hakstol said. Obviously, you can argue different stages of their life. Both were in pretty high pressure situations for their country. But both were on large stages. Today, there's not stage bigger or brighter than today."
  The Toews Show — At the 2007 IIHF World Junior Championship, Canada and the United States were tied 1-1 in the semi-finals after regulation time and a 10-minute, 4-on-4 overtime. In the ensuing seven-round shootout, Canada's Jonathan Toews scored three times on U.S. goalie Jeff Frazee on high shots to the blocker and glove side and a great forehand deke. Carey Price, who's joined Toews here in Sochi as a 2014 Olympian, made the deciding save on Peter Mueller. Canada moved on to the gold medal game, where it beat Russia 4-2. The future Chicago Blackhawks captain and Triple Gold Club member had already begun to forge his legend. Lost amid Toews' brilliance were fine shootout performances by the U.S.'s Mueller and Jack Johnson, both of whom scored twice.
Finally, Oshie's efforts also fired up his former team as well. The UND hockey players were talking about it after Saturday's game against Miami. 
"I woke up and watched the replay with a couple of my roommates," junior defenseman Nick Mattson said. "That's been the talk of our team the whole day. Our coaches have kept tying that message back in. What a competitor he is. How he went out, a lot of guts and just let it all hang out. That's kind of something that we carried into the game tonight."
One thing is for certain, Oshie performance during Saturday's shootout against the Russians made a lasting impressions on fans and players everywhere.
T.J Oshie is the definition of pure class. #USA #Sochi2014 pic.twitter.com/YD7Itil5IH

— Syck Hockey® (@SyckHockey) February 15, 2014