The Men's Olympic Hockey Tournament has been going on smoothly through pool play. Team U.S.A and Sweden have separated themselves from the rest of the nations as the best teams. While T.J. Oshie and Drew Doughty have cemented themselves as the heroes from the opening games.
But, that's not why we are here today. No, instead of focusing on the good that has happened, I will shed some light on three disappointments. Yes, I'm sure there are a lot more than just three; but, these are the most alarming of the tournament.
However, before we start I have to point out an honorable mention: Team Canada's offensive production. Yes, the Canadians won their pool, finishing undefeated. However, out of the 11 goals they have scored they've only gotten five goals from offensive players. And, out of those five, Jeff Carter has three of them.
The Canadians must get their offense going in the Medal Round. If this squad continues to rely on goals from their defense they're not going to repeat as Gold Medalists.
Disappointment Number Three: Where has Zach Parise and Patrick Kane been?
As I mentioned above, Team U.S.A has been one of the best teams in this tournament. They blew out Slovakia and Slovenia, and had to survive a tough game against Russia. They've been lead by Oshie, Joe Pavelski, Ryan Kesler, Ryan McDonagh and Phil Kessel to name a few players. All of those men have contributed both in scoring and setting up goals for their teammates.
Now, while Kane has three assists in this tournament, he's been held without a goal. Against Russia, Kane had multiple opportunities to win the game either at the end of regulation or in overtime. In both instances, Kane either held onto the puck for too long, or failed to elevate his shot over Sergei Bobrovski.
But, at-least Kane has three assists. Parise has yet to record a point. When he was named captain of the US squad, he was expected to be a leader both in the locker room and on the ice. So far, his captaincy is limited to off the ice. Hopefully, he turns his time at Sochi around in the Medal Round.
Disappointment Number Two: Nike's Olympic uniforms
Were you confused while watching Canada's first game against Norway at who was who? Well, don't be ashamed because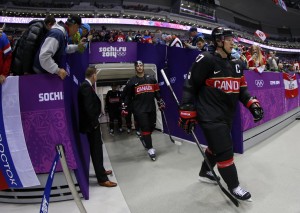 the jerseys for both teams looked awfully similar. The same goes for when Slovakia was on the road, and it looked like it was team U.S.A playing.
Nike did a few things right in their uniforms. The 1980 throwbacks the Americans wore against Slovenia were nice. Plus, not messing with Sweden's uniforms was a smart move. But, Canada's black third jerseys, Slovenia's home uniforms and all of the crap on the shoulders of the jerseys are all just awful.
Disappointment Number One: Slovakia
Slovakia just edged out the Czech Republic as the most disappointing thing in the Men's tournament. At least for the Czechs, they have won a game, and their goalie from the NHL has played well.
For the Slovaks, they've done nothing right so far. Jaroslav Halak has been awful and probably saw his Olympics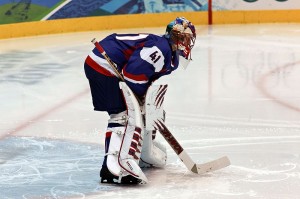 come to an end after giving up eight goals on 56 shots for a dreadful 5.13 goals against average and a embarrassing 85.71 save percentage. Slovakia's other NHL level goalie, Peter Budaj, hasn't been any better allowing two goals on eight shots in only 26 minutes of play.
But, the goaltending shouldn't get all the blame. A lot of it yes, but Slovakia's offense has produced two, yes TWO, goals in three games. It's not like this team doesn't have any NHL talent. Out of the eight NHL players on the roster only one has a goal (Tomas Tatar) and only two assists.
Slovakia finished pool play with a negative nine goal differential which was next to last with Norway. They were luckily to gain at least one point after an overtime loss to Russia. Their first game in the Medal Round is against the Czech Republic with a rematch against the United States if they someone start scoring goals.
If the their trend of inefficient play continues, they'll be embarrassed in their lone playoff game and sent home winless with only two goals scored in four games.
Something you won't be disappointed in is if you follow me on Twitter by clicking here: @tjmcaloon