This is part of a series of Washington Capitals player previews heading into the 2015-16 season.
Jason Chimera is the oldest Capitals player on the roster heading into this season, entering the year at 36 years old. His skills have certainly deteriorated, no longer a huge force on the forecheck, but he still brings some speed which alone gives him value in the modern NHL.  Washington has a fairly young roster, with only Chimera, Brooks Laich, Justin Williams and Brooks Orpik over 31 years of age. This bodes well for the future of the team, along with their plans of being a Stanley Cup contender this season under second-year head coach Barry Trotz.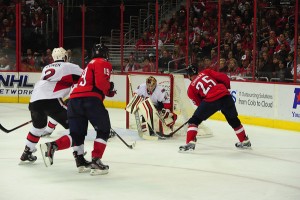 Chimera was a fifth round selection in 1997 by the Edmonton Oilers and has had a solid career, considering his draft position. It's the type of career almost any General Manager would be thrilled with in a draft pick plucked from the later rounds, a steady bottom six forward who has the ability to take on multiple roles while playing a key part in team chemistry and being a player the team can consistently rely on.
Chimera accounts for two million dollars on Washington's tight budget for the 2015-16 campaign and his contract expires after the season. He'll turn 37 in May and could retire, or if another team is interested, extend his playing career just a little bit longer. There's considerable doubt in Brian MacLellan having any interest in retaining the Canadian winger.
2014-15 Recap
Scoring just seven goals, Chimera had one of the worst offensive seasons last year in his career considering traditional statistics. His lack of production was not based on luck like it was in his 2012-13 season, where Chimera scored just three goals on 92 shots on goal, a measly 3.3% shooting clip. Chimera simply isn't getting enough shots on net anymore; this comes from the results of aging, less speed and less time to get shots off. It also hurts his ability to get himself in good position to create offense. With Chimera on the ice last year during five-on-five play last season, the Capitals generated just 24.55 shots per sixty minutes, according to Hockey Analysis. Chimera's total (24.55) was only better than Curtis Glencross (24.08).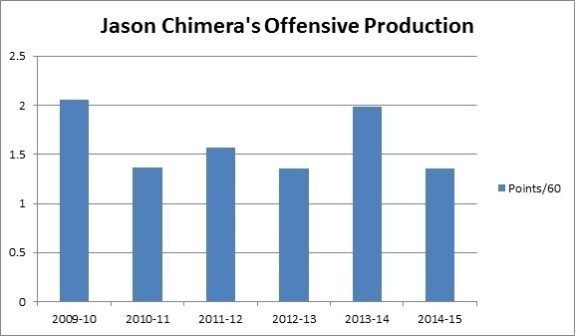 Chimera lost many of his linemates this offseason, with both Joel Ward and Eric Fehr departing to new destinations. Chimera posted a 47.3 corsi-for percentage with Ward and a 49.8 corsi-for percentage with Fehr during five-on-five play last season. Ward and Fehr were Chimera's most common partners in Washington's bottom six forward group and he'll be forced to adjust to new teammates.
"I had a bad season personally, for sure. But when playoffs come around, everything goes out the window. You want to win a Cup, and that's all you think about. You do everything in your power. Playoffs are great, because everyone checks everything at the door. No one cares about stats. No one cares about anything. No media's asking about stats, they're just asking about wins and losses, which is great. You want to do everything in your power to raise the Stanley Cup in your hands, that's for sure." – Jason Chimera, via the Washington Post
Expectations for Jason Chimera
The role of Washington's elder statesman will unquestionably be different during the 2015-16 season. With the amount of added offensive firepower GM Brian MacLellan acquired this summer, there's more depth and more quality offensive pieces at the forward position. Chimera could see himself on the fourth line quite often, or even scratched depending on his performance and how Washington's younger players impress the coaching staff in training camp and during the preseason in the coming weeks.
https://twitter.com/alex_prewitt/status/638737926227148800
The fourth line is a good spot for Chimera at this point. He could play with Jay Beagle and Michael Latta and still have a role on Washington's penalty kill. It gives him the opportunity to not be overworked in what Washington hopes is a season that continues into late May or even possibly June. He's no longer the player he used to be, but Chimera is a useful piece that Barry Trotz can utilize in an assortment of ways to push Washington over the hump.