There's no doubt that play from centers Mike Ribeiro and Mike Fisher helped get the Nashville Predators into the postseason for the first time since the 2011-12 season.
Ribeiro exceeded expectations and supplied 62 points in a bounce-back year as first-line center. He helped Filip Forsberg shine in his first year in the National Hockey League.
Mike Fisher provided 19 goals and 20 assists, despite dealing with injuries later in the season.
RELATED: The Energy Mike Fisher Brings to the Predators
However, there is a big concern on if the Predators can do it again this season. Could the team's biggest weakness be down the middle? Here are three reasons for concerns.
Age
Ribeiro, Fisher and fourth-line center Paul Gaustad are all over the age of 33, with Ribeiro the senior-most member of the group at 35 (Ribeiro is just under four months older than Fisher).
New acquisition and probable third-line center Cody Hodgson adds youth to the group as he's only 25. However, the older centers are a bit of a concern.
Fisher and Ribeiro played like their youthful selves in the 2014-15 campaign, but one doesn't know when Father Time will catch up with the pair, as well as Gaustad. It can all go south at any time for the trio of centers.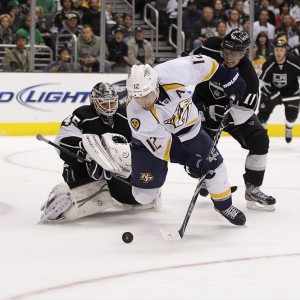 Ribeiro gave the Preds the top center it needed to jumpstart Forsberg and James Neal. Fisher is a solid two-way player, but there are some concerned about his possession statistics.
RELATED: Preds' Year-End Report Card: Mike Ribeiro
Both Ribeiro and Fisher were signed to two-year deals in the recent offseason, so the team is not locked in long-term to both players.
The duo was solid last year, but a ProHockeyTalk.com article summed up how they feel about the top two centers.
Many would argue that, ideally, both would either be second-line centers or perhaps one should be on the second line (Ribeiro) with the other on the third (Fisher).
Faceoff Percentage
While Nashville centers were solid on offense, their faceoff winning percentage was a big red flag. The Predators finished 21st in the league in faceoff win percentage with a 48.9 percent win rate.
Gaustad and Fisher finished with over a 52 percent win rate. Gaustad was very good with a 56.4 percent win rate. However, the first- and third-line centers are under 46 percent. Ribeiro struggled at 43.2 percent and the newly acquired Hodgson clocked in at a 45.9 percent success rate. Hodgson is expected to bolster the bottom half of the lineup, but that win percentage will have to come up.
A very good faceoff man has a win rate of 55 percent, while a 60 percent is considered elite. This is an issue the Predators are going to have to clean up this season.
Competition Level
The Central Division was a dogfight last season, and it's expected to be the same this year. The center position got a massive upgrade last offseason. There have been some departures, but teams like Chicago, with Jonathan Toews, Dallas, with Tyler Seguin, St. Louis, with David Backes and Minnesota, with Mikko Koivu, have centers ranked in the top 20.
Players like Toews are proven winners, and guys like Seguin can supply his fair share of goals. Let's also not forget other pivots like Paul Stastny (St. Louis) and Matt Duchene (Colorado).
The Predators will see these intradivision centers plenty of times, and will have to improve things like the aforementioned faceoff percentage if they want to challenge for the division.
The Verdict
Center should be a pivotal concern for the Predators, but it's not all doom and gloom. The Anaheim Ducks in 2007 won the Stanley Cup despite not having an elite center (Ryan Getzlaf wasn't his elite self, yet). The model may not be one that contenders are using as a blueprint, but it can be done.
The team is solid on the wings, on defense and has great goaltending in Pekka Rinne. There's a chance that wings Colin Wilson and Craig Smith could be moved to the center spot (a Yahoo! Article listed Wilson and Smith as honorable mention for the league's best pivots).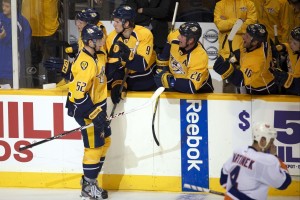 There is hope that young players like Austin Watson can step in and fill one of the center spots in the next few years. However, the need for a top center may come to a head when both Ribeiro's and Fisher's contracts expire. The Predators may have to part with a valuable asset in order to get that elite playmaker the team needs to take the next step.
What do you think? Leave your comments below.
Dan Mount is a Nashville Predators staff writer for The Hockey Writers. You can follow him on Twitter, @DanMountSports. He can be reached via email at drm7191980@yahoo.com.
Covered hockey since attending SUNY Oswego in Upstate New York in the early 2000s. Has written about college, major junior and professional hockey for the last five years.
Resides in Watertown, NY.