The main reason the Nashville Predators signed Mike Ribeiro, Derek Roy and Olli Jokinen was to make up for the long-term loss of Mike Fisher, who had a ruptured achilles to start the season. But perhaps the biggest acquisition so far, other than James Neal, is the return of Fisher himself 15 games ago.
The differences are subtle yet obvious once reviewed. Line combinations are now much more versatile, scoring more balanced and the power play, though still in the NHL basement, is on something of a feeble uptick.
Fisher, 34 and now in his fourth season with the Predators, is perhaps the team's most-versatile player. Because of his now extensive ties to Nashville (his wife is country-music star Carrie Underwood) there was much hype surrounding the 2011 trade that brought him from Ottawa to Nashville. Many fans seemed to have the impression that Fisher was an all-star, which has never really been the case. But just as Nashville fans stuck with Jordan Tootoo long after it became apparent he would never meet his expectations, they seem to love Fisher anyway, which is good, because although not an all-star in the sense that we usually think of such players, Fisher is an amalgamation of stars.
In each of the two full seasons he has played in Nashville without serious injury or a lockout, Fisher has been a 20-goal scorer. He is often thought of as a two-way player, but at the time of his trade from Ottawa, was a minus 19 on that season. He was a plus 2 the rest of that year with the Predators and is solid on both the power play and the penalty kill.
The power play, so far the worst feature of the Predators this year, seems to have undergone a slight rebound of late. The power play goal against Boston on Dec. 16 was the first home power-play goal since the home opener against Ottawa. Then the Predators scored three goals on the man advantage against Philadelphia in a 4-1 victory.
https://www.youtube.com/watch?v=8IVLqVGgYU0
Fisher is a fixture on the top power-play unit, often playing with Colin Wilson or Filip Forsberg. The lines on both the power play and at even strength, once fairly locked into place, are now more flexible. Ribeiro and Fisher may trade places under some circumstances, and any number of combinations have occasionally been featured in the time since Fisher's return.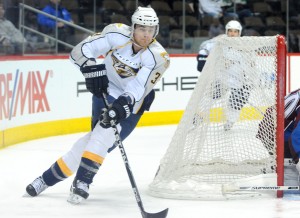 Colin Wilson seems to be the man who has benefitted the most. After a slow start that saw him post two assists in seven games, Wilson has posted 10 goals and 20 points in the next 27 games. He scored two goals against the Flyers  and had four goals and an assist during that week of play.
Who benefitted the least was probably Derek Roy. After failing to assert himself as much as he likely needed to make a lasting impression, Roy ran into some minor injuries around the time of Fisher's return and eventually became expendable and was moved to Edmonton.
Fisher has four goals and 10 points in 15 games. The 20-goal mark in this shortened season for him, even despite his relatively early return from the injury, seems unlikely but is certainly not impossible. And considering the energy he seems to bring up and down the roster, it's anyone's guess what could happen.
Alex is a native of Nashville, Tennessee. He has four years of reporting experience, both sports and news, mostly in newspapers. He holds a M.S. from the Columbia University Graduate School of Journalism, in New York City, and a B.S. in journalism from Middle Tennessee State University. He is a former news and sports editor at the MTSU student paper, Sidelines, and interned at the Tennessean. Raised in a football family, he left the reservation and found an obsession in hockey.