The "Wild Watch" series continues, as we explore and try to predict forward Charlie Coyle's 2015-16 season.
In case you missed it, check out some of THW previous editions of Wild Watch:
---
"Meet Charlie"
Cousin of Tony Amonte, role-model to young Henry, and a bit of a head scratcher to me. Charlie Coyle looks to finally breakout this season, in what could possibly be a career defining year in Minnesota (with the Wild at least).
It's hard to believe Charlie Coyle is entering his fourth season with the team. When brought in to Minnesota, via the Brent Burns trade of 2011, Coyle was looked at as a future first-liner with the club, where he initially played for the majority of the lockout shortened season of 2012-13, alongside Zach Parise and Mikko Koivu.
Since then, Coyle's play has been somewhat frustrating to watch. Barring some glances of brilliance here and there, his re-occurrent long stretches of pointless play have stood out during the past two seasons specifically, reminding me all too much of the VA (Veterans Affairs), still waiting on results months (sometimes years) later.
He certainly was not brought to Minnesota to play a mere third-liner's role, yet that is exactly where he stands entering the 2015 season. A frequent member of Yeo's doghouse where he's juggled between third and fourth line duties, year-in and year-out we have witnessed the absence of Coyle on the ice, for seemingly long stretches of play. Last season specifically, there was a 20+ game goal-less drought at one point. The struggle was noticed to say the least.
I've just got to go back to playing my physical game. It starts with that. It can't be about goals. You're going to continue to struggle if you just focus on goals.
We need to see less "Charlie," and more of a "Chuck" if you catch my drift. A guy with a 6'3 220 lb. frame cannot forget to play physical, and when he himself is admitting that, then there is an issue.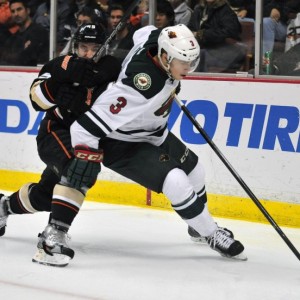 Maybe it was a struggle of living up to the hype after signing a 5-year deal worth $16 million last summer. Or, the instability between line mates due to the constant shuffling that took place within the bottom six groupings. Whatever the case, a rebound is necessary for Charlie Coyle this season.
Why Should You Be Optimistic?
Maybe fans (including myself) are a bit too hard on him. Maybe he was rushed into that first line role three years ago, and really is just a career bottom-six man. His numbers don't lie. While they don't blow you away for a guy who has been in the league now for some time, they have shown gradual increase each season. Room for optimism? An area frequently blasted for is his production in the face-off circle. But as you can see, his ability in the dot has actually improved each year with the Wild.
Improved by over five percent each season in fact. If Coyle sustains those developments during the offseason and through training camp this summer, he could be up over the 50 percent mark with ease this year. Again, the numbers don't lie. It is not far-fetched to expect an even more improved game from the center, something Coach Yeo has stated Charlie already brings each season. That is unless, a Tyler Graovac or Erik Haula slide into that third center spot over Coyle, which would be a bit surprising to start the season at least.
The Wild simply don't have the bottom-six forward depth of a year ago. After the subtractions of Chris Stewart, Matt Cooke, Kyle Brodziak, and even Sean Bergenheim, Coyle's spot on the third line is his to lose, whether playing center or wing. And while he may be on thin ice of sorts, Charlie should undoubtedly see more ice time than his career low of 14:33 ATOI from 2014-15, in various situations. He won't be referred to as "one of the kids" anymore.
Coyle's production is eerily similar to that of the Wild's play. If he can avoid the slumps and the streaky play (similar to the team) that has been demonstrated since his rookie year, he (and the Wild) can boast a successful campaign in 2015-16. 40 points sounds realistic for the Boston product. If not, and we see yet another season of Coyle not meeting expectations, I think it's a safe bet that the Wild brass could begin discussing Coyle's future in Minnesota by season's end.
Jon Nomland is a Journalism student out of Colorado, and currently a Minnesota Wild contributor for The Hockey Writers. When not engaged in Wild hockey, he enjoys following the Philadelphia Flyers due to his Pennsylvania roots.