Throughout history, nations and individuals are characterized by leadership styles. While most of these leaders are regarded as great military and civil heros, a certain type of leadership is particularly applicable in hockey. Known as situational leadership, this style depends on the individual to adapt to whatever scenario he is put in, and be the shining light through the darkness.
Detroit Red Wings goalie Jimmy Howard was the definition of situational leadership throughout the 2012-2013 NHL season and during the Red Wings' playoff run. There were perhaps three defining moments of the season when analyzing the leadership of Jimmy Howard. These three moments are ones that defined Detroit's season, and stand as testaments to what a strong situational leader between the pipes can do for a young hockey team.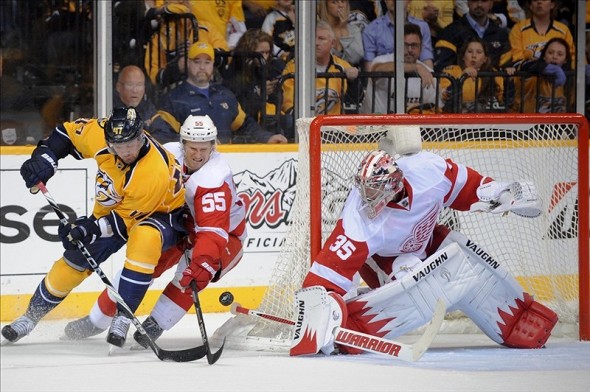 1. Game 48, Saturday, April 27th.  Red Wings (3) at Stars (0)
The last game of Detroit's regular season was something out of a Hollywood movie script. With Detroit backed into a corner, yet still in control of their own density, the boys from Detroit needed a little bit of everything to take a win from a Stars team hungry to beat the Red Wings. With the spotlight shining bright, Jimmy Howard came out and fed off the pressure. Not only did he backstop the Red Wings to their fourth consecutive win to close out the year, he did it in shutout fashion.
This win was enormous in and of itself, but it also gave the Red Wings a shot in the arm headed into the playoffs. They were playing their best hockey at the right time, with a hot goalie as the icing on the cake.
2. Western Conference Quarterfinals, Game 7.  Sunday, May 12th.  Red Wings (3) at Ducks (2)
Another spotlight on Howard, and another stellar performance. Howard made many highlight reel saves in his 31 stops, propelling the Red Wings past the number two seeded Ducks. In many respects, this game was very similar to the previous example. What matters though, is the fact that the result was the same. Jimmy Howard stood tall, in an enemy arena, in a high pressure, high stakes situation. He remained calm, poised, and collected the whole time, providing an example for his teammates who were being agitated by the Ducks.
3. Game 36, Monday, April 1st.  Avalanche (2) at Red Wings (3)
At first glance, this one looks like a routine beating of the worst that the NHL had to offer in 2012-2013.
Not so fast.
Reeling after the 8-1 loss to Chicago on Easter Sunday (March 31st) as the team celebrated Gordie Howe's 85th birthday, the fans at the Joe were in no mood for an April Fool's joke against the Avalanche. The spoltlight was not burning as brightly in this game, but make no mistake: Jimmy Howard still came to play.
With seven seconds to go in the third period, Jimmy Howard made a searingly fast game-saving glove save on Avalanche forward PA Parenteau.
https://www.youtube.com/watch?v=ff8oP9VM0LY
Despite allowing the Avalanche to regain a foothold after going up 3-0, Jimmy Howard once again adapted to the situation. Perhaps he was getting a little flustered, or he had to wake up the defense. Whatever adjustment was made in the heat of the third period worked.
Jimmy came up big when it counted, and he lead by example to win a vital midseason bounceback game.
Born and raised in north-central Illinois, covering the Detroit Red Wings wherever they go. Guest Writer for spring and summer 2014. Follow and read me for Red Wings news as it breaks and opinions around the clock.