While the Stanley Cup is busy at Rush and Jimmy Buffet concerts, the Detroit Red Wings are all business. Following the NHL entry draft, the Red Wings will begin their five day Development Camp on July 10th. During these five days, the world will get a look at the future of the Detroit Red Wings franchise in Traverse City, Michigan.
This years camp presents several marquee attractions. While many of the Red Wings prospects are developing well, these three deserve to be watched closely at camp:
1. Calle Jarnkrok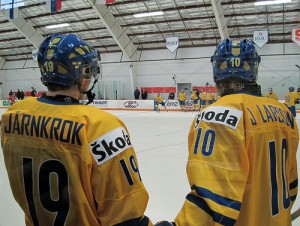 After making his first visit to  Michigan this past March to play with the Griffins, Jarnkrok had his work cut out for him. While he did well in his role with the Griffins, he noted that he needs to gain some size and strength to compete more effectively in the North American game.  Jarnkrok has drawn many comparisons to Red Wing captain Henrik Zetterberg due to his speed, hands, and on-ice personality.
Jarnkrok's biggest tests are quickly approaching. As he will be competing for a roster spot during training camp in the fall, Jarnkrok would benefit from making a splash during development camp and during the prospect tournament. When training camp does roll around in September, what Jarnkrok does this summer will be a factor in if he wears the Winged Wheel or the Griffin.
2. Xavier Oullet
With the late season addition of Dan DeKeyser before the 2013 Stanley Cup playoffs, the Red Wings gained a player who will be looked to as a leader of the youth movement in Detroit. One of his troopers on the blueline will be Xavier Oullet. After playing in the CHL, Oullet will likely spend 2013-2014 with the Grand Rapids Griffins.
While DeKeyser will excel on the more "defensive" aspects of his position, Oullet looks to be developing as a responsible offensive-minded player. At Development Camp (which DeKeyser will not be attending), it will be interesting to see which other defenseman he is paired with.
Matthew Wust of Red Wings Central  tells us that "Red Wings director of scouting Joe McDonnell compares Ouellet to Boston Bruins defenseman Andrew Ference, an effective veteran who has 640 games under his belt."
Not a bad comparison by any means.
3.   Darren Helm
The star of this years development camp may not be a prospect at all. It may very well be 2008 Stanley Cup champion Darren Helm. Known throughout the NHL for his blistering speed and his ability to chew time on the penalty kill, Helm will take the ice with the Detroit prospects in Hockeytown North.
WATCH: Darren Helm's Speed
His presence extends far beyond being a voice of experience amongst the youth. Helm has been battling a very pesky and persistent back injury, and his skating is the first real sign that he is making progress. Since initially injuring himself on January 25th, Helm has skated off and on during practices. The high water mark of his recovery was in late March,when a return was on the horizon. Sadly, Helm has suffered multiple setbacks that have impeded his return to the Detroit lineup.
Even though Helm hates discussing his injury, he will be under a microscope at camp. Obviously, his speed and endurance cannot be expected to return to their pre-injury levels right away. More focus will be placed on his overall mobility and willingness to engage in physical contact. If he has indeed shaken off his back injury, the Red Wings will regain an important piece to their third line and penalty kill.
Born and raised in north-central Illinois, covering the Detroit Red Wings wherever they go. Guest Writer for spring and summer 2014. Follow and read me for Red Wings news as it breaks and opinions around the clock.