Perennial Pavelski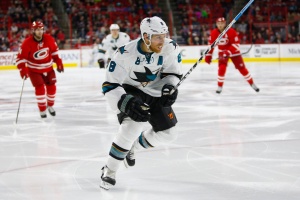 Hockey fans shouldn't mistake Sharks star Joe Pavelski with other scorers aided by future Hall of Fame center Joe Thornton. The Wisconsin native has been a terrific top six forward for years even before playing primarily on Thornton's wing. Even without Thornton, Pavelski would still be a top notch contributor. However, with one of the all-time best passers in NHL history feeding him the puck, Pavelski is prime to set a franchise record this season.
After never scoring more than 31 goals in a season prior to last year, (often previously playing the center position on the second and third lines), Pavelski scored a career high 41 in 2013-14. Nobody in their right mind saw a second straight 40 goal season coming. There was no way Pavelski could sustain the 18% shooting percentage. Yet while his shooting percentage has lowered, it has only lowered a couple percent from a shade over 18 to a shade under 16%. With an increase in shot totals, and a hat trick against the Coyotes on Friday night, Pavelski now has 31 goals in 57 games this season. That puts him on pace for 45 goals if he stays healthy which would set a franchise record. No other Sharks player has ever scored 40 or more goals in any two different seasons, much less back-to-back seasons. The only other 40 goal scorers in franchise history each did it once, Patrick Marleau scored 44 in 2009-10, Jonathan Cheechoo scored 56 in 2005-06, and Owen Nolan scored 44 in 1999-2000. Should be noted that three of the four 40 goal scorers did so with Thornton feeding them the puck. Nonetheless, it shouldn't take away from Pavelski's consistency.
While Cheechoo did have major surgery that slowed him down, and many forget he scored 28 goals prior to Thornton's arrival, both Cheechoo and Devin Setoguchi flamed out after rising to stardom next to Thornton. These two players could shoot the puck but neither quite brought the two way hockey sense Pavelski has brought to the table. As a natural center, Pavelski has a unique ability as a 40 goal scorer in that he can dish the puck extremely well. For those of us who have watched him his entire career, the two time US Olympian can do it all. Few 40 goal scorers in this league are ever described as crafty distributors but Pavelski can fill the role of play maker whenever called upon. This backhand, spin-a-round no look pass to Thornton is just an example:
Alexander Ovechkin gets called the "Great Eight" but not often do you see the Capitals star make the kind of brilliant passes like that. Or how about this kick pass that Pavelski made last season?
That is simply unreal balance, footwork, and heads up awareness to be able to feel the puck in his feet and put it right on Thornton's tape. Soccer work before the games sure does pay off. If you're not convinced of his set up abilities, here is one more memorable one for good measure. On the goal below, Pavelski was centering a third line with Torrey Mitchell and Kyle Wellwood. He gets his own rebound and while falling down has the patience and presence of mind to slip a pass back towards the middle instead of trying to jam the puck home himself. Mitchell simply taps home the pass into an empty net.
Joe Pavelski is really friggin' good folks. He can do more than just score and yet he now has a chance to set a franchise goal scoring record. It is quite a shame he has yet to go to an All-Star game because he is one super duper star.