Most of you reading this may be too young to remember but way back when Joe Thornton was the number one overall pick at the 1997 NHL Draft by the Boston Bruins. Thornton played as an 18-year-old with the Bruins and struggled at first, but since his third pro season he's never put up less than 68 points in a non-lockout season. 23 games into the season following the 2004-05 lockout the Bruins dealt Thornton to the San Jose Sharks in a blockbuster trade that stunned the NHL.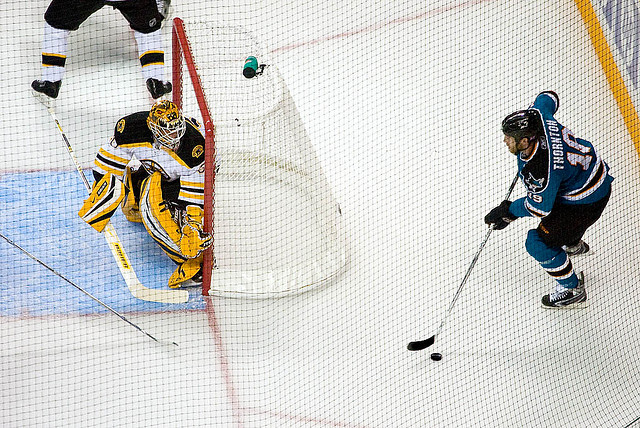 The Sharks still have Thornton and Patrick Marleau (the second overall pick in the 1997 Draft), as the two pillars they have used to sculpt their team around — which is quite unique to have the top two selections from a particular draft class as teammates for ten seasons. San Jose has come painstakingly close numerous times in the Thornton-Marleau era; they have had some truly spectacular regular seasons and then fizzled out in the postseason. While some might argue that never becoming king of the mountain is a failure, some other franchises would kill to experience those kinds of failures over the ones they have been on the ice over the last decade.
Boston, Burns, Bag-skates
When The Hockey Writers talked to Thornton after a game in New Jersey we asked him what he recalled about the early part of his career. The 6'4" 35-year-old veteran closed his eyes, turned his head down, shook it back and forth and laughed. "That I got bag-skated a lot from Pat Burns," he answered finally with a chuckle. "As a young kid you put in your time, I had a lot of older players there to show me the ropes. It was fun years there, for sure." He went on to elaborate on Burns' impact on his career. "He definitely molded me into the player I am today. Nothing really fazes me, (laughs) you know? I was his whipping boy for probably three years and it was a pleasure. He was a master of mind games and he definitely taught me a lot about the game."
Joe Thornton scores his first NHL goal vs Garth Snow & the Philadelphia Flyers:
The San Jose Way
It has now been ten years since the big trade, and Thornton has made himself at home in California, and in 2009 the Canadian became a naturalized United States citizen. "I love playing in San Jose," he told THW, "we have a good team every year, our fans are great. The West is really tough to be honest with you; just to even make the playoffs is tough out there. We've had our ups and downs; hopefully we've grown as a team and hopefully if we make the playoffs this year we'll do some damage."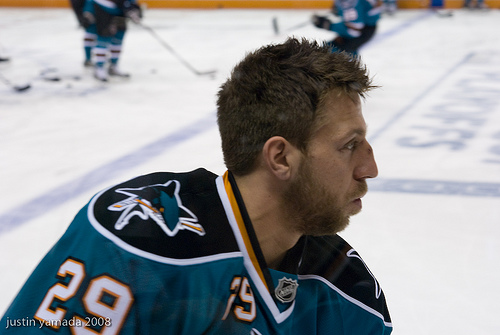 One of Thornton's close friends is ex-Shark and current member of the New Jersey Devils, Ryane Clowe. The game in New Jersey was their first as opponents since Clowe left the Bay Area and Thornton admitted it was a little strange. "It's nice to see that he's doing good, I know he's been battling with some concussions, but I think he looked comfortable and strong tonight. It's definitely weird going against a good friend like that, but I'm happy for him. It looks like he's strong again and I'm happy to see him back out there."
By the Numbers
Over his 16-year NHL career Thornton has now amassed 1,200 points in 1,212 games — including a season where he posted 125 points, in 81 games (that season he won both the Hart Trophy & Art Ross Trophy). That was the 2005-06 season that he was traded after two months to the Sharks; he had 92 points in his 58 games by the bay! His 1,200 points currently ranks him 45th all-time in NHL history, and he's 24th on the all-time assists list with 857. With a healthy season in 2014-15 he could be up to 35th on the all-time points list, and he's showing no signs of really slowing down.
Joe Thornton scores the series-clinching goal in OT against the LA Kings in 2011:
Basically every player above him on that list that isn't active is a Hall of Famer. Thornton has been durable; extremely durable, appearing in at least 80 games a season eight times. He's basically been everything you could hope for when you select an 18-year-old with the number one overall pick. The one thing missing from his career resume is a Stanley Cup, but he likely still has five more seasons left and there are plenty of members in the Hall that don't have their name etched on the Cup. It would certainly be shocking if he weren't elected to the Hall of Fame, possibly even as a first ballot one ala Mats Sundin. So even if he doesn't help bring the first Cup to San Jose, or win it with another franchise at the end of his career, you can bet the guy they called Big Bird as an 18-year-old will be a member of the HHoF.
Dan Rice can be reached via Twitter: @DRdiabloTHW or via Email: drdiablo321@yahoo.com
Dan Rice is in his 9th year of reporting for THW & has covered NJ Devils home games for 15+ years at various websites. He began his journey working for legendary broadcaster/writer Stan Fischler from 2002-04 & completed an internship at the ECHL; he also has been writing features for the NWHL (nwhl.zone) website since 2016.