When you ask a hockey fan their opinion on Joe Thornton, you're likely to get the same type of answer no matter who you ask. Good player, chokes in the playoffs. And while Thornton has been far from a stud in the playoffs in his career, his play in the playoffs has overshadowed what has been a tremendous NHL career thus far.
It's overshadowed him so much to the degree that in a a poll conducted by ESPN of its NHL panelists, only 67% said that Thornton would be a Hall of Famer. That poll was conducted in September of 2015. In the world of short attention spans and "what you have you done for me lately?", Thornton's remarkable consistency and regular season production have gotten lost in the weeds.
Joe Thornton in the Regular Season
Thornton's most memorable regular season came in 2005-06, the season after the lockout when he was traded to San Jose for a laughable return of Marco Sturm, Wayne Primeau, and Brad Stuart. Some Bruins fans argue that they won that trade because they were the ones that won the Cup a few years later (mostly because it allowed them to sign Zdeno Chara), and would never have won the Cup with Thornton on the team. However, that's a debate for a different day.
But that season was a magical one for Thornton once he moved to San Jose. He turned Jonathan Cheechoo into a 56 goal Rocket Richard winner, and pulled off an upset Hart Trophy and Art Ross victory, which looked like it was all but won by Jaromir Jagr for most of the season.
While that season was special, what has been even more special about Thornton is his remarkable consistency. He has been amazingly durable in his career, missing just ten games since 2005-06. And even well into his 30s, Thornton has been one of the most productive players in the league.
He's finished in the top ten in the league in assists 11 times (leading three times and being the runner-up three more). When you look into the advanced scoring metrics to compare his accomplishments to others in NHL history, his regular season accomplishments really shine. I've talked about the VsX method many times (here's a summary for those that don't know it). At its core, it assigns a score for each player's season that compares his point total to a benchmark for that season, typically the 2nd leading scorer that season.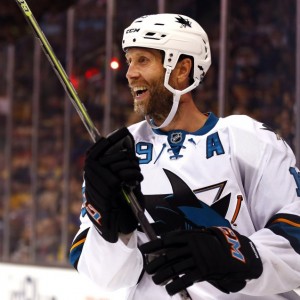 Taking each player's seven best seasons, Thornton comes out with a score of 94.1, good for 25th all-time, ahead of names like Bryan Trottier, Steve Yzerman, Teemu Selanne, Bobby Clarke, Mark Messier, and Peter Forsberg, among many others. When you move it out to ten seasons, Thornton moves up to 18th all-time, ahead of many of the same names and a few new ones, the biggest being Sidney Crosby.
Thornton has had some good teammates in his career, including Dany Heatley, Dan Boyle, Patrick Marleau, and Joe Pavelski. However, would you say any of them are Hall of Famers? The first three are borderline, but far from locks. Each of the players ahead of Thornton on these lists, with the exception of Alex Ovechkin, played the vast majority of their careers with one Hall of Fame teammate, with most having multiple.
Since 2002-03 (12 seasons), Thornton has eclipsed the 50 assist mark nine times. Two other times he would have surely hit the mark were it not for injuries or a lockout. The two final seasons, he had 49 assists. And this season, Jumbo Joe currently sits at 49 assists and will surely hit the mark again. Only ten players in NHL history have hit the 49 assist mark 12 times or more, and Thornton is one of them.
In his time in San Jose, Thornton has reinvented himself as a complete player. He's an excellent face-off man that wins an average of 56% of his faceoffs, and has become a plus defensive player, garnering a few Selke Trophy votes in the past few years.
Thornton in the Playoffs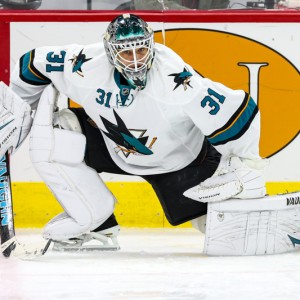 The elephant in the room, of course, is Thornton's play in the playoffs. Thornton's problem  in the playoffs has been that he is a pass-first, pass-second, shoot third player. In the playoffs, teams realize that and take away his wingers, basically daring Thornton to shoot.
While Thornton has not kept his pace of play in the playoffs that he exhibits in the regular season, San Jose's playoff failures are far from just his fault. The team as a whole has been remarkably bad in the playoffs. Evgeni Nabokov was routinely terrible, and Antti Niemi wasn't much better.
In Thornton's nine playoff runs with the Sharks, he has led the team in scoring in the playoffs five times, finishing 3rd, 3rd, 5th, and 7th in the remaining four years. Far from his regular season production, but San Jose's playoff failures have hardly only been his fault.
Hall of Fame Comparables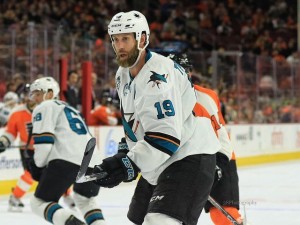 Think of the best players in NHL history that have never won a Cup. The first name to come to your mind was probably Marcel Dionne, who enjoyed a shockingly similar career path to Thornton. He was a good player for an Original Six team (the Red Wings for Dionne and the Bruins for Thornton), that was under-appreciated and subsequently traded to a California team that hadn't had much success in their existence. They put up some absurd regular season numbers, but never got it done in the playoffs.
Dionne was a first-ballot Hall of Famer. Some of the other greatest forwards that never won a Cup include Jean Ratelle, Darryl Sittler, and Dale Hawerchuk. In both 7 and 10 year VsX, Thornton crushes all of them. In fact, it would be fair to say that Thornton is the 3rd best offensive player ever to not win a Stanley Cup (behind Dionne and Ovechkin).
So the next time somebody mentions Joe Thornton as anything but a first-ballot lock for the Hall of Fame, please correct them and put them in their place.
Can't get enough hockey? Want to talk about it with our writers, and fellow fans? Join The Hockey Writers Group on Facebook today for the best hockey conversations on the web!