Sabres top prospect Joel Armia is having his best season in his North American career.  The Finish born winger has stepped up in a big way this season and is starting to dominate at the AHL level.  Armia is following a similar path of current Sabres player and former first round pick.
Tough Beginning
Armia was selected by the Sabres 16th overall in the 2011 draft.  Coming out of Finland, Armia was an intriguing prospect with his 6'3 size and excellent hands.  The 21 year old forward was great goal scorer playing in the top Finish professional league.  At such a young age, many scouts were impressed with how dominate he was.
Armia begun his North American professional career last season, playing for the Sabres AHL affiliate, Rochester Americans.  The young winger struggled in his first professional season.  Armia had only 7 goals and 27 points in 57 games last season.  He would find himself as a healthy scratch during stretches of last year and would be a non-factor for long periods of games.  It's not a shock that Armia needed to adjust to the North American game.  It's part of the growing pains that go along with a young prospect.  Armia also had to dismiss reports that he was unhappy in the Sabres system, after a disappointing first season.
The concerning part for the Sabres, came during training camp this season.  Armia didn't have a great camp and was a big disappointment as he was sent back to Rochester.  It wasn't expected that Armia would back the roster out of camp, but the Sabres expected him to make some noise.
Following a Similar Path
Once the puck dropped on the 2014-15 regular season, Armia turned the corner and started to produce at a high level.  He would look like the best player on the ice some nights and become a dominant force on the wing.  Before going out with an injury, the 6'3 forward had six goals and 15 points in 19 games.  Armia's presence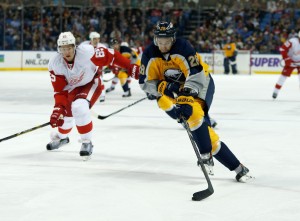 in the lineup has been missed by Rochester while he's been on the sideline.  It's easy to see how the Finish forward is becoming more comfortable as he's starting to play the way he did in Finland.  He's using his size to maintain the puck and unleashing his great shot, along with his great puck skills.  If it were notfor his injury, Armia would have likely earned a call up to the Sabres.
When you look at the road Armia has taken to this point, it reminds you of a similar path taken by a current Sabres star, Zemgus Girgensons.  Girgensons struggled early on in his first professional season in the AHL.  The 2013 first round pick only registered six goals and 17 points in 61 games.  Like Armia, Girgensons would struggle to be comfortable at the professional level.  As the season went on, Girgensons started to take over games.  He was the best player on the ice night in and night out during the Amerks playoff push and short playoff run in the 2012-13 season.
In his first AHL season Girgensons had .27 points per game, as Armia put up .5 points per game in his first season.  Most of the points Girgensons produced in his first season came at the end of the season as he became more comfortable.  As Armia has become more comfortable in his role, he is putting up .78 points per game.  It took Girgensons roughly 50 games to begin to step up as a productive player and the same seems to be happening for Armia around the 50 game mark.
The Latvian center started the next season in the NHL after one year in the AHL and has never looked back.  After this season, I believe Armia will be ready to make the same jump, to a full time NHL player.  I wouldn't be surprised at all to see Armia get a look at the NHL level this season.  Sabres fans have a lot to be excited about with the growth of Joel Armia.