Joffrey Lupul's career took a dramatic reversal in 2006 and the worst part is that he had no way of knowing it was in the works or that it would cause a damaging chain of events.
The Anaheim (Mighty) Ducks were Western Conference finalists a few years after their shocking appearance in the Stanley Cup Final, which was pushed by a goaltending feast from Jean-Sebastian Giguere.
A big role was played by Lupul in their 2006 postseason, as the sophomore scored nine goals, four of which arrived in one game against the Colorado Avalanche. In the words of Ian Laperriere, then a forward for Colorado, Lupul was "making a name for himself."
Anaheim was a well-built club and despite losing out to the Edmonton Oilers in five games, their postseason mettle was growing and another run for the Cup was on the horizon—just not for Lupul.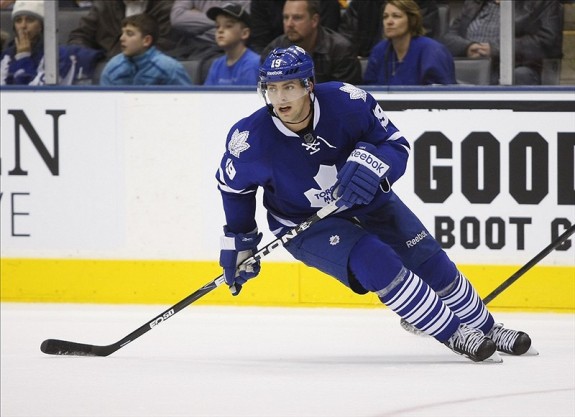 Feeling as though his team required one more impact player, general manager Brian Burke pulled the trigger and traded for the rights of Chris Pronger, who was one of the anchors that propelled Edmonton into the finals.
Lupul, Ladislav Smid, Anaheim's first round draft pick of 2007 and two conditional draft choices in 2008 were the bargaining chips that Burke played with, successfully.
Both organizations appeared satisfied with the deal, which was somewhat forced because of Pronger's wishes to leave for personal reasons.
But the trajectories that the two clubs embarked on were as alike as day and night.
While Anaheim went unbeaten in regulation for its first 16 matches of the 2007 season, surpassing the mark set by the 1985 Oilers, and dominated the Ottawa Senators to hoist the Stanley Cup, Edmonton finished at the bottom of the Northwest Division.
Having to watch his former teammates from just a year ago win the trophy without him was a bitter pill to swallow for Lupul, compounded by the misery his own club faced. Add his horrendous 16-goal, 28-point output, and it shows that 2007 was a write-off for the 29-year-old.
For a Saskatchewan native, it wasn't the finest homecoming and Edmonton, desperate to solve its powerplay woes, quickly bargained with the Philadelphia Flyers. Veterans Joni Pitkanen, a solid powerplay quarterback, and Geoff Sanderson were attained, while Lupul and captain Jason Smith went the other way.
Two productive years in Philadelphia gave Lupul new life and in conjunction with his own career rebound, the Flyers climbed out of their awful 2007 cellar to return as postseason contenders, getting as far as the Eastern Conference Final in 2008.
Bear in mind, Lupul's first appearance in a Conference Final was followed by an untimely trade and almost three years later, another such move materialized.
This time, defenseman Luca Sbisa and two first round draft picks were attached to the deal with Lupul and wouldn't you know it, Pronger was the return package once more.
That year, in 2010, Philadelphia resembled a team of destiny, defeating the New York Rangers in a shoot-out to sneak into the playoffs at the last possible minute, battling back from a 3-0 series and, ironically, Game Seven deficit to the Boston Bruins, and making quick work of the New Jersey Devils and Montreal Canadiens.
Patrick Kane's bad angle overtime winner put their surge to a halt, as the Flyers fell short in the final round after putting it all on the line for over two months.
Although Philadelphia ultimately lost, Lupul, and any other player for that matter, would have relished a role in such an unpredictable postseason journey.
Back in Anaheim, full fitness was eluding Lupul, as back problems slowed him down to the point where surgery became medically advised. Recovery should have concluded after a few weeks, but it was almost an entire year before he returned to the ice.
A second surgery, and an infection which caused him to take intravenous antibiotics, prolonged his body's almost helpless state.
When he finally did suit up for the Ducks, he wasn't seeing as many shifts as he had in his first stint in Anaheim. Ryan Getzlaf, Corey Perry and Bobby Ryan were the young guns, while Teemu Selanne, Saku Koivu and Jason Blake comprised a second line of wily veterans. That placed Lupul on the third line mostly, something he was unaccustomed to.
Toronto's management staff is well-known for the brutal decisions it has formulated since the lockout. The Jeff Finger fiasco, with the subsequent headlines that articulated it, is at the fore, as is the ludicrous Andrew Raycroft tryout.
But Brian Burke, now the general manager of the Maple Leafs, deserves a round of applause for getting rid of Francois Beauchemin and acquiring Lupul, whom he dealt for Pronger in 2006, prospect Jake Gardiner and a conditional draft pick.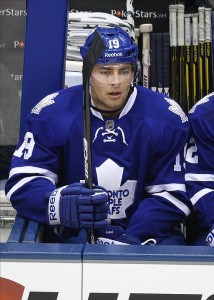 Gambling on Lupul's health, Burke's gut feeling was that it was a calculated risk worthy of the criticism that awaited him if it proved to fail.
"There's a human element in all of this. You bet on people every time you make a trade. That's the bet. If this were just buying cars or buying livestock, it would be a lot easier, but we're betting on human beings. But I bet on Joffrey Lupul because of his character and his skill level, and I believe he thinks he has something to prove."
And prove it he did, in Toronto, where players can easily be overwhelmed by media frenzies and the pressure to perform because of the never-ending spotlight the club is beneath.
Lupul's first full season with the Maple Leafs was a dream come true for himself and the organization. At full health and in better shape, the former first-round pick fended off defenders, fought for loose pucks and didn't let his past injuries keep him away from the crease or boards.
Centered by Tim Connolly or Tyler Bozak, Lupul and Phil Kessel combined to become a formidable one-two punch.
Where he might have disappeared for stretches previously, the forceful winger hardly went on a cold streak this season.
Elected to be an alternate captain in the All-Star Game and picked as Toronto's nominee for the Bill Masterton Memorial Trophy, the year was almost perfect until a separated shoulder doomed him and, really, the Maple Leafs.
Still, in just 66 games, he is the first player not named Mats Sundin to record more than a point per game with Toronto in nearly a decade. Alexander Mogilny, in 2003, was the last person to pull it off.
For key portions of his career, Lupul was a victim of circumstance and things looked bleak when he moved to Toronto. He was coming off a serious injury, dealing with a shortage of playing time—by his standards—and the fourth trade of his career.
Failure was maybe expected because of the scenario.
Front office and injury matters are unquestionably out of his hands, but Lupul showed that he's capable of controlling his destiny in terms of performing.
Twice, he was deemed expendable by strong clubs and lost valuable postseason experience as a result.
Those organizations had the depth to cope with his absence, whereas the Maple Leafs, having missed the playoffs every year since 2004, may not be able to get back in without him.
That says an awful lot about someone who has represented the Original Six club for a mere 94 games.