Editor's note: This is part one of a two-part miniseries. The Western Conference will be profiled tomorrow evening right here at The Hockey Writers.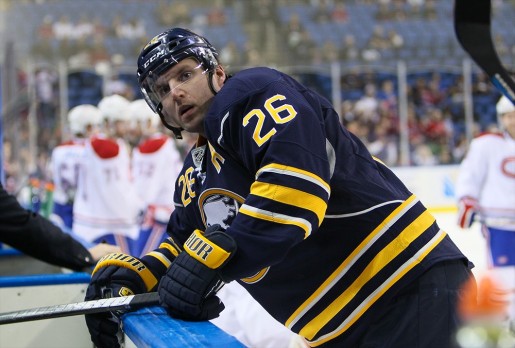 Wouldn't it be wonderful if your favourite NHL team was given the chance to cut the most overpaid player on its roster loose without any penalty against the salary cap whatsoever?
That's what happened following the lockout that wiped out the entire 2004-2005 NHL season, after which a hard salary cap was introduced. Now with hockey games having been cancelled all across the league once again, there are rumours floating around that this, legally called an amnesty clause, is a very real possibility once again.
Also told that amnesty buyouts are on table.

— Larry Brooks (@NYP_Brooksie) November 7, 2012
One might wonder what the benefits of an amnesty clause would be. Simple: teams get a chance to let go of some serious salary as the cap is expected to go down. This would be extremely beneficial to general managers such as Montreal's Marc Bergevin, who is tied up in a very lucrative contract with forward Scott Gomez.
Gomez is just one of many possible amnesty victims once the lockout wraps up.
Note: The years remaining on each player's current contract includes the 2012-2013 season but all choices are made on the assumption that the entire season will be lost.
Boston Bruins – Marc Savard – $4.007 million, five years remaining
Savard certainly hasn't underperformed during his time in Boston, but a nasty concussion has thrown his entire career into jeopardy.
Buffalo Sabres – Thomas Vanek – $7.124 million, two years remaining
Ask yourself this: would you be willing to pay a 60-70 point scorer almost as much as the likes of Steven Stamkos and Jerome Iginla?
Carolina Hurricanes – None
Joni Pitkanen and Jiri Tlusty are both possibilities, but neither have played poorly enough to suffer from a buyout. The same can be said for Eric Staal, who had one poor season but has been united with his brother Jordan in Carolina and is the face of the franchise.
Florida Panthers – Scottie Upshall – $3.5 million, three years remaining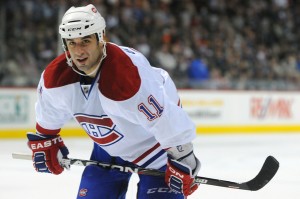 Upshall simply had a rough go of things last season when he played in just 26 games, managing only five points. The small sample of games makes it difficult to cut him, but it may put the Panthers in a better position cap-wise a year or two from now.
Montreal Canadiens – Scott Gomez – $7.357 million, two years remaining
Gomez's time in New York was mediocre; his time in Montreal has been embarrassing to his career. There's simply no way a team would want to pay a man who has just 49 points over the last two seasons anywhere close to seven million dollars.
New Jersey Devils – Henrik Tallinder – $3.375 million, two years remaining
The chances of the Devils actually electing to buy out Tallinder's contract are slim-to-none, but they're still the greatest of all other players on the team.
New York Islanders – Rick DiPietro – $4.5 million, nine years remaining
Just like Gomez, this one truly goes without saying. Waste $4.5 million per season on a player who isn't able to remain healthy for a day? No thank you.
New York Rangers – None
Rangers general manager Glen Sather has done a relatively nice job of managing the Rangers' salary cap situation lately. Rick Nash, Marian Gaborik and Brad Richards all come with lucrative contracts but make up the team's top line.
Ottawa Senators – None
Prior to his 35-goal performance last season we all would have said Milan Michalek. There was also a time when we all would have chosen Craig Anderson. Now who? Brian Murray has done a nice job with a Senators team that was a cellar dweller not too long ago.
Philadelphia Flyers – Ilya Bryzgalov – $5.666 million, eight years remaining
Even after moving Sergei Bobrovsky to the Blue Jackets in June, it might not be such a bad idea for the Flyers to cut Bryzgalov loose. He may have finished the season with positive numbers, but on this large of a contract, a .909 save percentage just isn't going to cut it.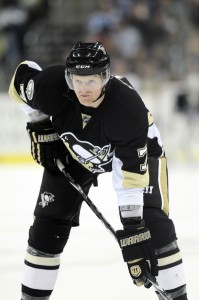 Pittsburgh Penguins – Paul Martin – $5 million, three years remaining
The Penguins took a risk when they handed Martin a five-year, $25 million contract. While he hasn't underperformed, five million remains a lot of money to spend when someone else, in this case it's Kris Letang, is arguably your top defender.
Tampa Bay Lightning – Vincent Lecavalier – $7.727 million, eight years remaining
Why don't you try trading a 60-70 point scorer on a front-loaded contract that comes with a cap hit of almost eight million dollars? Let's just say the money would be better spent somewhere else.
Toronto Maple Leafs – Mike Komisarek – $4.5 million, two years remaining
There was a time when Komisarek was supposed to be the Leafs' anchor on the back-end. Now he's an afterthought among Leaf fans, except when they discuss his departure.
Washington Capitals – Joel Ward – $3 million, three years remaining
A strong playoff performance in 2011 is what earned Ward a nice contract with the Capitals, but he followed up his new deal by notching just six goals and 18 points.
Winnipeg Jets – None
The Jets are a team with potential that will improve only through additions. Even if that wasn't the case, many of the Jets' current players have contracts that are set to expire after 2012-2013 anyway. The summer of 2013 will be a busy one for GM Kevin Cheveldayoff and company.
All contract information courtesy of Cap Geek.
Twitter: @LukasHardonk | Email: lukas.hardonk@gmail.com | Lukas' archive
For every Leafs article on THW, follow @THW_MapleLeafs on Twitter.
Check out Maple Leafs Central, a THW Network site.