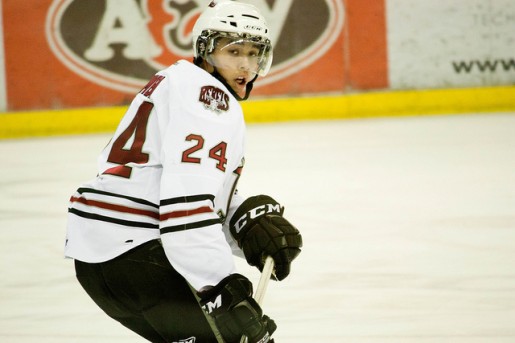 Ah, the holidays; a time for relaxing and cherishing the time you spend with friends, family and loved ones in general. It's also time to sit back and watch some great junior, collegiate and—if not for the lockout—NHL hockey. As disappointing as it is to not have NHL hockey on TV, there is still another form of hockey that should get any serious fan excited—the Under-20 World Junior Championships!
The WJC's are a great chance to see many top prospects, both drafted and undrafted, play at the international level. In fact, many times the way an undrafted player performs at the international level can determine whether that player rises or falls in the final rankings of the International Scouting Service. The tournament also gives fans, scouts and coaches an idea of what their country's Winter Olympic hockey teams may look like in the not-too-distant future.
Last season, the Minnesota Wild had several prospects play in the international competition. While Canadians Brett Bulmer and Zack Phillips were among the final roster cuts from Team Canada, Mikael Granlund (FIN), Jonas Brodin (SWE), Johan Larsson (SWE), Johan Gustafsson (SWE), Jason Zucker (USA) and Charlie Coyle (USA) all played an important role for their teams. In fact, Granlund, Larsson and Zucker all wore the "C" as captains of their respective countries. Larsson would lead Sweden to a 1-0 shutout win—posted by Gustafsson—over Russia for the gold medal.
This year, there are fewer Wild prospects eligible to play at the tournament being held in Ufa, Russia. However, it could be an intriguing tournament for fans of the team to watch. As such, I've made a list of a few prospects that could possibly be playing for their country over the Christmas/New Year break. Unfortunately, I'm going to have to break this into two parts, but that makes it more fun anyway and allows me to explain in more detail.
Team Canada
Mathew Dumba, the Wild's top selection in the 2012 NHL Entry Draft at 7th overall, has an excellent chance of making the Team Canada roster for the 2013 U-20 WJC. This past spring he captained Canada's U-18 WJC team to the bronze medal as the tournament's leading scorer with five goals and seven assists for 12 points and a plus-2 rating in seven games. Oh, that's right; he did all that as a defenseman, too.
At 18 years of age, Dumba has developed into one of the most dangerously skilled and talented players in the major junior game today and you can bet that the Minnesota Wild brass are hoping that translates to the pro level. The young Red Deer Rebel blue-liner stands at 6' 183lbs and still has room for growth. Add an inch or two and about 10-15lbs of muscle to his frame and he'll have all the tools in his belt to succeed.
Drafted 4th of five Western Hockey League defensemen in the top-8 picks of the 2012 NHL Entry Draft, Dumba stands a great chance of patrolling Team Canada's blue line and could very well be named team captain. Matt is an elite-caliber offensive defenseman that isn't afraid to make an explosive open-ice hit. He can play both sides of the puck well and wields an absolute cannon of a slap shot from the point. He does need to work on his defensive game a bit—mainly not going too far out of position to finish a check or make a big play—but his willingness to learn and drive to succeed will help him grow and develop into that #1 defenseman that Minnesota needs him to be.
WJC Prediction: Dumba will be in Team Canada's roster and, with 2012 NHL 2nd overall pick Ryan Murray out with an injury, will see his role become increased as the race for the gold medal heats up.
Raphael Bussieres, drafted 46th overall in the 2nd round of the 2012 NHL Entry Draft, is a rugged young power forward who also stands a chance of representing his country on the international stage with Team Canada. At 19 years old, the 6'1" 195lb left wing has exploded in the QMJHL this season, potting 16 goals and chipping in 20 helpers for 36 points, 14 PMs and a plus-14 rating in just 27 games so far. Bussieres is tied for 15th place in league scoring with Acadie-Bathurst Titan forward Zach O'Brien and Saint John Sea Dog forward and 2011 NHL 3rd overall draft pick Jonathan Huberdeau. He is just eight points behind P.E.I. Rocket forward Ben Duffy, who leads the league with 44 points in 24 games. Bussieres was twice named to the QMJHL TELUS Three Stars of the Week and was also named the CHL Player of the Week once so far this season.
The most impressive thing about Bussieres is that he's been a quite consistent factor the past few seasons on a very inconsistent Baie-Comeau Drakkar team. He's a gritty young man with silky smooth hands who isn't afraid to stand up for his teammates as evidenced in a bout with fellow Wild 2012 draft pick Dumba, in a CHL top prospects game last season. Raphael fits the mold that best suits the new-look Wild of the Chuck Fletcher drafting era: big, tough, talented prospects that are a pain in the butt to play against. He is a guy that can be inserted at any point in the roster and succeed and he's shown great chemistry in prospect camp with like-minded guys in Johan Larsson and Charlie Coyle.
WJC Prediction: While not many players from the "Q" make an appearance for Team Canada, don't be surprised to see Bussieres make the team in a bottom-six grinding/depth role. Who knows, he may surprise everyone and far exceed what everyone expects of him.
The pick of Tyler Graovac by Minnesota at 191st overall in the 2011 NHL Entry Draft may not have seemed that big of a deal, but it very well could have been the steal of Day Two. At 6'4 and over 200lbs, the 19-year old Ottawa 67's forward is a hulking pivot that the Wild just doesn't have down the middle. What's more is that he has exploded onto the CHL scene in a big way during his last season of U-20 WJC eligibility, scoring 18 goals and nine assists for 27 points in just 21 games. Graovac also had the privilege of representing his team on Team OHL in the 2012 Subway Super Series and even chipped in a shorthanded goal in a 2-1 loss to Team Russia on November 8th. The significant improvement in his play between last season and this season has definitely been enough to turn the heads of scouts and he could very well have a legitimate chance of skating in the red and white on Russian ice next month.
WJC Prediction: If he stays healthy, Graovac stands a serious chance of centering Canada's third or fourth line and could possibly even find himself playing alongside Bussieres.
Team Canada Wrap-up: As great as Minnesota's Canadian prospects are, the lion's share of NHL draft picks and prospects come from Canada and the majority of those that tryout for the team are turned away. The reason Canada is always so good is because they pick the very best and nothing less. Wild fans need to be rational and realize that the selection process is rigorous and the likelihood of one—let alone all three—getting in is slim. However, I think it is safe to say that Dumba has the best shot of the three and will likely be patrolling Canada's blue line along with Dougie Hamilton (Boston), Ryan Murphy (Carolina), Morgan Reilly (Toronto), Griffin Reinhart (NY Islanders) and probably either Derek Pouliot (Pittsburgh) or Cody Ceci (Ottawa).
That's all for this article, but be sure to look for Part II to follow shortly.